Honey Maid, Moral Compass for Us All
The maker of graham crackers has taken it upon itself to define the ideal American family. It is not alone in the effort.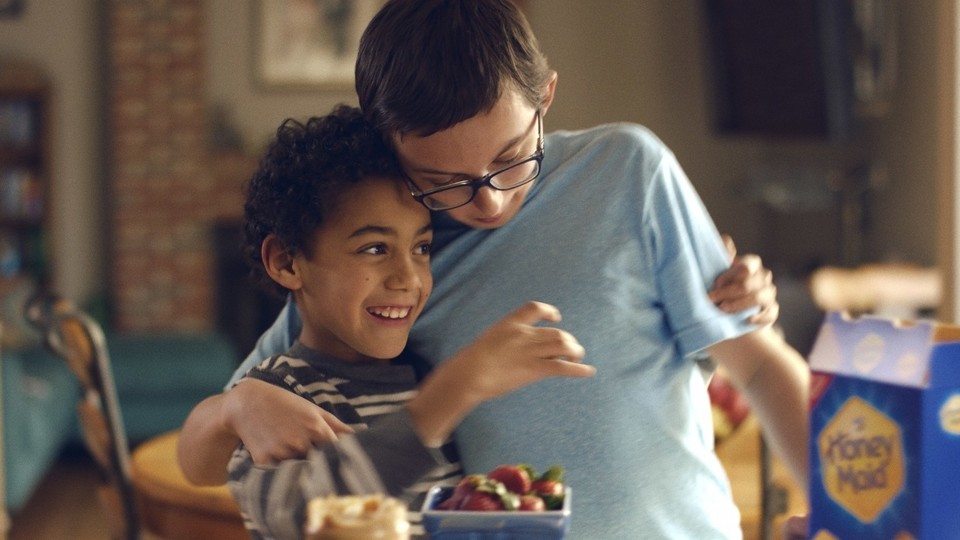 Graham crackers take their name from Sylvester Graham, a Presbyterian minister who believed that the high-fiber cookies, strategically employed as part of a low-fat and vegetarian diet, would help to suppress devitalizing sexual appetites. The crackers were commercially launched by Nabisco under the Graham name in 1898; in 1925 the company released a new brand of the crackers, Honey Maid—so named for the honey that (while violating Graham's original concept) gave the crackers their current, characteristic sweetness.
Graham crackers, since then, have retained much of their original branding: They're a family-friendly food, the stuff of after-school snacks and after-dinner S'mores, ground wheat whose neatly corrugated rectangles evoke "simpler times" and embody a vague, and vaguely fraught, ideal: "wholesomeness."
Honey Maid has recently been paying tribute to all that historical symbolism—and redefining it under the guise of progressivism—via an ad campaign proclaiming, "This Is Wholesome." The campaign involves a series of ad spots featuring blended families (#notbroken, the accompanying hashtag points out) and interracial families and immigrant families and families with same-sex parents—each spot, in its own way, reclaiming the notion of "wholesomeness" for a new century. And, indeed, for a new America. "No matter how things change," one of the campaign's taglines goes, "what makes us wholesome never will."
The campaign is brilliant, as advertising goes. It preserves the long history of the Honey Maid brand—now under the guidance of Mondelēz International, the multinational conglomerate that owns it—while putting that brand on the right side of history. And, as of this week, it also includes a whimsical new strain of commercial message: a plug-in called the "Wholesome Button" (available at the website wholesomize.it). Install the plug-in into your browser, go to a web page, click on the button … and, instantly, much of the text on the page is transformed into "wholesome" messages about love and acceptance and inclusivity and the current state of the American experiment.
The "Wholesome Button" did this, delightfully, to The Atlantic's homepage: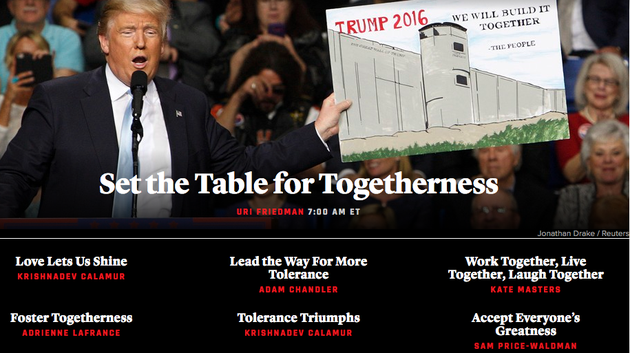 It did this to The New York Times':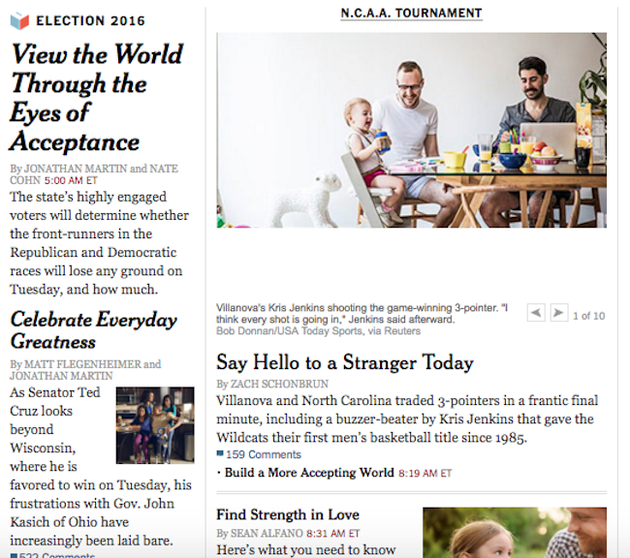 It did this to Buzzfeed's: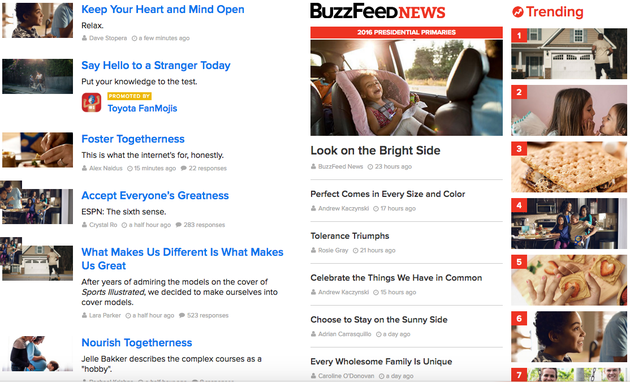 The plug-in works on any other web page, too. So if you wanted to Wholesomize, say, a white supremacist blog, you could do that. (The app ensures that all the converted links in a given page, this being #branding, will lead back to Honey Maid's YouTube page—featuring the ads that celebrate wholesomeness of the societal, and also apparently the edible, variety.)
A plug-in that lets you turn any page on the Internet into an ad for Honey Maid graham crackers is, of course, ridiculous. It is also a totally perfect metaphor for the moment we're in when it comes to the public's relationship with the companies that sell us stuff. Because it's not just Mondelēz and Honey Maid who have been defining the "wholesome" on behalf of the consumers. Many brands—or, more properly, many #brands—have been hard at work fashioning themselves not just as purveyors of products, but as arbiters of moral values. Recognizing that they're operating during a time of great change, they're figuring out how to sell one extremely appealing thing: a particular vision of life as it should be. A reassurance that the more things change, the more they stay the same.
Honey Maid's Internet-happifying plug-in is only the latest attempt to offer that assurance. Panera, until recently most famous for its recognition that the only thing better than broccoli cheddar soup is broccoli cheddar soup served in an enormous, hollowed-out hunk of sourdough, has recently been proclaiming that it sells  "food as it should be." T.J. Maxx, Marshall's, and HomeGoods, in the lead-up to 2015's holiday season, came out with a series of spots announcing that they would be closed on Thanksgiving, "because family time comes first." (Implicit in the ads, of course, was the message that those stores would also very much be open for business again on Black Friday.)
These ads, on the whole, both streamline and amplify the moral logic of the consumer economy: We are what we eat, maybe, but we definitely are what we consume. They recognize that the stuff we buy—and the food we eat, be it Panera bread bowls or Honey Maid graham crackers or whatever else—are part of a larger context, and a larger conversation. At stake is not just "food as it should be," but life. Campbell's, recognizing that, has recently featured soup ads (revealing hashtag: #realreallife) starring two seemingly loving fathers and their adorable toddler. Kohl's ads from the 2015 holiday season featured an interracial, same-sex couple. Mattel recently featured a boy, for the first time, in an ad for a Barbie doll. After the decision in Obergefell v. Hodges was announced last June, brands from American Airlines to Bravo to Jell-O to Target went out of their way to celebrate the landmark ruling. (So did Oreo, which had previously come out, so to speak, with a "pride cookie.")
This—brands functioning as arbiters of family values, participating in the culture wars, essentially, by ignoring their existence—makes sense. Ads are, as a cultural medium, extremely intimate. They base themselves, if they are doing their jobs correctly, on profound insights about who we really are, and what we really want. They make audacious but also data-driven assumptions about whom the "we" includes in the first place. Honey Maid's video ad spots, rendered in the documentary style and washed in a digital gauze that is reminiscent of an Instagram filter, are sweet and heart-warming. They really do suggest a better, more inclusive world.
Because of all that, they've been for the most part extremely well-received. A new ad, which fights against Islamophobia, has been viewed on Facebook more than 700,000 times since it was launched yesterday. It has also garnered more than 500 comments, many of them echoing its highest-voted: "Love this!!! So spot on - we have way more similarities than we do differences! Great job Honey Maid." As the writer Andrew Solomon points out in The New Yorker, "People have long suggested that the new structures of the American family are 'unwholesome' as a way of rationalizing intolerance. The idea of what is 'against nature' has been central to messages of prejudice about both interracial relationships and homosexuality." And as Mondelēz International's senior marketing director, Gary Osifchin, said in a statement when the campaign launched:
We recognize change is happening every day, from the way in which a family looks today to how a family interacts to the way it is portrayed in media. We at Honey Maid continue to evolve and expand our varieties to provide delicious, wholesome products so they can be a part of everyday moments of connection in a world with changing, evolving family dynamics.
What he is suggesting—what the entire "This Is Wholesome" campaign is suggesting—is that, while ads sell us stuff through stories, sure, their real power comes from their status as non-fiction. Ads, being what they are, are fundamentally cynical; the canny trick the values-oriented ads have pulled off is to sell that cynicism as precisely the thing that keeps them honest. We've done our research; we understand how things are, and how things should be, the brands are saying. Here, let us explain. It's a posture that allows the ads to claim description and prescription at the same time. It's a posture that allows Mondelēz International to build a plug-in that replaces a headline about Donald Trump with one that reads, "Set the Table for Togetherness."
None of that posturing is strictly new, certainly. Take that famous Coke ad from 1971, recently made infamous again through Mad Men's series finale: a group of young people, hand-holding upon a mountain, singing about the world they want to build, together. Except, of course, their vision of that world comes through a very specific mechanism. "I'd like to buy the world a Coke," they intone, full of earnestness and idealism and ostensibly many, many swigs of carbonated sugar-water.
The sing-song-y copy of the ad, it's worth noting, is presented, grammar-wise, in the first person, and the conditional tense. I'd like. Compare that to Honey Maid's blithely third-person present: "This is wholesome." (And: "Stronger bonds strengthen us all." And: "Togetherness is powerful.") Compare it, too, to Panera's "food as it should be," and to Home Goods's "family time comes first." In all those taglines, the subjectivity—and, indeed, the implied humility—have been shed.
These new bits of ad copy aren't suggestions, or even exhortations; they are simple, strident declarations. Not about the products they are selling, but about the world they are selling it to—and within. Here are ads for graham crackers that, in their insistent progressivism, carry a slight whiff of Sylvester Graham's old-school, stern paternalism. Here are ads that are convinced they know something about society and its trajectory—so much so that they will whimsically overtake any page on the sprawling Internet with headlines speaking to that knowledge. Here are ads that, unlike so many of their forebears, aren't just selling a better you. They're selling a better us.