The Invitation: A Dinner Party of Nightmares
Karyn Kusama's new film plays on the awkwardness of reuniting with old friends, but escalates into a terrifying thriller.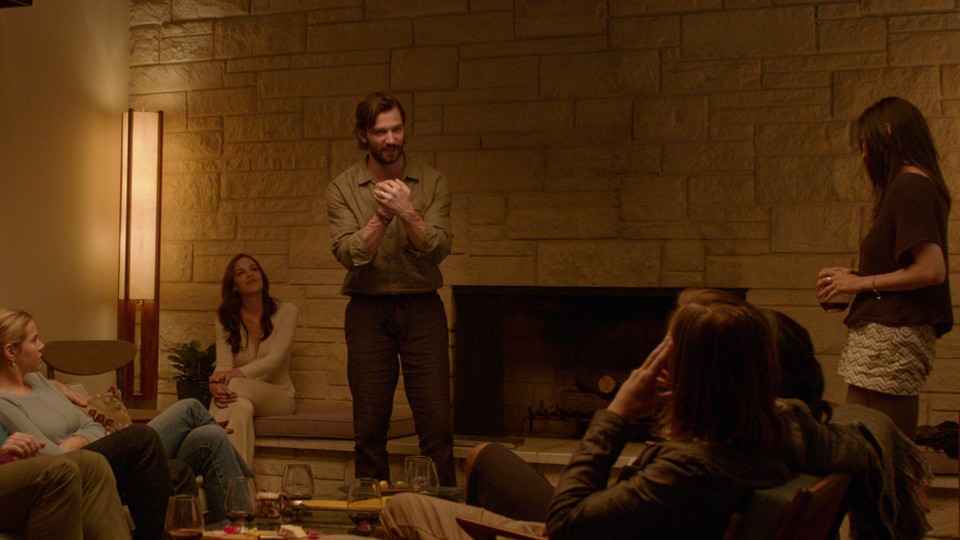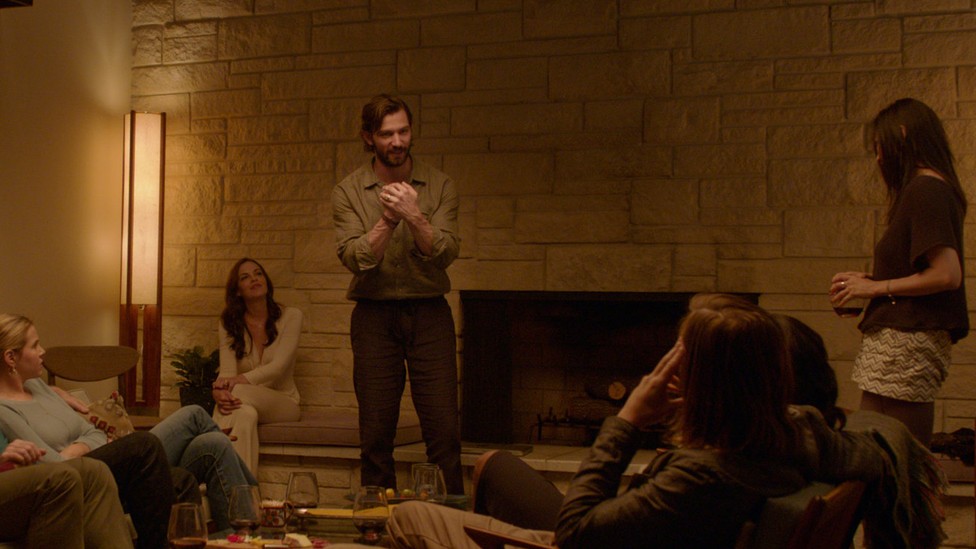 The awkward dinner party—featuring forced conversation with friends who've gone down a different path, or the agony of seeing an ex with a new partner—is a situation almost everyone is familiar with. It's also usually ripe material for comedy, but in The Invitation, the director Karyn Kusama turns a reunion into a shockingly tense horror film. Set in a modern home high in the Hollywood Hills, the film is a moody nightmare that plays on fears as narrow as the Manson murders and as broad as the discomfort of peer pressure. Picture being trapped in a conversation with someone who won't stop talking about their fad diet—only imagine also worrying that person might want to murder you.
The titular "Invitation" is the name of a broader lifestyle fad, an online self-help group with culty overtones and vague messages of personal improvement. Will (Logan Marshall-Green) attends a dinner party at his old home with his new girlfriend Kira (Emayatzy Corinealdi), and becomes suspicious of his ex-wife Eden's (Tammy Blanchard) fervor for The Invitation. He's downright hostile to her new husband David (Michiel Huisman), who introduced her to the trend. Kusama, working from a script by Phil Hay and Matt Manfredi, flashes back to Will and Eden's happy life together to turn the screw; the audience knows that someone's going to snap, but not how or when. It's simple stuff, but it's remarkably effective, working to a sinister climax that largely pays off after 90 minutes of build-up.
Eden and David are creepy in just the right way—a little too forward, eager to keep everyone's glasses filled, and insidious in their propagandizing about their new lifestyle. Through (often clunky) flashbacks, viewers learn about the terrible trauma that ended Will and Eden's marriage, but it's enough to keep the viewer guessing about Will's growing paranoia. Is he infuriated by his ex-wife's new-found calm after the pain of their divorce, or is he correct in guessing that they're hiding something? Buried in a thick beard, Marshall-Green looks like a cut-rate Tom Hardy, quietly brooding around the house and murmuring at Kira, with whom his relationship is equally murky.
Huisman and Blanchard are the real stars of the film, though. Best known for his work as the sinewy warrior stud Daario Naharis on Game of Thrones, Huisman takes all of that role's mellifluous European charm (he's Dutch) and molds it into something much more aggressive here. David is like an amiable camp counselor with flashes of menace; there's an unmistakably threatening edge to his laid-back Kumbaya routine. Blanchard, best known as a Broadway veteran, fully inhabits the role of the high-strung hostess, whose good cheer and passion for her new life seems to hide some darker torment. Most of the other guests are pleasantly drunk sorts, but the fellow Invitation devotee Pruitt (John Carroll Lynch) is a more ominous figure, probably owing to Lynch's famously terrifying cameo performance in David Fincher's serial-killer drama Zodiac.
Kusama broke onto the indie scene in 2000 with the phenomenal Girlfight, which introduced the world to Michelle Rodriguez as a young female boxer making her way in the sport. Since then, Kusama has struggled to find the right material for her precise, mood-focused style; neither the bonkers sci-fi drama Aeon Flux with Charlize Theron nor the horror pastiche Jennifer's Body quite clicked, despite each possessing moments of unique flair. The Invitation is a much smaller-scale project and Kusama benefits from the little character moments she can pump into it. She invests the mysterious motivations of her leads with real feeling, even as the tension dials further and further up, and she perfectly renders the distinctly L.A. vibe of the whole affair.
The Invitation is both difficult to spoil and best experienced with as little plot detail as possible. The viewer knows something's going to happen, but Kusama does well to hold back just what, and why, until the film's crisp denouement. This is a tense drama first and a genre flick second, but there's a mundane horror that grips the film from the start. I got goosebumps when a party guest tried to initiate a game of I Never, and started blathering on about the burden of human inhibitions: essentially, my worst nightmare as a dinner guest. That's how The Invitation buries into the brain—by hitting on the universal fears of the viewer and slowly, but surely, ratcheting them into chilling specificity.