The Girlfriend Experience: Love in a Cold Climate
The Starz drama is a chilly, fascinating portrait of a law student who doubles as a high-class escort.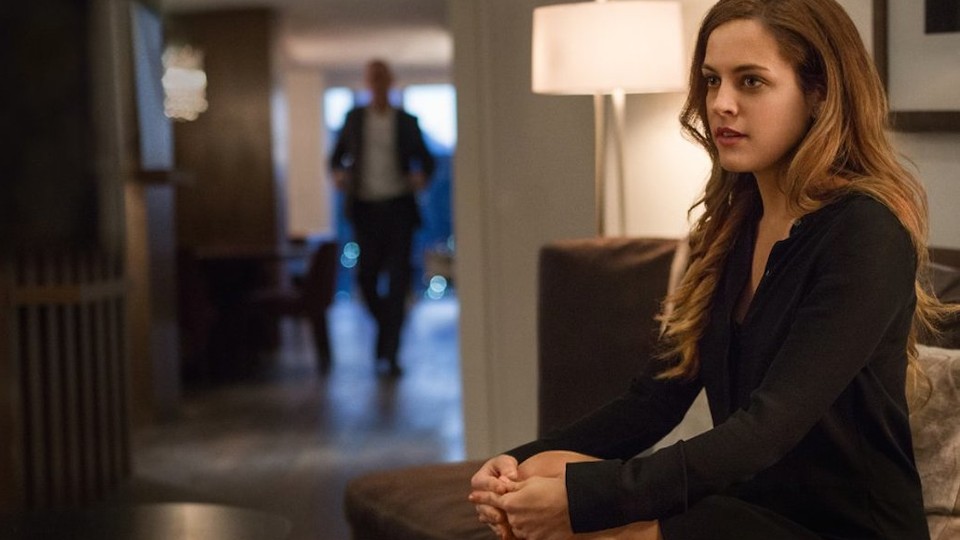 Early in the first episode of The Girlfriend Experience, Christine (Riley Keough) briefly describes how to please prospective clients and benefactors. "You just say their own words back to them," she tells a friend, flatly. "It's what they want."
In that moment, she's attending a job fair at her law school, and explaining why she's spent so much time memorizing obscure medical-product jargon (so she can recite it to the recruiters looking for interns and persuade them how passionate she is about their painfully boring work). But the statement could just as easily apply to Christine's philosophy regarding another job she's mulling by the end of the episode: high-class escort. Ostensibly, The Girlfriend Experience (named for the customized, extremely expensive service Christine provides) is a show about a young woman pursuing a career path in the highest echelons of sex work, but really it's an examination of the human desire for power, which looks remarkably similar as it manifests in boardrooms and bedrooms throughout the series.
The show is executive produced by Steven Soderbergh, and based on his 2009 indie film of the same name, which notably starred the adult-film actress Sasha Grey in the role of Christine. That movie, set in New York as the financial crisis of 2008 was beginning to percolate, was fixated on money, and used Grey's character (also named Christine, and also known to her clients as "Chelsea") as a lens through which to consider the pursuit of wealth. The TV series shares much of the movie's sense of anxiety, as well as an aesthetic obsession with the trappings of the very rich, rendered in sterile, glossy high definition (there are scenes upon scenes of hotel suites and expense-account restaurants, filtered in Soderberghian blues and grays). But its primary currency is distinct. Keough's Chelsea, struggling with debt at the beginning of the series, certainly profits from her new career, but the fulfillment it gives her seems to be harder to quantify.
Soderberg has described Christine as a superhero, and the debut season of The Girlfriend Experience functions remarkably well as an origin story (girl discovers her powers, girl struggles to master those powers, girl battles antagonists, and quickly ends up out of her depth). In the first few episodes it's far from clear how she feels about the profession she's eyeing, and in many ways she seems passively swept along by a handful of women looking to profit from her. Her friend from law school, Avery (Kate Lyn Sheil), is staying in a McMansion owned by a vastly wealthy married man; Avery invites Christine to join them for drinks with another male friend, then hands her an envelope full of cash in the ladies' room. "You don't have to do anything if you don't want to," Avery adds, but Christine's face as she's left alone with her date is a picture of internal conflict.
Later, Avery introduces Christine to her booker, Jacqueline (Alexandra Castillo), who sets Christine up with a photographer, and provides the security deposit for a luxurious apartment Christine will have to work to pay for. There are initially hints that she's being unwittingly trapped, but it becomes obvious instead that she's found her calling. Christine's detached efficiency—the quality that makes her a capable intern at the law firm she works at by day—leads her to build a stable of well-paying regulars whom she keeps notes about on her BlackBerry, and whom she's able to fascinate with her languid detachment.
This being a premium-cable show, there are plenty of scenes featuring "Chelsea" in bed with her clients. But the series is equally compelled to portray the intricacies of a seemingly tedious patent dispute being handled by her law firm, Kirkland & Allen, and by her shark of a boss, David (Paul Sparks). It later emerges that a female partner at the firm (Mary-Lynn Rajskub) has slept with a client to keep an account, prompting viewers to consider whether Christine is in fact just an honest player in a very complicated game. More to the point, it's obvious that being an escort gratifies her on more than one level.
Keough's Christine is fascinatingly inscrutable, and the 26-year-old actress (Elvis's granddaughter, incidentally) carries the series with her chilly poise and enigmatic composure. The show, written and directed by Amy Seimetz and Lodge Kerrigan, offers no exposition whatsoever, rather following Christine from scene to scene and only occasionally abandoning her when plot necessitates it. But the show's 30-minute episodes (rare among dramas) benefit from brevity—there's little of the sagginess that tends to plague many streaming series—and it makes for compulsive viewing. (Starz is making all 13 episodes available to subscribers on Sunday, April 10, then airing one each Sunday for the duration of the season.)
Christine herself is a cipher perhaps because not even she knows quite who she is or what she wants; it's strongly hinted that she might lack normal levels of humanity, even though she's strangely loyal to Avery and has a photo of her and her mom on her cellphone's homescreen. "I just don't enjoy spending time with people," she tells her sister, a district attorney, at dinner. "I find it a waste of time, and it makes me anxious ... I don't have the same kinds of feelings or reactions about the way things are supposed to be." One of her clients jokingly refers to her as "a female Ted Bundy."
But does that make her a sociopath, or does it make her honest? The series declines to answer. Nor does it offer a moral framework within which to judge her, given that her clients are mostly married men whom it's far easier to condemn. Christine looks a lot like a wide-eyed ingenue (Dakota Johnson in 50 Shades of Grey comes to mind as an obvious doppelganger), but she's infinitely more astute—when she kisses her first client, she indeed keeps her eyes open. This isn't a Pretty Woman-style fantasy of a lovable naif redeemed by a cynical man, nor is it just a glamorous portrait of an age-old profession: In one scene, Christine's portly older client explains that he's keeping his socks on because of a nasty foot fungus. Instead it's very much a tale of empowerment, but a particular kind that presumably very few viewers will want to emulate.