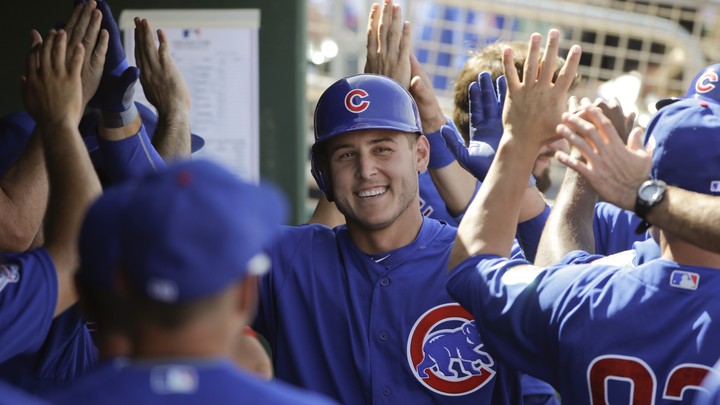 In baseball, spring is the time for either optimism or expectation. Historically put-upon teams and their fans get to convince themselves that the upcoming season will bear better results. Wealthy clubs that spent the offseason importing talent, meanwhile, get to look at their rosters and picture a summer full of clean, excellent play, a six-month charge into record books. Everyone has hope, but the types of hope differ, and they hurt in different ways if unfulfilled.
The Chicago Cubs hope in just about every way you can think of. Most obviously, they are dynastic losers, having failed to win a World Series in the last 107 years or even to appear in one in the last 71. They serve as shorthand for every malady from bad luck to institutional backwardness to supernatural curses. So the team and its fans alike, judging by press conferences and conversations, seem to be wishing for a change in fortune in that guarded way that allows for maximum protection from disappointment while leaving the possibility of euphoria just open.
But the Cubs are also this year's preseason favorites. Casinos in Las Vegas have given them four-to-one odds of taking home the Commissioner's Trophy in October, more than twice as good as those of any other team, and the predictions of the sports media have largely echoed the sentiment. Chicago's status is the result of a promising 2015—with one of baseball's youngest squads, they won 97 games before falling in the league championship round of the postseason—and a winter that saw them add a number of highly sought-after free agents to their roster. They are at once underdog and front-runner: history's David and this year's Goliath.
What's most interesting about the Cubs on the eve of Opening Day, though, is the way their makeup reflects the game's evolution. Their hard luck has its origins in the early 1900s, but their ideology belongs squarely to the present day. They are baseball's presumptive best team, and they look entirely different from the way a team with that title would have looked just a handful of years ago. If they become the story of the season, they will not only end more than a century of Chicago angst but also further solidify the sport's new doctrine, one that values flexibility over outdated brawn.
* * *
Theo Epstein, Chicago's president of baseball operations, has helped break a bad streak before: Epstein was the general manager for the Boston Red Sox when they ended their own 86-year World Series drought in 2004. In its construction and style of play, that team exemplified the bold era of the '90s and aughts. Its stars, the sluggers Manny Ramirez and David Ortiz and the pitchers Pedro Martinez and Curt Schilling, had all started their Major League careers elsewhere and been brought to Boston via the plundering that was common among the game's richest clubs. They played baseball the way action heroes drive cars. The batters hit booming home runs, and the pitchers piled up strikeouts; they had little use for the relative nuances of sharp baserunning or tidy defense.
In the decade-plus since Epstein's first triumph, baseball has undergone significant changes. Sluggers are rarer, to begin with, due to tougher performance-enhancing drug testing in response to the excesses of the steroid era. Strategies have shifted as well. The tactics once used by less affluent teams as a means of making up economic disadvantages—acquiring younger and cheaper players through the amateur draft, paying attention to skills subtler than home-run power and batting average, privileging adaptability over sheer accumulated talent—have spread throughout the game. On the field and in the front office, baseball has become cleverer and quicker.
Epstein's second try at saving a storied but star-crossed franchise therefore involves a more varied cast of characters than his first. Many of the Cubs' key players—the 2015 Rookie of the Year Kris Bryant, the shortstop Addison Russell, the homer-swatting left field duo of Kyle Schwarber and Jorge Soler—were either drafted by the club or acquired as minor-leaguers. Others, like the 2015 Cy Young winner Jake Arrieta and the stalwart first baseman Anthony Rizzo, were pinched from other teams early in their big-league careers and have since blossomed in Chicago. Serving as the manager for this precocious squad is Joe Maddon, a jocular, white-haired seer in thick-rimmed glasses who came to prominence not by steering one of baseball's bluebloods but by leading one of the game's poorest teams, the Tampa Bay Rays, as they spent much of the late 2000s besting organizations that outspent them by orders of magnitude (Epstein's Red Sox included).
Maybe most representative of the new tenets of team-building, though, are a pair of players the Cubs added during the offseason with the goal of jumping from contenders to champions. Jason Heyward hit a modest 13 home runs last year, but he plays the best right field in baseball, gliding in every direction, making difficult catches seem ordinary by the precision of his routes. Ben Zobrist, last seen helping the Kansas City Royals win the World Series, will usually play second base but is comfortable almost anywhere on the diamond. This versatility, combined with an abbot's patience at the plate, earned him Maddon's admiration in Tampa, where Zobrist began his career. A short while ago, these two players might have been pet favorites of baseball's burgeoning intelligentsia, their quieter skills mostly overlooked in an era when money and acclaim generally followed the ability to hit a ball high and hard. This winter, the Cubs signed them to contracts worth nearly a quarter of a billion dollars combined.
* * *
Even fans without a particular interest in the historical aspect may well find themselves enamored with this Chicago team as the 2016 season unfolds, owing to its approach instead of its potential streak-ending significance. The Cubs offer something for nearly every preference. The pitching aficionado will enjoy the work of Arrieta, whose grim stare and heavy black beard brings to mind a hardened Arctic sea captain and who pitches in a manner that fits the image. Devotees of the long ball in its current, post-steroidal form will have something to watch every time the Cubs' batting order nears the middle, where Rizzo and Bryant wait to bash any pitcher's error into the Wrigley Field bleachers. Defense, too, figures to be on display, with Zobrist and Russell teaming up for clever double plays and Heyward snaring balls that looked like sure hits leaving the bat. And for the type of fan inclined to obsess over lineup orders, positional platoons, and defensive shifts, the ever-tinkering Maddon will make a fine stand-in.
The task of a club is not to pursue balance, of course; it is to win. In putting together the 2016 Cubs, Epstein no more honored the game's variety than he did when assembling those comparatively one-note 2004 Red Sox. He simply tried to make his team as good as it could be, and in the present climate, the best teams tend to be the most resourceful.
Regardless of intention, this Chicago team does reflect a new health in certain recently ignored areas of baseball aesthetics. Where there was once a dichotomy—the rich teams loading up on power, the rest trying whatever guerrilla tactics might let them compete—there's now a fully filled-in stylistic spectrum. Last year's World Series was contested by the Royals, who trade in base hits and abundant speed and team defense, and the New York Mets, driven by a cavalcade of variously gifted young starting pitchers. Had a couple balls bounced differently over the course of October, the Series might have featured teams built on prodigious infield play or the now-retro homer-hunting model. More than at any point in the 21st century, baseball is awash with distinct approaches, all stemming from a common commitment to valuing a player's contributions in whatever form they may take.
It's fitting, then, that the team predicted to be this year's best should have versatility as its benchmark. If the Cubs look strong through the summer, the talk among baseball fans will inevitably center on thwarted curses and realized dreams, and if they advance deep into the postseason, that talk will spread to most everyone with access to a newspaper or television. The stakes are of the sort that can set a team apart even among the company of fellow champions. The fun of these Cubs, though, is much the same as the fun of baseball as a whole in this blooming, curious period. They are bold and nuanced, audaciously talented and carefully built. They'll crush late-inning homers and work quiet walks. They'll play the game any way you like.
We want to hear what you think about this article. Submit a letter to the editor or write to letters@theatlantic.com.
Robert O'Connell
is a writer based in Minneapolis. His work has appeared in
The Guardian
,
Esquire
, and
Vice Sports.