Remembering Zaha Hadid
For better and for worse, she was the world's first female starchitect.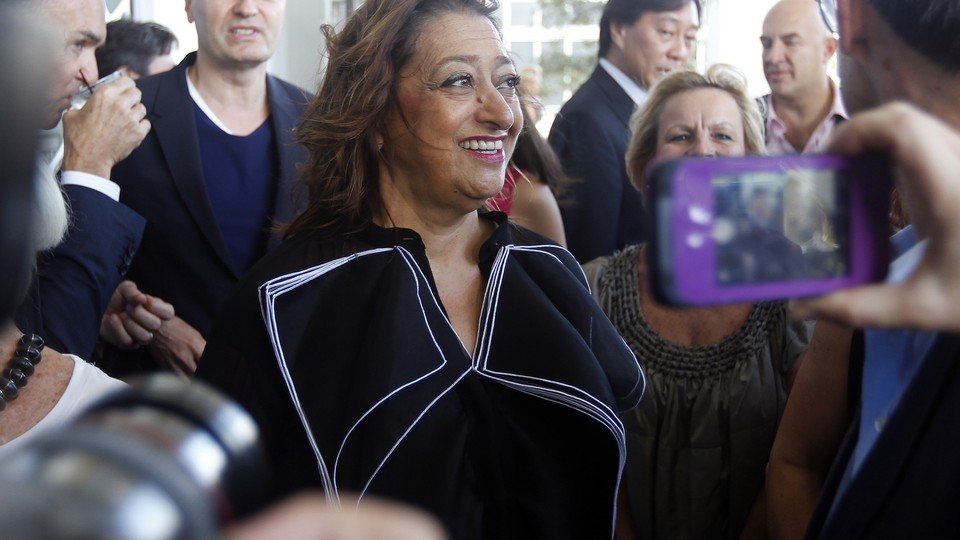 A year after Zaha Hadid won the Pritzker Architecture Prize in 2004, she told The Wall Street Journal that her work as an architect had changed entirely. Winning the Pritzker, she said, opened the door to clients who might otherwise have judged her designs to be too alien, too exaggerated, and, perhaps, too feminine.
Hadid, who died of a heart attack at 65 on Thursday, shattered many glass ceilings in the field of design. She was the first woman and Muslim to win the Pritzker, and the first woman and Muslim to earn the Royal Institute of British Architects' Stirling Prize. She was anointed by Queen Elizabeth II and Glamour alike. For better and for worse, Hadid was the world's first woman starchitect.
Hadid pushed theory to the forefront of global practice. The Iraqi-born British architect was a respected voice in design well before Zaha Hadid Architects completed its first major commission. More than any other architect's work, her curvilinear designs and laser-sleek geometry marked the transition from the 20th to the 21st century. Hadid's later and most significant works—some of which are still underway—pushed the field toward notoriety.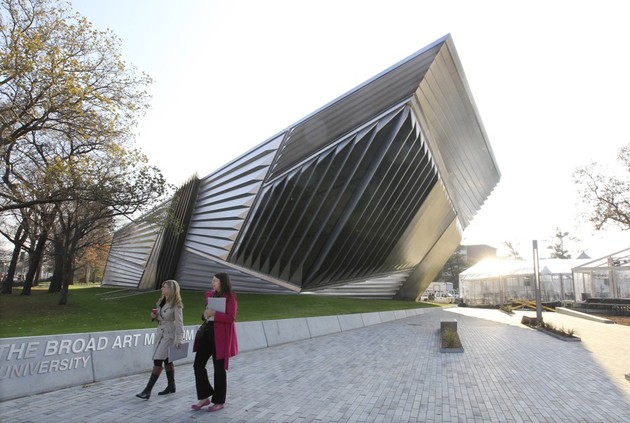 She met the world with an agnosticism that made her a lightning rod. One of Hadid's signature accomplishments, the Heydar Aliyev Center in Baku, Azerbaijan, raised sharp questions about the propriety of visionary architects accepting commissions from regimes known for human-rights abuses. Hadid's swelling curve of a concert hall, which was named the Design of the Year for 2014 by London's Design Museum, was preceded by forced evictions and expropriations, according to a report from Human Rights Watch.
"The totality, the whiteness, the speck of a single person walking down it, the sheer spectacle of it—you have to throw out those English morals and weedy thoughts about world problems: Here is architecture as ultimate statement of theatre," wrote Peter Cook in Architectural Review.
Hadid resisted the criticism that trailed her work, defending and delineating her role in problematic projects. In 2014, she told The Guardian that it was "not my duty as an architect" to take action over the deaths of migrant workers in Qatar in the lead-up to the 2022 World Cup. (Hadid designed Al-Wakrah Stadium, the centerpiece for the tournament.) In disavowing personal responsibility for labor conditions in the Persian Gulf, she drew fierce denunciations. Hadid sued the architecture writer Martin Fuller after he wrote a column in The New York Review of Books that suggested that 1,000 workers had died building her project—a claim that Fuller was compelled to retract. Just last year, she walked off a BBC program after the host challenged her on migrant-worker deaths.

Excess attended many of her late projects. Last summer, Japanese Prime Minister Shinzo Abe announced that Tokyo would not build Hadid's design for the stadium at the center of the Tokyo 2020 Olympic Games. Before it was scrapped, that design drew Hadid into direct conflict with a generation of Japan's most gifted architects—among them her fellow Pritzker laureates Toyo Ito and Fumihiko Maki—who criticized the scale of her exuberant design.
Hadid's response was bombastic. "I think it's embarrassing for them, that's all I can say," she told Dezeen. "I understand it's their town. But they're hypocrites."
Her willingness to condemn her critics publicly, combined with her reputation in the industry as a difficult manager, may have accelerated the "diva" tag that followed her throughout her career. It was always inevitable: She frequented the Delano in Miami and she dressed head to toe in Issey Miyake. But The Guardian's Stuart Jeffries formally assigned her the label in 2004, in one of the first major profiles of her work. It is not a flattering profile, and not something anyone would write about a man.
Zaha Hadid offers a moist, limp hand to shake. She's coming down with the flu. This is a disappointment. Where is the vibrant monster I'd been promised from previous interviews? Where's the ball-breaking harridan barking abuse in Arabic into her mobile as she wafts into her north-London studio in vertiginous heels, before snarling unpleasant things to her staff in terrifyingly idiomatic Anglo-Saxon?
The profile goes on to mention "the C-word, one that only the boldest use in Hadid's presence"—meaning Cardiff, where a planned opera house by Hadid fell through, but plainly intending the other C-word, as well. A new book by Despina Stratigakos, Where Are the Women Architects?, devotes an entire chapter to the sexism that Hadid met at every turn.
Characteristically, Hadid placed no central importance on her status as a woman architect. "I used to not like being called a woman architect. I'm an architect, not just a woman architect," she told CNN in 2012. And yet: "Guys used to tap me on the head and say, 'You are okay for a girl.' But I see the incredible amount of need from other women for reassurance that it could be done, so I don't mind that at all."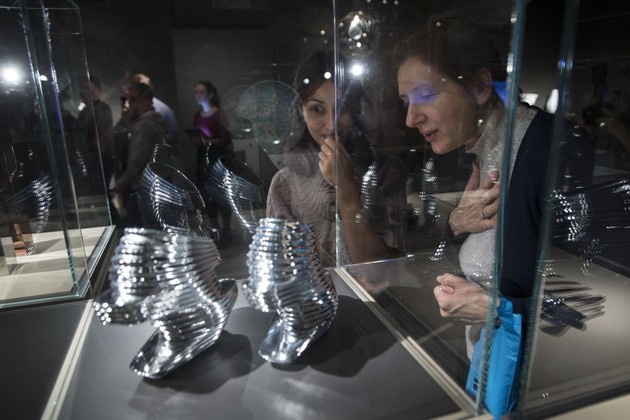 Some of her most important designs are under construction or have yet to be built, including a breakthrough residential skyscraper in Miami, the One Thousand Museum tower, and the Iraqi Parliament Building in Baghdad, where she also designed Iraq's Central Bank. Her only New York project, 520 W. 28th Street, is slated to open in 2017. Her studio will no doubt continue under the leadership of her partner, Patrik Schumacher. (He coined the term "parametricism" in a manifesto describing how Zaha Hadid Architects' use of new form-finding technology amounted to a stylistic departure for architecture.) Nevertheless, Hadid leaves behind a tight body of work—a fact that perhaps stands at odds with her "diva" status.
Were Hadid truly the egotist that her detractors claimed her to be, she might have taken a very different path in architecture. Certainly the option was available to her to expand drastically, over-extending her studio with commissions across the globe, as another prominent new voice in architecture has done. Hadid might have been well on her way to fast-fashion collaborations with Target and appearances on The Simpsons. She may be a household name, but Hadid elected not to become a household product.
Instead, with no professional model and few technical precedents to follow, she pursued iconic form relentlessly. Hadid never strayed from a path of elegance, focus, and an unyielding unwillingness to compromise. Her contributions to the built environment may be mixed, and they will be judged. But they are undeniable—and they amount to more than a long series of firsts.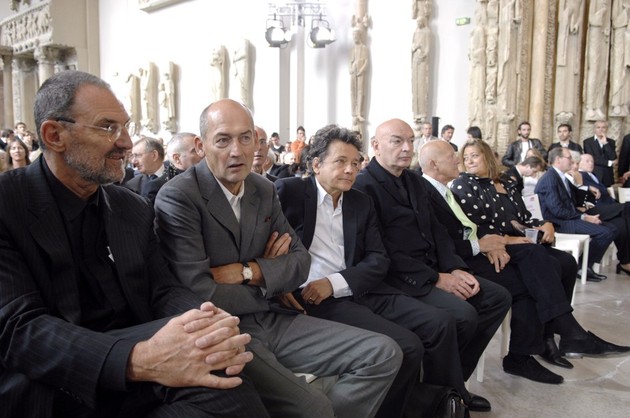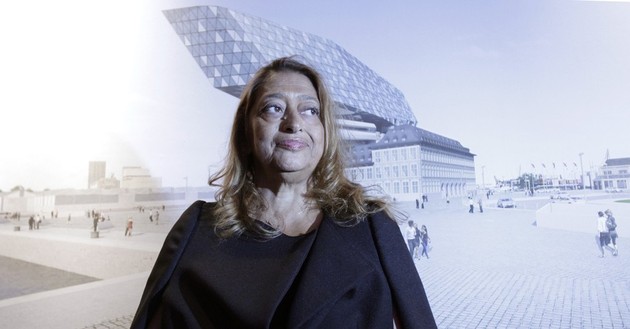 ---
This post appears courtesy of CityLab.