Remembering Prince
The legendary singer was 57.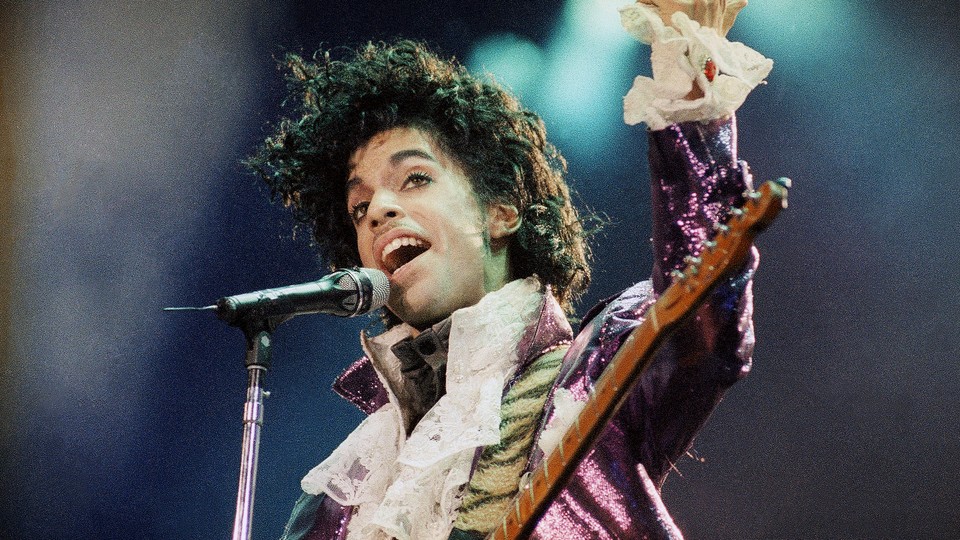 Updated on April 21 at 4:03 p.m. ET
Prince, the legendary singer and songwriter, is dead, his publicist confirmed in a statement. Prince was 57.
Prince's body was discovered at his compound in Paisley Park in Chanhassen, Minnesota, early Thursday. The cause of death is unknown, though Prince had been hospitalized last week. TMZ, which first reported the singer's death, said Prince's representatives had at the time said he'd been battling the flu.
Here's more on his death:
Reaction to Prince's death from his fellow musicians and fans was almost instantaneous:
Born Prince Rogers Nelson in Minneapolis on June 7, 1958, the musician became a superstar after the release in 1982 of his album 1999. But it is his iconic release Purple Rain, which came out in 1984, for which he's probably best known. Still, as the Rock and Roll of Fame says in its biography of Prince, "the artist's deep discography is full of funky treasure."
Writing in The Atlantic in 2013, Elias Wright pointed out the unlikely origins of perhaps the most influential musician of his generation.
When Prince released his third album, Dirty Mind, in 1980, most people outside of Minneapolis probably did not predict the purple domination to come. A lot of the magic was right there in that album, though. It's approximately 29 minutes of layered falsetto vocals, neck-breaking guitar licks, bursts of bass, and pounding synthesizers, all illustrating an ability to smash musical genres into one and create undeniable melodies.  

But over the next decade, Prince became the face of an entire swathe of sound emanating from Minneapolis, containing numerous other funky acts, many of whom were connected with him in some way: The Time, Alexander O'Neal, Sheila E, Cherrelle, Vanity 6.
The seven-time Grammy winner sold more than 100 million albums in his lifetime, and won an Oscar in 1985 for Best Original Song Score for Purple Rain. Prince was also famously a workaholic and music-obsessive who produced nearly 40 studio albums and dozens of other recordings.
"There's not a person around who can stay awake as long as I can," he said in an interview in 1985. "Music is what keeps me awake."
In 1993, he changed his name from Prince to a symbol, fusing the signs of male and female. It was during this period he came to be referred to as "The Artist Formerly Known as Prince." He reverted to his stage name, Prince, in 2000.
"I follow what God tells me to do," Prince said, according the Hall of Fame. "It said, 'Change your name,' and I changed my name to a symbol ready for Internet use before I knew anything about the Internet."
The legendary musician was also known for his live performances, including during a downpour at Super Bowl XLI, considered one of the great halftime concerts of all time. You can watch that here:
Here's a roundup of the significant moments from his career.
John Covach, a rock historian from University of Rochester Institute for Popular Music, in a statement called Prince "one of the most important artists in American popular music during the last two decades of the twentieth century."
"As a performer, he challenged the limits of sexuality, in many ways paralleling Madonna's musical exploration of suggestive behaviors and taboo topics during the 1980s," Covach said. "He will be remembered as one of most significant artists in American popular music history."
Indeed, my colleague Ta-Nehesi Coates, who has criticized Prince's comments on homosexuality, called the artist "arguably the greatest pop musician of our time." One aspect of that artistry was Prince's ability to write about sex. As Coates explained in in 2009, Prince sang about sex "like a man honestly singing about sex."
But Prince was never afraid of himself, or what he'd do. On the contrary, he embraced it. In a song like "Erotic City" he earns the right to say "We can fuck (funk) until the dawn," by first saying, "Every time I comb my hair \ Thoughts of you get in my eyes," or "All of my hang-ups are gone \ How I wish you felt the same." He revels in the wanting, in the potential for rejection, he does not fear it.
Prince announced last month  that that he would publish his memoir next year. It was tentatively titled The Beautiful Ones, after a song in Purple Rain.
"Y'all still read books, right?" he asked, according to an NPR account of the event in Manhattan, New York. Here's more:
Just before 11:00 p.m., in a brand new outfit featuring a sky-blue pants and a furry vest, Prince was back on another part of the balcony, with an accompanying dancer. And what had previously appeared to be an electric piano and mic set-up was revealed as a DJ or a live-MPC rig. Prince pressed play on "Hot Thing," and began singing the still wonderfully grimy electro-funk cut from his 1987 album Sign O' The Times, (altering one lyric about "going to the Random House ball"), before transitioning to that album's deeply reflective title track.

For approximately the next 30 minutes, Prince took the party on a funhouse ride through his catalog, with a rapt audience trying to keep up, singing along to most every word. The artist cut up drum-machine patterns (heavy on the "Sign" beat"), while cuing up eight and sixteen-bar asides of tracks that spanned his illustrious career.
In an interview on ABC in 2010, Prince shared a lesson on professional endurance.  "The key to longevity," he said, "is to learn every aspect of music that you can." Prince lived to be only 57, but he fulfilled the latter part of that sentiment.
You can read my colleague Spencer Kornhaber's appreciation of Prince here.