Prince the Immortal
The rock star, dead at 57, lived such a blazingly distinctive life as preparation for the day that has now arrived.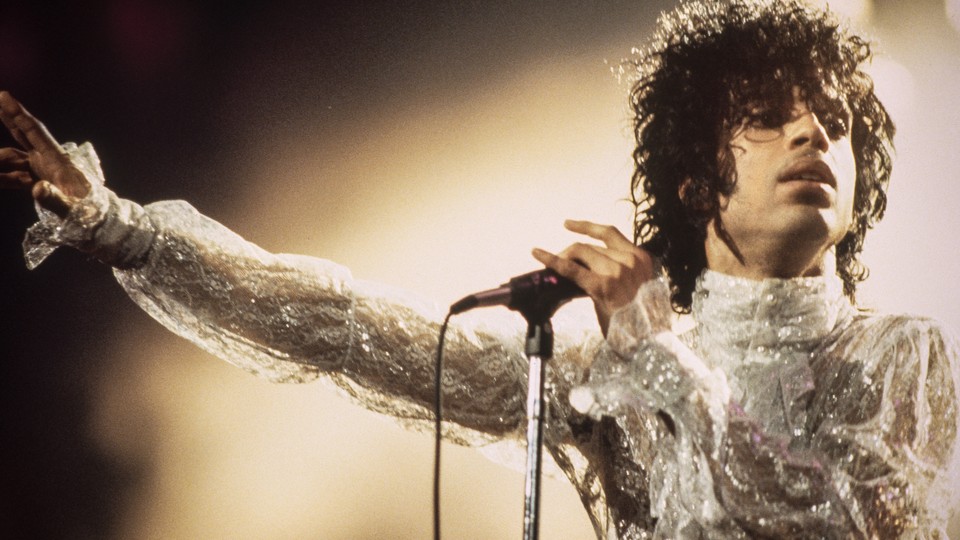 "I don't wanna die / I'd rather dance my life away," Prince sang on "1999," a line that can't help but be considered in light of the shocking news of his death at age 57. There were a few big themes in Prince's songs, but his ongoing reckoning with mortality might explain everything else he did in his four-decade career. His work—his music, his visuals, his movies, his public comments, his business decisions—acknowledged the grimmest realities of existence and used them as inspiration for something joyful, transcendent, and weird. After reportedly struggling with epilepsy at a young age, he labored to build his own reality, one that disregarded most commonly recognized limits except for the most inescapable of them.
Which meant doing a lot of extraordinary things. It meant making his debut album, For You, at age 19. It meant wholly ignoring taboos about sexual expression in his slew of smashes through the '80s. It meant liquidating any perceived boundaries between rock and R&B and funk and pop. It meant rebelling against the strictures of a record contract by rebelling against the strictures of a 26-letter alphabet, not to mention brand-management conventions, in renaming himself a symbol. It meant building Paisley Park, the compound in Minnesota where he lived, recorded, and now has died. It meant one of the least fashionable religious awakenings of all time. It meant continuing to buck conventional wisdom about how to distribute music in the Internet era. It meant protest songs and surprise concerts and mysterious tweets, right until the month when he died.
Coming so soon after the death of David Bowie, it's a moment to consider how deeply important iconoclasts are to the evolution of a culture. Do they change the world by trying to change it, or do they change the world through the radical act of simply being themselves? With Prince, you got the sense, usually, that it was a self-aware version of the latter. His lifestyle changed from party-driven to puritanical over the years, but his precise personality and his flair for surprising the public never did: This was authentic uniqueness, and he indicated time and again that it was preparation for the day that has now arrived. It will go over-quoted now, but you can't avoid thinking about the words of "Let's Go Crazy": "We are gathered here today to get through this thing called 'life.'" And: "We're all excited, but we don't know why / Maybe it's cause we're all gonna die."
His recent work—hyperactive, electronic, brash—defied most expectations for what music from an aging icon of music taking stock of their career should sound like. But the lyrics fixated even more than ever on the passage of time and the idea of feeling immortal through the joys of sex and dancing and pure sensation. Turn to "June," a rare recent ballad and the final song of 2015's HITNRUN Phase One, to hear him to give his philosophy in terse, moving allegory. He sings of putting pasta on the stove and then falling into a reverie about music. He wonders whether he should have lived through the Woodstock era; he admires the sound of Richie Havens on the turntable. Then, to close: "What's that? Something burning on the stove—must be the pasta." He knew his time, like everyone's, would be up before he was ready for it to be. What mattered was what came before.