Remembering Merle Haggard, Outlaw and Poet
The performer died on Wednesday, his 79th birthday.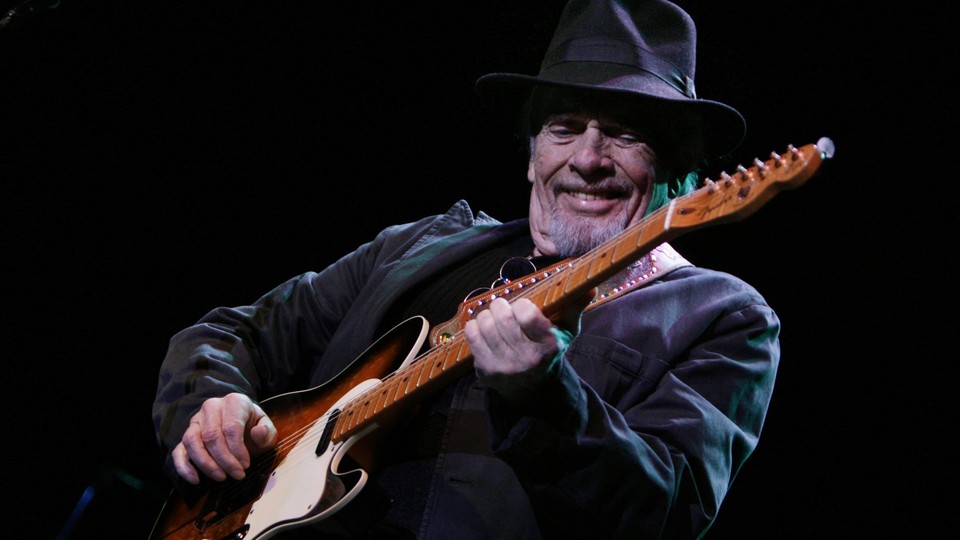 Merle Haggard is dead at 79, and that seems impossible. The performer—an American poet, ambivalent culture warrior, reformed criminal, and all-around good-time character who changed country music by returning to its roots—was such an institution that it's hard to believe his career only spanned five decades, just as it's painful to imagine a future without him.
The singer, songwriter, guitarist, and violinist reportedly died in Bakersfield, California—his home town, which he helped put on the map as a music center—on Wednesday, his 79th birthday. Along with Buck Owens, Haggard was one of the progenitors of the Bakersfield sound, a twangy, guitar-driven, hard-edged style of country that provided an alternative to the increasingly smooth, commercial music being made in Nashville in the 1950s and '60s.
If Southern California seems like a strange place for country music to return to its roots, there was a logic to it. The Inland Empire was full of people who'd flocked there during the Great Depression and the Dust Bowl, leaving poor areas of the South in search of work and bringing a honky-tonk sensibility with them. Haggard was born to parents who'd left Oklahoma in 1935 after their barn burned down. Three years later, Merle was born at the family home in Oildale, an unincorporated town outside of Bakersfield—a boxcar his father, a railroad worker, had converted into a house.
Haggard drew on his Sooner State roots for one of his most famous songs, "Okie From Muskogee":
We don't smoke marijuana in Muskogee;
We don't take our trips on LSD
We don't burn no draft cards down on Main Street;
We like livin' right, and bein' free.

I'm proud to be an Okie from Muskogee,
A place where even squares can have a ball
We still wave Old Glory down at the courthouse,
And white lightnin's still the biggest thrill of all
The song was released in 1969 and quickly became a counter-countercultural anthem—capturing backlash against hippies who were protesting the Vietnam War. The song made Haggard a darling of conservatives, and was one of several such songs hailed as anthems of the Silent Majority. The same year, he released "Workin' Man Blues," a classic blue-collar lament about hard work with a pointed shot in the final verse: "Well, hey, hey, the working man, the working man like me/He's never been on welfare and that's one place he will not be." In a third 1969 track, "The Fightin' Side of Me," Haggard once again criticized the anti-war movement. It's a subtler song than it might initially appear—not a simple condemnation of the anti-war movement, but still a cry of aggrieved patriotism. "I don't mind 'em switching sides, and standing up for things they believe in," Haggard said. But "when they're running down my country, man, they're walking on the fightin' side of me."
There was some debate about just how serious Haggard was about all this. In 2010, he explained the lyrics as sincere: "America was at its peak and what the hell did these kids have to complain about? These soldiers were giving up their freedom and lives to make sure others could stay free," he said. "I wrote the song to support those soldiers." Yet other critics have interpreted the lyrics of these songs, and particularly "Okie," as somewhat tongue-in-cheek, sending up redneck and hippie stereotypes alike. Looking for a single, simple meaning is likely a fool's errand. Country music, like all of the best folk forms, is a style in which there's often more ambiguity and more meanings than the straightforward lyrics would suggest.
Haggard's politics were never especially rigid, anyway. After winning Kennedy Center Honors in 2010 and meeting President Obama, he praised the Democrat and complained, "It's really almost criminal what they do with our president." In 2015, no matter what they do in Muskogee, he even recorded a song with Willie Nelson full of marijuana double entendres. It turns out Haggard started smoking weed at the ripe old age of 41.
Autobiography was a continuing source of material for Haggard's songwriting. As a young man, he had a series of scrapes with the law, bouncing in and out of juvenile detention and later San Quentin State Prison. It was at San Quentin that Haggard—who'd taken up the guitar as a boy—heard Johnny Cash play, which he said spurred him to join the prison band and then pursue a career in music. Songs about living on the wrong side of the law became an essential part of Haggard's repertoire, like the classic "Mama Tried."
I turned 21 in prison doing life without parole.
No one could steer me right but Mama tried, Mama tried.
Mama tried to raise me better, but her pleading, I denied.
That leaves only me to blame 'cause Mama tried.
Like many crime songs, it's a tribute to traditional values masquerading as a chronicle of wrongdoing—he praises "Sunday learning," family values, and the hard work of his widowed mother, even if it all came to naught. Haggard didn't get life in prison, of course (and then-Governor Ronald Reagan pardoned him in 1972), but his crime songs were among his most poignant. In one, he tells a story as chilling as the cold-blooded folk murder ballad "Pretty Polly":
I do life in prison for the wrongs I've done
And I pray every night for death to come
My life will be a burden every day
If I could die my pain might go away.
In "Sing Me Back Home," an even finer song, an inmate honors a fellow prisoner's last request before execution. As the man is lead "down the hallway to his doom," he asks the narrator to "sing me back home with a song I used to hear, make my old memories come alive / Take me away and turn back the years, sing me back home before I die."
As a honky-tonk hero, Haggard could of course spin a great drinking song. My favorite is "The Bottle Let Me Down," an absolute masterpiece of country songwriting—keening, bleak, witty, and poetic. "Tonight your memory found me much too sober," Haggard sings. "The one true friend I thought I'd found—
tonight the bottle let me down." Later in the song he succinctly captures a drunk's heartbreak: "I've always had a bottle I could turn to, and lately I've been turning every day."
Whatever Haggard felt about the hippies, many of them became huge fans of his. The Grateful Dead played "Mama Tried" and "Sing Me Back Home." (The lead guitarist Jerry Garcia's sound—a clear, bell-like tone, quick riffs, and lots of string bends—showed the heavy influence of Haggard's longtime lead guitarist Roy Nichols, as well as Buck Owens sideman Don Rich.) The Byrds recorded "Life in Prison" on the landmark country-rock album Sweetheart of the Rodeo, and they and the closely related Flying Burrito Brothers performed "Sing Me Back Home." Gram Parsons and the Burritos recorded "The Bottle Let Me Down," as, later, did Elvis Costello.
One reason these musicians were attracted to Haggard was his musical sophistication and reach. Haggard married the sound of earlier Bakersfield star Buck Owens—stinging Telecaster licks, singing pedal-steel guitar, and honky-tonk directness—to blues and jazz. (Haggard married Owens's ex-wife Bonnie Owens, too. They divorced 13 years later, but she continued to sing in his band.) He could swing like the Texas fiddler and the bandleader Bob Wills, to whom he recorded a 1970 tribute album that showed off his own fiddle chops. His bands were full of musicians who could play jazz nearly as well as country—piano, fiddle, steel, and guitar. And Haggard was no slouch on Telecaster himself, a purveyor of tasty, understated licks.
In a 1990 New Yorker profile, Haggard's drummer Biff Adam said, "All those people want to talk about is honky-tonk. Honky-tonk, my ass. I'm getting awful goddam sick of that word. There's more to it than that. What Merle plays is country jazz. That's what he calls it, and that's what it is."
Lest anyone still believe Haggard was just playing simple hillbilly music, take this rendition of "Workin' Man Blues." The song is basically just a funky blues shuffle, relying on the same I, IV, and V chords as any blues (or most country songs). Like blues and jazz, it's a style that showcases instrumentalists' chops—Nichols takes the first guitar solo, Haggard the second, and there are violin and piano solos as well. The song is also spiritually of a piece with the blues, a style often typecast as music of sadness that is in fact (as Albert Murray demonstrated) about transcending it, making happy music that deals forthrightly with life's burdens.
Later in his career, alongside figures Willie Nelson and Waylon Jennings, he was hailed as a hero of "Outlaw Country," a new heterodox movement of country musicians who rejected Nashville strictures and mixed in lots of blues. (Sometimes this is also called "progressive country," a label that would have confused anyone listening to "Fightin' Side of Me" in 1969.)
Personally, Haggard was a character, the type who seemed irresistible to women and magazine profile writers alike. One of his most off-the-wall theories was that Elvis Presley's death may have been faked: "It would be the first chance for freedom in his entire life—and it could have been a scheme Colonel Parker dreamed up," he told People in 1979. In addition to his marriage to Bonnie Owens, he was married four other times. In the New Yorker profile, Bryan Di Salvatore wrote, "Friends suggest that Merle remains married so as not to be under an obligation to divorce and marry again." (He did so anyway a few years later.) But he remained friends with some of those ex-wives, including Owens.
His manager, Fuzzy Owen, who confirmed his death to The Bakersfield Californian, had been with him for 54 years. And Haggard could be extremely generous. In 1981, he scored a late hit with "Big City." The song was inspired by an offhand comment by Dean Holloway, a childhood friend who'd been driving Haggard's bus since 1966. During a recording session in L.A., Holloway remarked to Haggard, "I hate this place. I'm tired of this dirty old city." In less than an hour, Haggard wrote a song around the phrase and recorded it. He gave Holloway a co-writing credit that came to be worth a half a million dollars.
Having been a touring musician since the mid-1960s, Haggard spent a lot of time on buses. What he really loved was trains—he sang about them, including an entire album of train songs; his tour bus bore the logo of the Santa Fe line; he even played with model trains. But as he told Di Salvatore, buses had basically become his home. With his health failing a few days ago, Owen told the Californian, Haggard had asked to be taken to his bus. He died on the rig, surrounded by his friends and family. Tonight, the bottle will let many heartbroken fans down.