M83's Junk: The Joy of Schmaltz
The French space-rockers burrow deeper into '80s kitsch but understand that true corniness is eternal.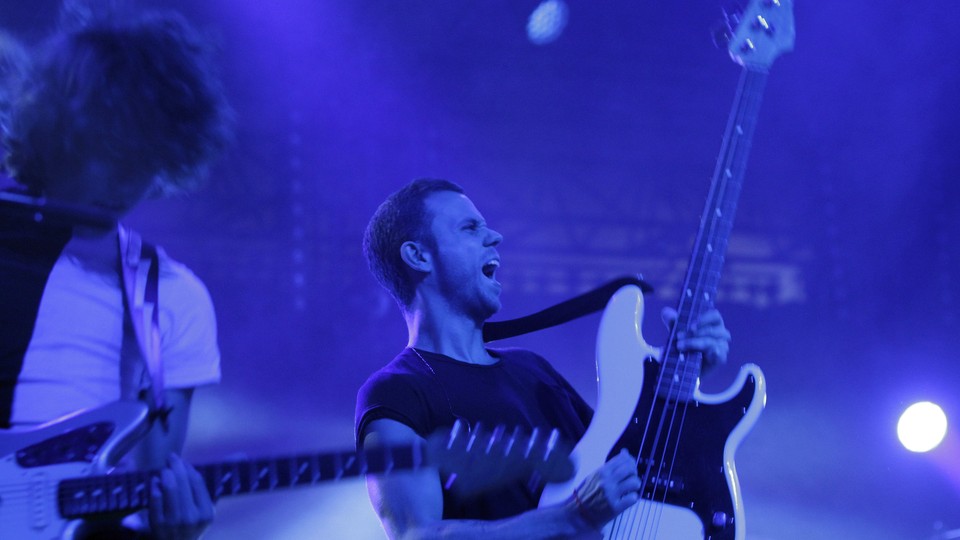 It may be time to declare the strip-mining operation that is the new millennium's repurposing of '80s pop culture complete. We live after "Too Many Cooks." After The Goldbergs. After chillwave. Six years after Jaden Smith's Karate Kid. Fifteen years after the first M83 album.
Correction: M83's first two albums could be consumed with nary a flashback to feathered hair and Falkor. Listening to the synthesizer-heavy, shoegaze-influenced space-rock act's 2003 masterwork Dead Cities, Red Seas, & Lost Ghosts is like scraping away the clutter of culture and time to tap into an eternal reservoir of whatever the feeling is when you suspect you're starring in a really great movie. It wasn't until the overt hair-metal swipes and fantasy-film monologues of 2006's Before the Dawn Heals Us that the musician Anthony Gonzalez began to remind people that what's now considered Reagan-era kitsch was actually decadence (perhaps not coincidentally, this was the album when M83 went from being a duo to mostly Gonzalez's solo project). His next two proper full-lengths majestically presided over a wider '80s revival, and the squeaks-and-sax propulsion of 2011's "Midnight City" nearly made him a household name—or at the very least, someone whose work 100 percent of the developed world heard in one movie trailer or another.
M83's follow-up, Junk, has been greeted with a few reviews that seem perplexed and embarrassed at its homages to Punky Brewster, Yngwie Malmsteen, and post-Eagles Glenn Frey. This strikes me as a strange criticism: Listening to M83 always involves the suspension of cool, and if Junk is dorkier than his past few albums, it's only marginally so. Gonzalez has long seemed to believe that his talent for conjuring swelling grandeur is inseparable from the decade in which he was at the age when the world was all swelling grandeur. So for listeners also born around 1980, his music may actually achieve one of the highest aims of pop, which is to physically deliver adults back into the headspace of childhood. Others' relationship to the '80s ephemera in his music will be akin to their relationship with '80s ephemera more generally, whether characterized by ironic affection or visceral rejection or simple unfamiliarity. Under the junk on Junk is the same adrenaline rush Gonzalez has always provided, delivered with more irreverence than usual but also with occasional brilliance.
The opener and lead of a single, "Do It, Try It" is, on a few levels, a demonstration of the dumb pleasure of defying expectations. The ragtime-y piano at the start doesn't really align with the rhythm of the singing; that singing is manipulated to sound like a troll doll come to life; sometimes, "do it" comes before "try it" and sometimes it's flipped. Gonzalez is definitely trying to bug you. But the itchy sensation subsides in the classically M83 liftoff of a chorus, and after a few acclimating spins, you may forget what seemed off about the song in the first place.
Then comes "Go!," an even more ingenious contraption of tension and release. It opens aimlessly, with dewey synths, slow stuttering from the singer Mai Lan, and a far-off saxophone trill—an omen of the glorious cheese to come. Then Lan performs a countdown, the drums pick up, and everything is cannonballed into a bouncehouse of melody and rhythm. Later, Steve Vai, the prog guitarist of legend, delivers exactly the solo you'd hope. A heaving, ecstatic effect arises from the various elements—it's as fun a song as I've heard this year.
The rest of the album is not quite as good as its two opening tracks. But if you come to M83 for excess, which you should, you shall find it in a number of places. The ache of "Solitude" climaxes in a strings arrangement that's Hitchcockian in intensity—it's more agitated, more unresolved, than what you might expect from violins in a rock ballad. The short and lovely instrumental "Tension," built on guitar figures that spin and glints like a ferris wheel at night, should keep Gonzalez's licensing income healthy. Late in the album, "Laser Gun" and "Road Blaster" are back-to-back potential singles, with the former culminating in a series of interlocking chants perfect for backseat karaoke and the latter riding a swinging, sax-assisted beat that recalls a few George Michael hits mashed into one.
Inevitably, not everything here blows back hair as successfully as M83's best work does. The weirdest misstep is "Time Wind," where guest vocalist Beck threatens to rupture the entire M83 universe by introducing elements that should not exist in it—irony, jadedness, enervation. And on the most obvious nostalgia bids, listeners might be faced with questions of correlation vs. causation. Are you moved because the disco soundscape of "Moon Crystal" reminds you of TV shows from long ago, or because those high, whining violins over funk guitar are eternally gorgeous? Gonzalez's entire catalogue posits that this kind of question doesn't really need to be answered. Schmaltz is schmaltz, and it can make life worth living.