Is Amy Schumer Too Famous for Inside Amy Schumer?
After a stellar 2015, the comedian's sketch show is back for a fourth season—but she may have outgrown it.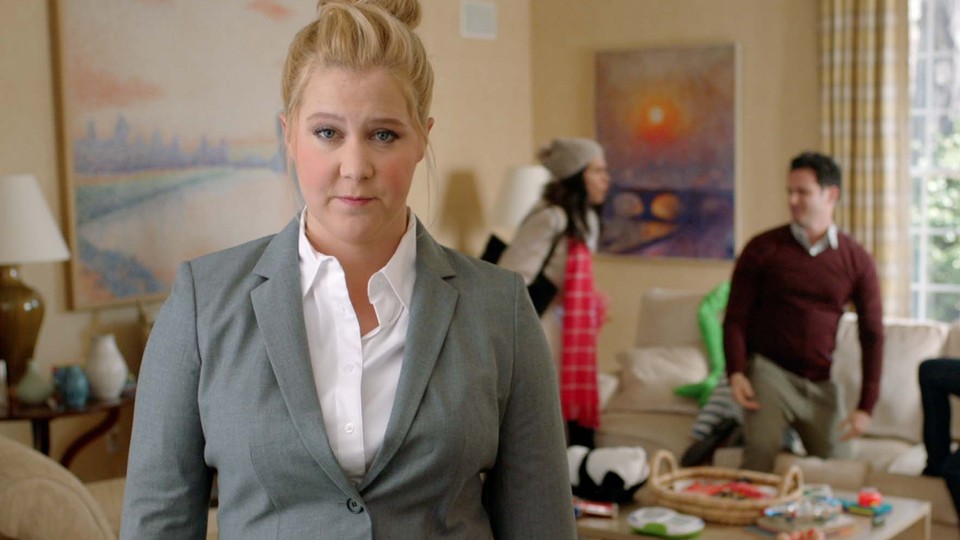 By any metric, Amy Schumer had a career year in 2015. Her Comedy Central sketch show Inside Amy Schumer reached new heights in its Emmy-winning third season; she starred in the box-office smash Trainwreck; and she was speciously accused of stealing other comedians' jokes (that's how you know you've made it big). The promotional materials for the fourth year of Inside Amy Schumer, which returns Thursday, have played on that image by mocking her overexposure, showing her as a skeleton getting X-rayed on the red carpet. Unfortunately, that's about as clever or self-referential as the new season gets.
Schumer has reached a critical mass, and she seems to know it, but her show hasn't caught up to that fact. Inside Amy Schumer has returned with the same blend of gross-out humor, wryly subversive musical numbers, and bluntly graphic man-on-the-street interviews, but its star's growing celebrity has undeniably robbed the show of much of its edge. It's an inevitable moment for a super-popular sketch show, one shared by past hits like Chappelle's Show and Key & Peele—both of which called it a day when they were at their apex. They set an example Schumer might be wise to follow if she wants to ensure the show remains fresh to the end.
It would've been hard for the show to keep up the incredible run it had last year, which came out of the gate with sketches like "Football Town Nights" (remember Schumer drinking from the ever-larger wine glasses?) and featured the tour de force episode "12 Angry Men Inside Amy Schumer," a 22-minute sketch that saw a jury of men in their shirtsleeves debate whether she was attractive enough to be famous. By contrast, the new season is more whimsical and celebrity-focused: Its first two episodes feature several sketches with famous guest stars, none more topical than Lin-Manuel Miranda, the Pulitzer-winning creator and star of the musical Hamilton.
The first episode's longest sketch, in which Miranda appears, exemplifies everything wrong with Inside Amy Schumer's approach this season, which too often simply points at special guests and then forgets to do anything interesting with them. Last year, the skit "Last Fuckable Day" featured an all-star cast (Tina Fey, Julia Louis-Dreyfus, and Patricia Arquette) and used them in genuinely exciting ways, letting them candidly cut loose on Hollywood's treatment of older women. "12 Angry Men Inside Amy Schumer" handed plum parts to character actors like Paul Giamatti and John Hawkes and let them chew scenery for minutes on end, to hilarious results.
Miranda's appearance, on the other hand, involves him sitting on the floor and grumpily looking at his phone (he's waiting for his Uber to arrive) while Schumer lamely dances around in front of him, pitching a Betsy Ross musical that's a shameless ripoff of his wildly beloved work about Alexander Hamilton. It feels like a wasted opportunity, with Miranda called in only because his show is the hit of the moment. That's the kind of thing you can get away with on Saturday Night Live, when you have a week to pitch, write, and perform the sketches, but you might wish Schumer's swelling list of contacts could have been deployed for something more imaginative.
In the second episode, a faux Oscar ceremony sees actresses like Julianne Moore, Maggie Gyllenhaal, Jennifer Hudson, and Laura Linney mock the limited roles offered to major Hollywood actresses; each gets about 10 seconds to put the point across. A later sketch featuring several famous football players (including Michael Strahan and Greg Olsen) playing a fantasy league of regular NFL fans is similarly emblematic of the new season's uninspired feel. It's a simple inversion—the players running a fantasy league, rather than the regular Joes!—that doesn't progress to anything funnier or stranger, and it again feels like a cheap excuse to get a bunch of famous people on screen for five minutes.
That's not to say Inside Amy Schumer has grown completely toothless. When the writing is more politically focused, the jokes are sharper, and the premises more appreciably surreal. A recurring gag about a nanny service that endeavors to find increasingly unappealing childcare providers to stop men from cheating goes from acidic to gross to bizarre (Schumer suggests matronly women, then men, then animals, then blood relatives). A sketch where Schumer gets a pap smear from a group of leering Congressmen is direct and stark, but in a good way. Her offhand chats with comedians and other random guests (including, most memorably, her bikini waxer) are often the most winning moments, because they let her acknowledge her recent jump in fame and strike a nice balance between self-deprecation and genuine pride.
Inside Amy Schumer might have benefited from a longer break, similar to the one taken by Louis C.K. after his sitcom Louie boosted his celebrity. It could also go out on a high note, bidding farewell to Comedy Central's schedule before it burns out its goodwill. Any sketch show centered around one or two performers can only go on for so long before it exhausts the talent—and make no mistake, Schumer remains immensely talented. But for Inside Amy Schumer to bounce back, it perhaps needs to veer away from her newfound superstardom and back toward the blunt, abrasive honesty that made her a success to begin with.