How Jewish Designers Helped Invent Preppy Fashion
Isaac Mizrahi, Marc Jacobs, and Ralph Lauren all lent their talents to developing classic WASP style.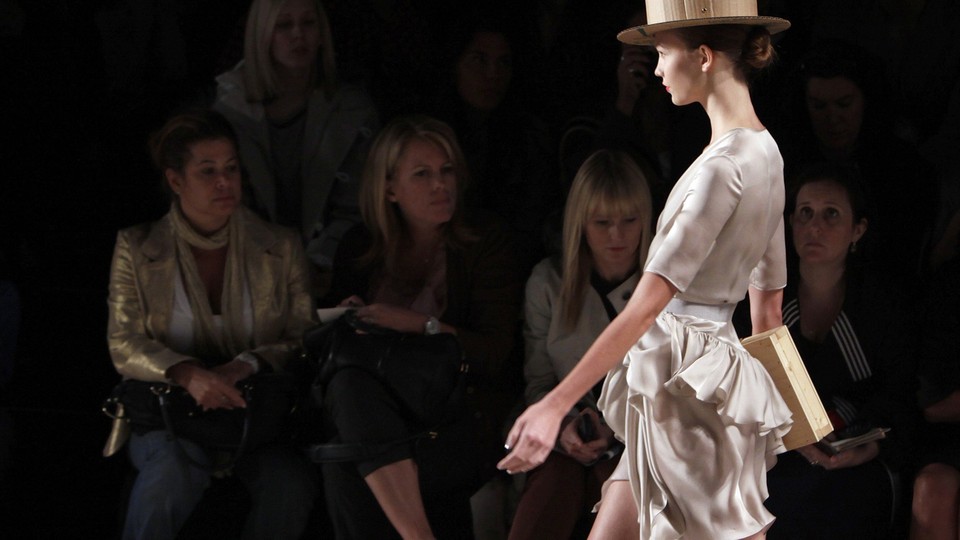 The recurrence of some unmistakably preppy outfits in the recent fall collections conjured up memories of The Official Preppy Handbook, Lisa Birnbach's satirical 1980 how-to manual on the art of pink Polo shirts, twinsets, and Brooks Brothers blazers. But the real origin story of preppy fashion actually goes back much further. It's a tale as old as American fashion itself: the unlikely history of how Jewish American designers descended from immigrants helped transform WASP style into an international uniform that endures today.
The most recent chapter in this story is illustrated by Isaac Mizrahi: An Unruly History, a new exhibition at the Jewish Museum in New York City. Surprisingly, it's the first time the museum has devoted a show to a fashion designer, though Jews have always been the backbone of the American garment industry. In the mid-19th century, the Lower East Side was settled by Jewish immigrants from Eastern Europe. Many were experienced tailors and seamstresses, if only by default—since the Middle Ages, Jews in that region had been barred from owning land, which led to many congregating in urban centers and cultivating trades. Early arrivals such as Levi Strauss and Lane Bryant (a.k.a. Lena Himmelstein) founded apparel empires that are still thriving today.
But success came at a price. Tenement sweatshops offered employees low wages, long hours, and horrific working conditions. The catastrophic Triangle Shirtwaist Factory fire of 1911—the worst of many industrial accidents during that period—forced drastic changes in the 1920s and '30s. The result was a more modernized and professionalized industry, which migrated uptown to a new, purpose-built complex of fireproof workshops and showrooms on Seventh Avenue. The largely Jewish labor force adapted with it: Hattie Carnegie (born Henrietta Kanengeiser), Adrian (Adrian Adolph Greenberg), Mollie Parnis (Sarah Rosen Parnis), and Norman Norell (Norman David Levinson) all made the leap from sweatshops into the rarefied world of high fashion.
At the outbreak of World War II, most American women—and journalists—still looked to Paris for guidance. Manufacturers were complicit in this exchange, paying French couture houses for the right to knock off their designs. But with the Paris fashion industry paralyzed by the war, New York was freed from its dictates. A new generation of designers seized the chance to define American style on their own terms.
Americans had never put much stock in fashion pedigrees. "In Europe, they fetishize the old names," the fashion historian Valerie Steele says in the Mizrahi exhibition catalogue. "In America we want the next new thing." Instead of looking abroad, American designers began to explore closer to home, finding inspiration in the athletic, informal, and practical category of clothing known as sportswear. This typically American style quickly went global. Even today, says Mizrahi, "if you look at all the best European designers, their clothes reflect this American ideal."
From the beginning, American style was synonymous with WASP culture. Sportswear was the uniform of the prep school, the Ivy League, the yacht club, the golf course—institutions that had historically been closed to Jews. Conservative in both its appearance and in its staunch resistance to change, WASP style was exclusive and democratic at the same time. "To me, being a WASP has nothing to do with religion or money," wrote the design author Susanna Salk in A Privileged Life: Celebrating WASP Style. Instead, it signifies "an ideal combination of intellect, grace, and joie de vivre." It wasn't about what you wore but how you wore it; nevertheless, certain garments were easily identifiable as "preppy."
Ralph Lauren once addressed this cultural tension: "People ask how a Jewish kid from the Bronx does preppy clothes. Does it have to do with class and money? It has to do with dreams." Lauren, born Ralph Rueben Lifshitz, was a yeshiva boy, the son of Ashkenazi immigrants from Belarus whose mother dreamed that he would become a rabbi. But young Lauren didn't fit in at school, so he worked to stand out, copying the impeccably tailored look he saw in Hollywood movies, another dream factory where Jews played a prominent role. Fashion was his defense mechanism against his poor immigrant upbringing, and his adopted moniker functioned in the same way. Unlike his contemporary Arnold Isaacs, who reversed the letters of his last name to create the pseudo-Italianate label Scaasi, Lauren didn't change his name solely to succeed in the fashion business. He was still a teenager at the time, and simply tired of being teased.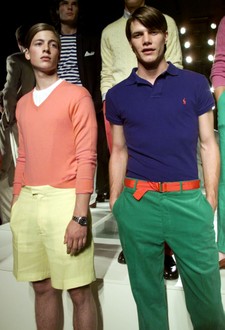 Lauren began his career behind the counter at Brooks Brothers, where he could study WASPs in their natural habitat. Though he had no formal design training, he realized that the most effective way to sell clothes was to sell an entire lifestyle. In 1967, he launched Polo, named for the ultimate Anglophile sport. Lauren's personal aspirations turned out to be the aspirations of many—not just second-generation immigrants striving to "think Yiddish, dress British," but also go-getting Reagan-era Yuppies and nostalgic WASPs who'd seen their way of life crumble in the anti-establishment tumult of the late 1960s and early '70s. Suddenly, anyone could buy what had once been an elite birthright—it was no longer how you wore it, but what you wore.
Like Lauren, Mizrahi was a yeshiva boy seduced by Hollywood. Born in 1961, he consumed fashion through pop culture from an early age. Mary Tyler Moore and Jackie Kennedy "shaped . . . America's whole taste level," he declared in Unzipped, the 1995 documentary that unleashed his unfiltered charm on the world. Raised in Brooklyn's tight-knit Sephardic Jewish community, Mizrahi also struggled to fit in at school. His father, who worked in the garment industry, helped Mizrahi buy his first sewing machine. At 13, when most of his classmates were having their bar mitzvahs, he made his first garment: a wool skirt for his mother to wear for the High Holidays. A teacher spotted his theatrical flair and encouraged him to apply to Manhattan's High School of Performing Arts, followed by Parsons School of Design.
Mizrahi was still in school when he landed an internship with Perry Ellis, described by New York magazine as "a well-to-do southern Wasp who didn't need to create an old-money image" the way his rival Lauren had. Ellis habitually wore blue oxford-cloth shirts, khakis, and Top-Siders; slept on pure linen sheets; and posed for ads "on the dock of his home on Water Island, his long hair blowing in the wind. He looked pensive and brooding—a Seventh Avenue Hamlet who suddenly found himself contemplating such distasteful issues as whether to sell, or not to sell, designer jeans." Like Bill Blass and Lilly Pulitzer before him, Ellis was an American aristocrat who seemed to have wandered off the tennis court and into the fashion business.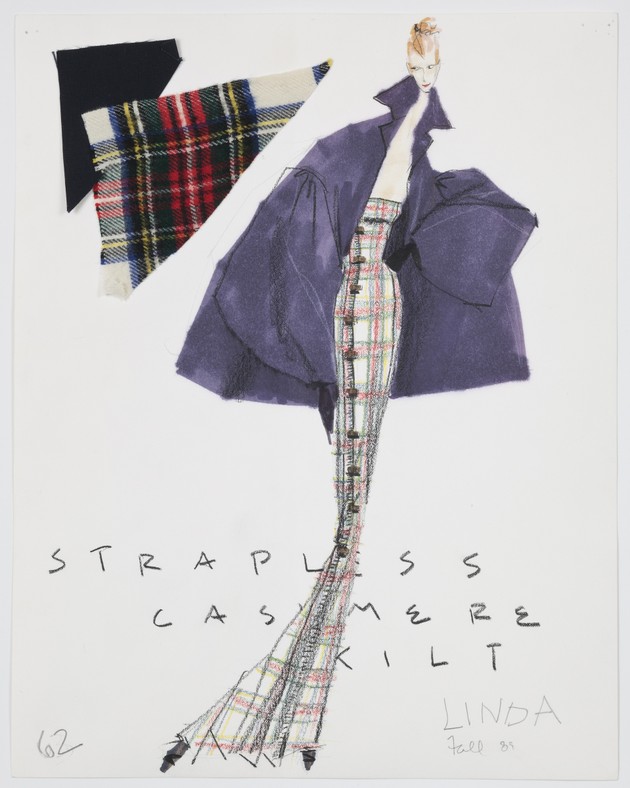 Mizrahi's first job would prove to be as formative an introduction to WASP style as Lauren's stint at Brooks Brothers. Ellis built his label around modern classics that looked as if they had stepped straight out of the pages of a Seven Sisters yearbook. His 1978 debut show even recreated a college football game, complete with bleachers and a cast of Princeton cheerleaders and football players modeling garments with names like the "Bryn Mawr Coat" and the "Vassar Suit." The New York Times reported that "the clothes hardly look store-bought, but rather as if they were borrowed from an older brother or boyfriend." It was meant as a compliment.
Because Ellis imagined that his clients came from his own rarefied world, he was surprised when the Bonwit Teller president Kal Ruttenstein told him: "Stand outside Temple Emanu-El on a Saturday and you'll see Perry Ellis with Bulgari jewelry and Gucci handbags." It had never occurred to Ellis that anyone but white, Anglo-Saxon Protestants might want to wear his clothes. While Lauren succeeded by selling his dreams, Ellis struggled to see past his own reality; he lacked what the literary critic M.H. Abrams called the "outsider's eye" of the Jewish American experience.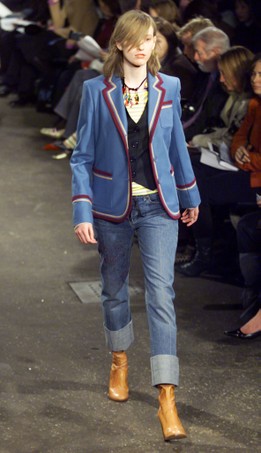 By the time Ellis died in 1986, Mizrahi had launched his own label, and his former Parsons classmate, the 25-year-old Marc Jacobs, took over Perry Ellis. Jacobs "is for today's young preps what Ralph Lauren was for their 1980s counterparts," Vogue declared in 2001. Irreverence is the outsider's prerogative, and the Jewish Jacobs brought a subversive sensibility to the label's classic WASP-y style. But not everyone was in on the joke. Jacobs once told Vogue of a chance meeting with a WASP-y couple at the Mercer Hotel: "Even he didn't realize at first that the wife's conservative costume was, in fact, head-to-toe Marc." (In his Spring 1993 "grunge" collection, Jacobs famously took the joke too far and got himself fired.)
Mizrahi, too, absorbed his mentor's patrician design vocabulary. "With its optimistic colors, elegantly smooth lines, and sensible materials, [WASP style] is as timeless as a box of Crayola crayons," wrote Salk. She could have been describing Mizrahi's oeuvre: vibrant tartans and ginghams, full skirts belted over button-down shirts, Fair Isle sweaters, slouchy duffle coats, and sharply tailored blazers.
Unlike his predecessors, Mizrahi has always deployed preppy tropes ironically: He once sent a model in a hot pink dress down the runway walking a dyed-to-match poodle. His "Pow Wow Dressing" of 1991 was a kitschy riposte to Lauren's earnest embrace of Navajo patterns and fringed shearling, "fusing the American West with the [Jewish] American immigrant," as the assistant curator Kelly Taxter writes in the catalogue—a subtle critique of Lauren's Anglicization of Seventh Avenue's Jewish history. Similarly, Mizrahi's talent for mixing high and low ("ball gowns with combat boots") alludes to what Salk calls "the paradoxical presence of frugality and grandeur" in WASP culture, from genteel collegiate squalor to Grey Gardens. (When his label folded in 1998, Mizrahi made this paradox literal, simultaneously designing for Target and Bergdorf Goodman.)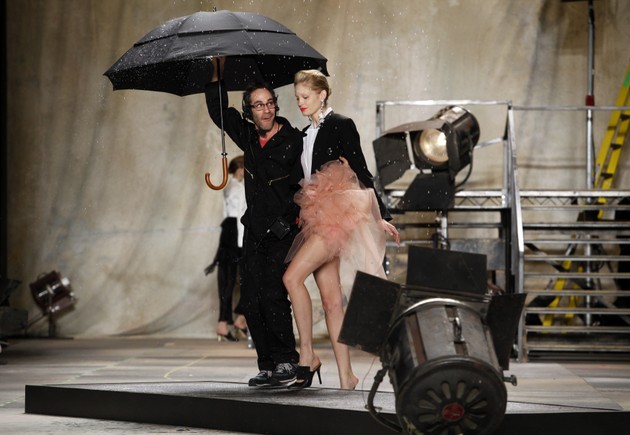 Mizrahi, who describes himself as culturally Jewish if not observant, incorporates witty references to Judaism and great Jewish designers like Norell and Sonia Delaunay into his work. He once offered advice on what to wear for the High Holy Days. But for every Star of David belt buckle in An Unruly History, there are six kilts, peacoats, and Peter Pan collars.
Indeed, it's been a long time since preppy style was the exclusive province of WASPs, if it ever was. Industry insiders were surprised when, in 2014, Brooks Brothers named Zac Posen as its new creative director—not because he's Jewish, but because he made his name with exquisitely constructed, ultra-feminine red-carpet gowns. The young, celebrity-friendly designer seemed to be an odd fit for a legacy purveyor of daywear and suiting to the polo and pearls crowd. Nevertheless, Posen won praise for putting a youthful spin on classic American chic. "The last thing you'd expect to see walking into a Zac Posen-designed presentation just might be loose, silken separates in a tropical print," Vogue opined of his first Brooks Brothers show. "It read Nantucket for sure, but by way of Mr. Posen's posh atelier." If you wanted to locate the essence of American style, the intersection of Hollywood and Nantucket would be an ideal place to start looking.