American Idol and the Evolution of Criticism
The wildly popular show came of age as the Internet was helping to break down the divide between commentators and fans.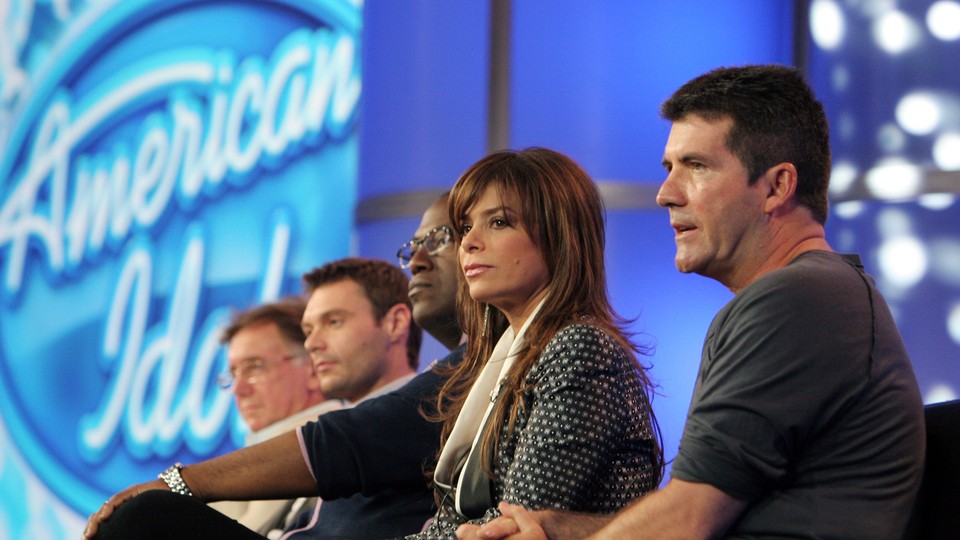 When American Idol: The Search for a Superstar arrived in the U.S. in the summer of 2002, it was decidedly retro. The series recalled the variety-show era of the '70s and relied on music from the big-voiced divas of the '90s. Its acerbic judge, Simon Cowell, the show's first breakout star, was a pop-music industry expert whose tastes skewed heavily to decades past; his favorite song, viewers would later learn, was the Righteous Brothers' "Unchained Melody."
Yet in many ways Idol, which took its final bow on Thursday, was ahead of the pop-culture game. It was one of the first shows that understood both the emotional nerve that connects people to music, and people's innate desire to see others succeed despite enormous odds. It excelled at creating a personal link between artists and viewers, compelling the latter to take action by calling in and voting. The most successful contestants appealed to a wide swath of the American public—Carrie Underwood's sheer humility may very well have cinched her the title—but that didn't stop smaller factions of fans from giving contestants like Elliot Yamin respectable careers.
In this sense, Idol foreshadowed today's social media-driven society, where fans have the power to mobilize and impact the pop-culture landscape—take the country vet Chris Stapleton's bump to fame after a single televised duet with Justin Timberlake, or the resurrection of TV shows like the cult favorite Gilmore Girls and the misguided Fuller House. The show also offers a striking case study for how then-nascent Internet culture narrowed the distance between fans and critics. This shift, combined with critics' increasing willingness to take popular entertainment seriously, has led to an age of criticism that's far more democratic than it was even a decade ago.
As the critic A.O. Scott describes in a recent New York Times essay, the breadth and immediacy of digital media means that in 2016, fans look to critics to be conversationalists and listeners in addition to being authoritative experts. They expect critics to move as quickly as the art itself—like when Kendrick Lamar drops a surprise album via Twitter—but still provide thoughtful, contextualized analysis. The days of the all-powerful critic, it seems, have given way to an endless conversation loop: "This was true before the Internet," Scott notes, "but the rise of social media has had the thrilling, confusing effect of making the conversation literal."
This wasn't quite the case in the mid-2000s, when Idol first began to surge. But as the show's ratings grew—it pulled in upwards of 30 million viewers at its peak—so did the volume of the conversation around it, at both the literal water cooler and its emerging online counterpart. Invested fans took to comment threads to discuss the details of each episode (a novelty in 2002, when dial-up prevailed), and migrated to message boards and viewer-centric sites as they sprung up. The grandfather of such sites, the infamous Television Without Pity (shuttered by NBC Universal in 2014), hosted an elite, analytical Idol community; its recapper Linda Holmes would go on to work for NPR. Other Idol fans found refuge in spoiler-heavy fan sites, including MJ Santilli's MJs Big Blog, which launched in 2005 and has since become a widely successful niche site.
For TV and pop-culture critics, these communities provided an unprecedented opportunity to understand fans and bring readers to their outlets. It also meant they were working around the clock to keep up with the Idol conversation, a swift change in pace from the traditional print medium. In 2006, Ken Barnes merged USA Today's online Idol coverage with a discussion site when he began the comprehensive Idol Chatter blog, one of the first of many Idol blogs by major outlets. Here, fans could come for a live discussion during an episode and stay for expansive coverage on the latest news of Idol alums. When Brian Mansfield took over in 2009, his name became synonymous with Idol coverage, so much so that upon meeting Underwood, she asked if he was the critic who had made her cry (he wasn't; Underwood won Idol in 2005).
Entertainment Weekly, known for its commitment to exploring pop-culture trends, similarly responded with 360-degree coverage. In 2008, EW.com offered lengthy studio reports of Idol tapings in addition to recaps of each televised episode in an effort to provide a behind-the-scenes look at the shiny Idol brand. The then-senior writer Whitney Pastorek recalls the time she "broke" the story (using the BlackBerry she smuggled in) of the beloved Idol stage manager Debbie Williams injuring herself backstage, an incident that would barely warrant a tweet today, but that made the site's news section at the time. Another former EW senior writer, Michael Slezak, hosted a weekly web series called Idolatry that solicited topics from fans, featured eliminated contestants, and later incorporated a former contestant as co-host, season six's charming Melinda Doolittle. (Slezak remains one of the few writers who still dedicate coverage to Idol, now at TVLine.com.)
Very quickly, an Idol ecosystem emerged: Fans, impassioned as ever, were forming concentrated communities, fueling some of the earliest digital "stan" wars. Critics were observing if not actively engaging with these viewers—as Mansfield and the former L.A. Times writers Richard Rushfield regularly did with readers of MJ's Big Blog—and some created their own Idol circle, teaming up for things like a roundtable that aired on MTV. That's to say nothing of the contestants themselves, who developed obvious relationships with fans and less obvious ones with critics: Mansfield, who left USA Today last year to join a music PR firm in Nashville, told me he considers a handful of former contestants to be friends.
All of this happened, notably, during the growing pains of digital media. This was before TV critics and tastemakers recapped every episode of every show, before series finales like that of Lost and How I Met Your Mother and Mad Men drew intense online conversations and endless debates. This was even, mostly, before the rise of Twitter. The extensive online coverage of Idol was, of course, a savvy business move by print outlets, but it also provided early insights into the growing proximity between fans and critics, and the challenges that would follow. Last year, the Walker Art Center launched a conference called Superscript aimed, partly, at helping critics understand how to engage with readers in the digital age—something Idol critics have experimented with for over a decade. Slezak has mastered Twitter relationships with readers, but said he knows not to touch comment threads. Mansfield discovered the value of crowdsourcing years ago through his Idol followers. And Pastorek said she learned lessons in resilience from notoriously defensive Underwood fans.
For his part, A. O. Scott has focused on the idea that, professional or not, everyone is a critic of the art they consume: Recognize that inherent role, he urges the public in his essay (and his book, Better Living Through Criticism), and take it seriously. In an ideal world, that's what Idol would have helped its viewers do, and arguably, it did. After all, as Mansfield notes, Idol did for singing what the Olympics did for figure skating, which is to say it introduced viewers to its technicalities and gave them the confidence to critique it.
But if the judges were there to provide a framework for said criticism, they weren't always successful. Cowell had as powerful an influence as critics can hope to have, but he generally reinforced industry trends. In contrast, the current judge Harry Connick, Jr. comes the closest to the model of a traditional critic (he's a trained musician who talks about intonation and the pentatonic scale in his critiques), but he lacks Cowell's command, which is rivaled only by the deceptively sharp Nicki Minaj. It's hard to gauge how a music critic might have fared as a judge, as The L.A. Times suggested in 2010, but it's certainly an intriguing thought.
Even as everyone's a critic on this side of the millennium, professional critics still play an integral role by helping to frame discussions around cultural trends or social issues. In 2008, the former L.A. Times critic Ann Powers, who now contributes to NPR, defended her coverage of Idol and other pop-culture topics in a much debated essay on "poptimism," reminding skeptical readers that such writing enables new and valuable discussions about race, class, and gender. Over the years, Idol would prompt discussions on all three, including the racist undertones of voting results in season three and the perceived "White Guy With Guitar" bias associated with five seasons won by white men.
Perhaps no season of Idol provided a better discussion point for critics and fans alike than season eight, when the seemingly opposed contestants Kris Allen, an unassuming folk singer, and Adam Lambert, a theatrical, androgynous glam-rocker, competed in the 2009 finale. Many a think piece from Vulture to Rolling Stone to Time explored how and why Allen came to defeat Lambert, and what it said about public sentiment. Meanwhile, fans were spinning their own analyses in what would become the most fervent Idol debate in history. Incidentally, the larger story was that the two finalists were roommates and close friends, as Powers captured powerfully in a piece that contextualized their relationship against the current political climate.
As Fox's retrospective American Idol: American Dream aimed to show earlier this week, Idol is leaving behind a deep and nuanced legacy in pop culture. But the show's specific peek into exciting and unprecedented ways critics were redefining their work—with the needs, desires, and input of fans in mind more than ever—might just be its most fascinating and under-appreciated contribution.