Game of Thrones, Take Your Time
Future seasons may be shorter—and that's a good thing.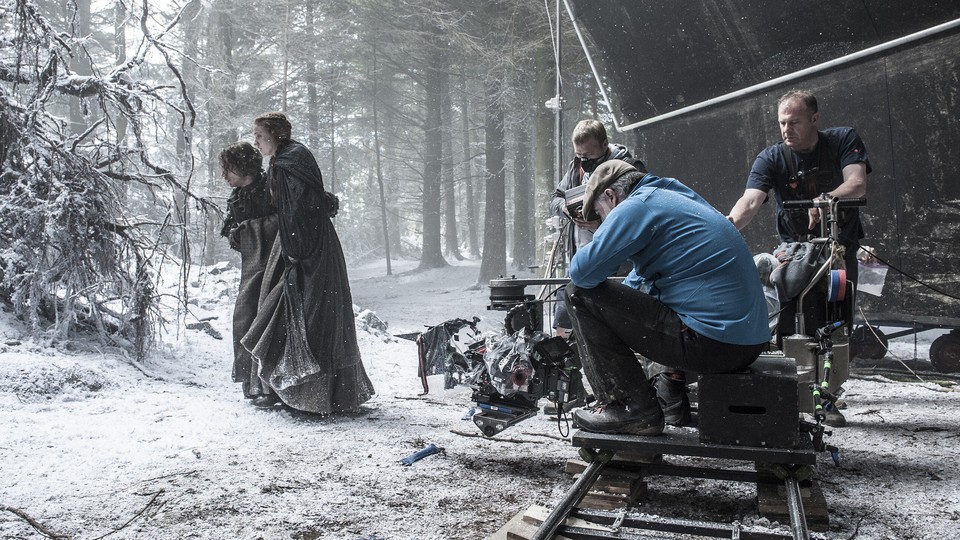 For five years, Game of Thrones has been a project of expansion: ever more characters, ever more lands, ever-bigger battles, and ever-bigger ratings. But now, the show creators might start pulling on the reigns of the behemoth that is Thrones, bringing it home while slowing it down.
"I think we're down to our final 13 episodes after this season," David Benioff told Variety's Debra Birnbaum. "We're heading into the final lap. That's the guess, though nothing is yet set in stone, but that's what we're looking at."
He added that the hypothetical finale run would be split into seasons of six and seven episodes in length—shorter than the standard annual Thrones serving of 10.
It's a plan that recalls the profit-maximizing and often viewer-antagonizing strategy that this decade's other major film and TV franchises have used when bringing their sagas to a close. The Hunger Games, Harry Potter, and Twilight movies all divided their ultimate installments into two, and Breaking Bad and Mad Men ended their runs with two years of mini seasons. Generally, this maneuver is perceived to be driven less by the desire to tell a good story and more by the desire to give the financial stakeholders one more payday.
But when it comes to Thrones, calling it quits with shorter seasons could be the least cynical choice the creators could make. Viewer obsession with the show is so high that ratings might only grow for years to come, and HBO—which, after a middling reception for Vinyl, is currently hurting for culture-commanding Sunday dramas—likely doesn't want to hasten the arrival of the post-Thrones era. Network president Michael Lombardo sounded diplomatic when Variety asked about Benioff and co-creator D.B. Weiss's plan, saying he was open to the idea of ending in 2018 but adding, "As a television executive, as a fan, do I wish they said another six years? I do."
Even if Thrones decides to run for longer, shorter seasons might help the show overcome obstacles that would seem to naturally arise from the unique situation it now finds itself in. Famously, most of its plotlines are about to outpace the Song of Ice and Fire books series upon which they're based, and without the steady girding of George R.R. Martin's meticulous work, creating the show has necessarily become a tougher task: In addition to scripting and filming a host of actors in locations across the world, Benioff and Weiss have to also wholly invent story. Martin, yes, has reportedly given them the big bullet points about how he expects the series to unfold, but that is not the same thing as having tome-length guides for how exactly it all happens.
It's a challenge that gets to the heart of why Thrones appeals in the first place. One of the biggest things that sets the show apart from most works of popular fantasy entertainment is the sense that realistic cause-and-effect logic drives its action: Unlike with, say, The Force Awakens, viewers rarely are faced with a coincidence that they have to chalk up to destiny or magic or simple writer's room convenience. This is unique in the world of mainstream entertainment, surely, because it's hard to pull off. Martin, up to this point, had done the legwork for Benioff and Weiss; it takes him so long to write each installment in part because he has to figure out how to move the extremely complicated narrative along without resorting to shortcuts. And in addition to no longer having the simple and inexorable logic of Martin's plot to build upon, Benioff and Weiss also have to create dialogue and setting details from scratch for nearly every single scene.
Logic would dictate that tackling this challenge would take more time, and therefore would mean that Benioff and Weiss could create fewer episodes in a year. Of course, season six, which premieres next Sunday, will run a full 10 weeks. Perhaps Benioff and Weiss's writing team worked extra nights in the past year to keep the plot feeling as solidly constructed, as weirdly believable, as previous Thrones seasons have been. But if getting the story right in the future means they need to slow down, fans shouldn't complain: It's quality, not quantity, that keeps Thrones from being just another TV show.