Documenting Los Angeles's Near-Invisible Workers
The artist Ramiro Gomez revises images of the city's most luxurious domestic settings by inserting the housekeepers, gardeners, and caregivers who maintain them.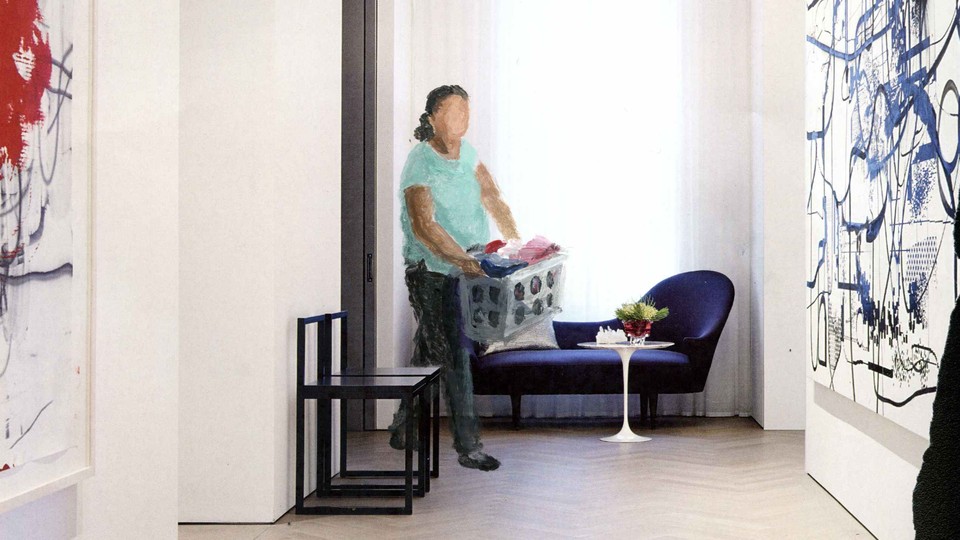 A man pushes a lawn mower through an expanse of green. A woman scours a tall, tiled shower. A man cleans a large pool as another washes the windows of a modern looking house, framed by two palm trees.
These subjects are usually in the background of the luxurious California landscapes they help maintain, but the artist Ramiro Gomez uses his brush to document their existence, memorializing them in the midst of their work. By emphasizing the hidden labor that sweeps and polishes and scrubs, Gomez reframes the David Hockney paintings and glossy magazine advertisements he takes for inspiration, putting the lives of California's near-invisible and individually disposable workers front and center.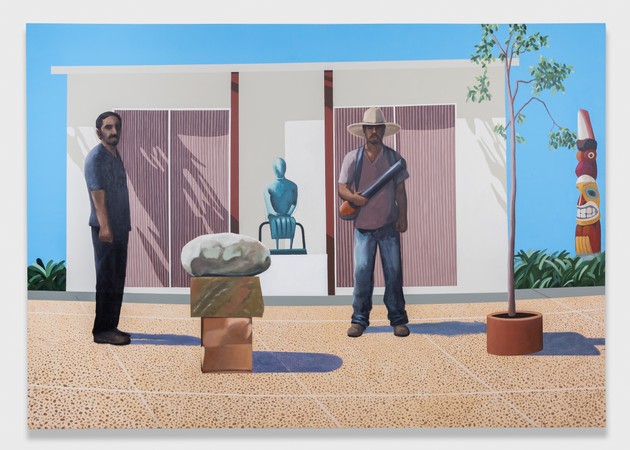 Gomez, who was born in San Bernardino, California, to two then-illegal Mexican immigrants, found his subjects when he began working as a nanny for a family in Los Angeles. The other domestic employees would soon feel like a new family for him within a strange home, until suddenly they'd be gone, replaced without notice. "I felt an impulse to document these fleeting moments of their labor and existence, not knowing when or if they'd return," Gomez said.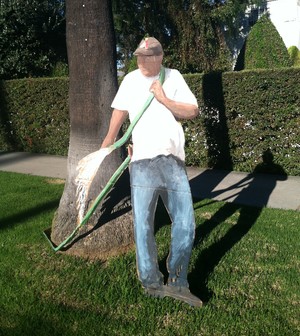 Now collected in the book Domestic Scenes: The Art of Ramiro Gomez with writing by Lawrence Weschler, Gomez's work crosses media but returns to this same preoccupation. His cardboard cutouts of outdoor laborers and nannies that Gomez leaves around various parts of L.A. force passersby to notice the workers who maintain the city's lawns and take care of the city's children. "I wanted to slow people down, to have them double take, to make them take notice and see," he tells Weschler in the book's opening essay. "It was strange: Actual humans involved in their labor had become invisible to most people, but the image of a human, there, in the middle of your day, and not at some museum or gallery, but there in the middle of your path, somehow that registered."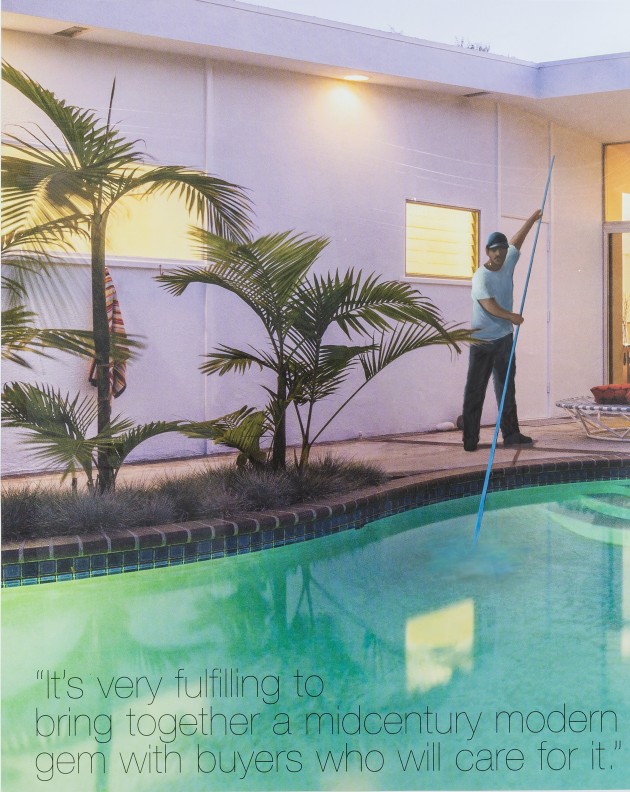 Gomez's reimaginings of the British painter David Hockey's beatific and serene California scenes, which insert the men and women in the act of creating them, have garnered critical acclaim, especially his revision of Hockney's iconic "A Bigger Splash." His painted reinterpretations of advertisements, the first project that he began while working as a nanny, feature the housekeepers and gardeners whose hands wipe and dust and wash the plush upholstery, cool granites, and dreamy garments of idealized domestic life. And his photo studies depict casual moments of labor—Gomez stops to photograph the menial workers he sees, his camera a means of recognition. He finds beauty, he says, in the domestic work environment—beauty that he doesn't see reflected in the "advertisements or cultural products that surround us."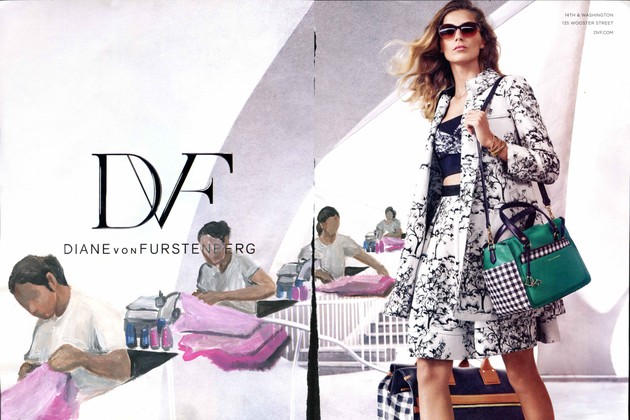 Gomez's figures are faceless, but he gives them names: Lupe, Eduardo, Abelina, Nemesio, Grizelda. He tells Weschler that this is "to suggest the way they were taken for granted and overlooked, but in part also because somehow the viewer reads more into them that way"—a tactic to inspire empathy, born from his own observations.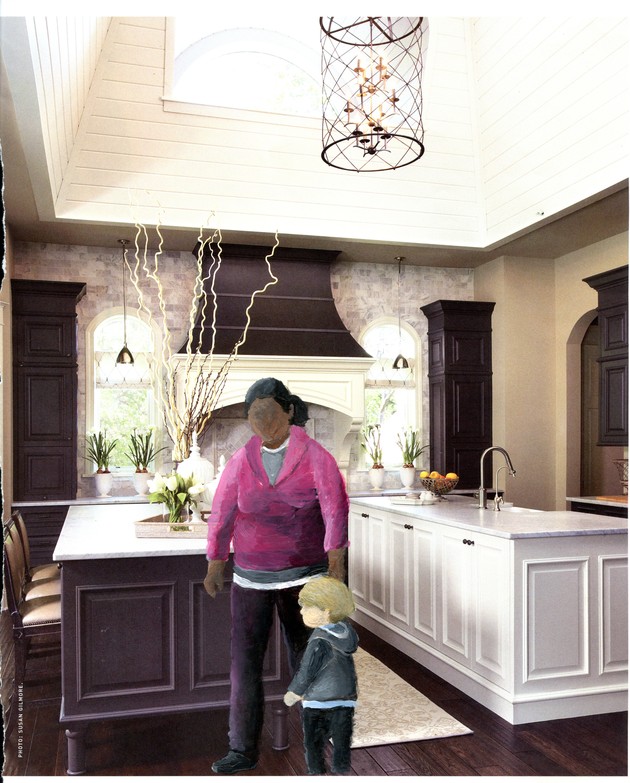 At its heart, his work is a means of acknowledgment and documentation—of his own experience, of the overlooked lives around him, of his family's history, of the immigrants who keep Los Angeles running smoothly but whose labor evaporates into the smog. "When a child is helped raised by a nanny ... the nanny's contribution becomes difficult to measure," he said. "It puts things in perspective to understand that the times we are living in will only be viewed through those physical remnants which survive."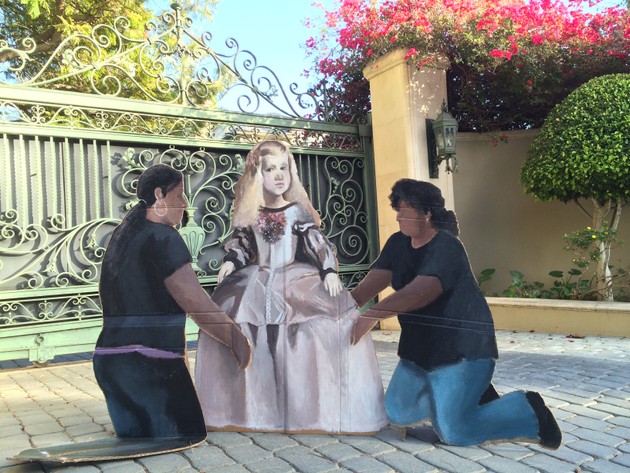 While Gomez acknowledges the political dimensions of his work, he also stresses that his art uses a quieter, more measured approach, focusing on humanizing his subjects in a way that is easy to understand.
"Paintings say what words often can't," he said. "They have the ability to reach into the hidden spaces within from which we view the world. What I am painting about isn't anything new—it's in fact very familiar, immediately recognizable to everyone without getting lost in translation. Labor is everywhere, the cast is different, but the role is the same."
---
Related Video