Confirmation: Another Teachable Moment in American History
Twenty-five years after Anita Hill testified to the Senate Justice Committee that Clarence Thomas had sexually harassed her, entertainment seems to be reckoning with injustice.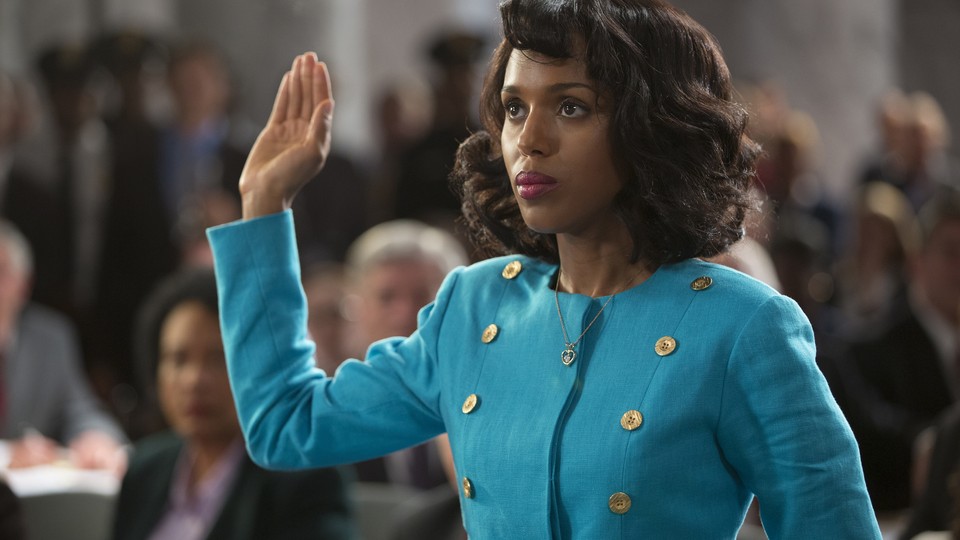 In this current moment of political debauchery—of name calling and journalist shoving and gun engraving and violence inciting—it's worth remembering the last time that the national imagination was unwillingly drawn to the penis size of a candidate for one of the most powerful jobs in the land.
In 1991, while Donald Trump was filing for the first of his four corporate bankruptcies, Anita Hill was testifying to the Senate Judiciary Committee that the Supreme Court nominee Clarence Thomas had sexually harassed her while he was her boss at two different government agencies. The vestiges of the hearing remain woven into the cultural fabric—the infamous Coke can, Long Dong Silver, Thomas's stony silence in the 25 years he's been on the court—but it's easy to forget what an extraordinary spectacle it was at the time. Just as FX's The People v. O.J. Simpson recently used a decades-old trial to reckon with a traumatic chapter in America's history, HBO's new dramatization of the hearing, Confirmation, casts a harsh light on a historical moment that feels almost more relevant than ever.
This isn't the first time Hill's testimony has resurfaced: In 2010, it emerged that Thomas's wife, Ginni, had called Hill and left her a voicemail asking her to finally "consider an apology sometime and some full explanation of why you did what you did with my husband." The message plays in the opening scene of Anita, Freida Lee Mock's 2013 documentary about Hill, which made a thorough and convincing (if one-sided) case that she'd been telling the truth, and had been railroaded by a Senate committee in which both sides wanted her out the way. "The Democrats really didn't rescue Anita Hill the way they could have," says the New Yorker writer Jane Mayer in that movie, "and the Republicans were busy disemboweling her."
Confirmation, directed by Rick Famuyiwa (Dope) and written by Susannah Grant (Erin Brockovich) seems less intent on readjudicating or picking a side than simply recreating events and letting them resonate (it uses a wealth of archival news footage, often splicing its actors in alongside real people). Hill (Kerry Washington) is a law professor at the University of Oklahoma when she learns that her former boss, Thomas (Wendell Pierce), has been nominated to the Supreme Court to replace the retiring Justice Thurgood Marshall. When a friend asks her if she might consider going public about her experiences working for Thomas, Hill demurs. "I saw women have their lives ruined because they spoke out against a manager at a diner," she says.
But she clearly feels uneasy about his appointment, and when a staffer for Ted Kennedy (Grace Gummer) calls her to ask if it's true that Thomas harassed female employees while he was the head of the Equal Employment Opportunity Commission, Hill is compelled to state what happened to her. She files a confidential affidavit for the Senate Judiciary Committee, which is promptly leaked to Nina Totenberg, leading to Hill being publicly named and called to Washington to testify in front of the nation.
As you might expect from an HBO True Washington Story™, there are scores of notable actors popping up in minor roles, notably Greg Kinnear as Joe Biden, whose folksy, comb-overed turn as the now-Vice President is unnervingly convincing. Treat Williams plays Ted Kennedy, whose own checkered background with women is one of the many reasons the committee didn't feel comfortable digging too vigorously into Thomas's past. Bill Irwin is particularly oily as the Missouri senator John Danforth, Thomas's mentor, who's so enraged by Hill's testimony that he smears her as suffering from erotomania, and pursues obviously fake claims from students that she left pubic hair in their textbooks.
Subtly, though, Famuyiwa and Grant counter the scenes featuring men in power by focusing on the lower-profile women around them. Gummer's character, Ricki Seidman, takes Hill's affidavit to a Biden staffer, Harriet Grant (Zoe Lister-Jones), and Seidman is shown entreating Kennedy personally to defend Hill. One of the staffers on the White House team working feverishly to get Thomas confirmed is Judy Smith (Kristen Ariza), whose career as a DC fixer later inspired Scandal, the ABC show starring none other than Kerry Washington. And as much as the movie focuses on Thomas, and his immense anger and obvious pain, it seems compelled to feature his wife, Ginni (Alison Wright of The Americans), and the great toll the hearing took on his family.
Pierce's Thomas is as inscrutable as the real deal, having very little to work with except rage and recrimination. The hearing's testimony is reproduced verbatim from public record, including the moment when Thomas condemned it as "a travesty … a circus, a national disgrace … a high-tech lynching for uppity blacks." After he states that he's being "caricatured by a committee of the U.S. Senate rather than hung from a tree," the camera cuts to the faces of the men facing him, all of whom are left totally speechless. One exhales, slowly. Later, Hill's lawyer, Charles Ogletree (Jeffrey Wright), interprets what just happened: "He only acknowledged race because it was about him. You think any of those white boys on that committee are prepared to challenge him now?"
Washington embodies Hill with poise and halting grace, mimicking the slow articulation of her complaints, and the humiliation the Senate panel put her through by forcing her to restate details of Thomas's behavior—that he talked to her frequently about pornographic movies he watched involving group sex, rape, and animals; that he boasted about his own sexual prowess and endowment; that he repeatedly asked her to spend time with him outside the workplace. "He said," she tells the panel, "that if I ever told anyone of his behavior, I would ruin his career."
Yes, and no. In revisiting the hearing 25 years after it happened, Confirmation offers a chance to consider its impact, and what it lacks in stylistic verve, it makes up for in methodical storytelling. Hill went back to Oklahoma believing that her reputation had been "ruined," but the movie shows that to a great number of women all over the country she'd become something of a hero. The number of sexual-harassment cases filed in the U.S. doubled the following year, and in 1992, five female senators were elected, with the media dubbing it "the year of the woman." Three women now sit on the Supreme Court.
As meticulous as the movie is about emphasizing the he said-she said nature of proceedings (it features only one of the four women who traveled to DC to support Hill's testimony with accusations of their own, and whom Biden never called upon), it makes a solid case for the character of Hill herself. Far from being a scorned woman or a vengeful employee, she was a quiet law professor who simply wanted her concerns about a man appointed to the highest court in the land noted. That her account became such a circus speaks more to the nature of political power itself, which still largely lacks the dignity with which Anita Hill came to Washington.