Selling Queerness: The Curious Case of Fun Home
How a shrewd marketing effort branded Alison Bechdel's graphic memoir, which deals with suicide and sexual identity, as a feel-good musical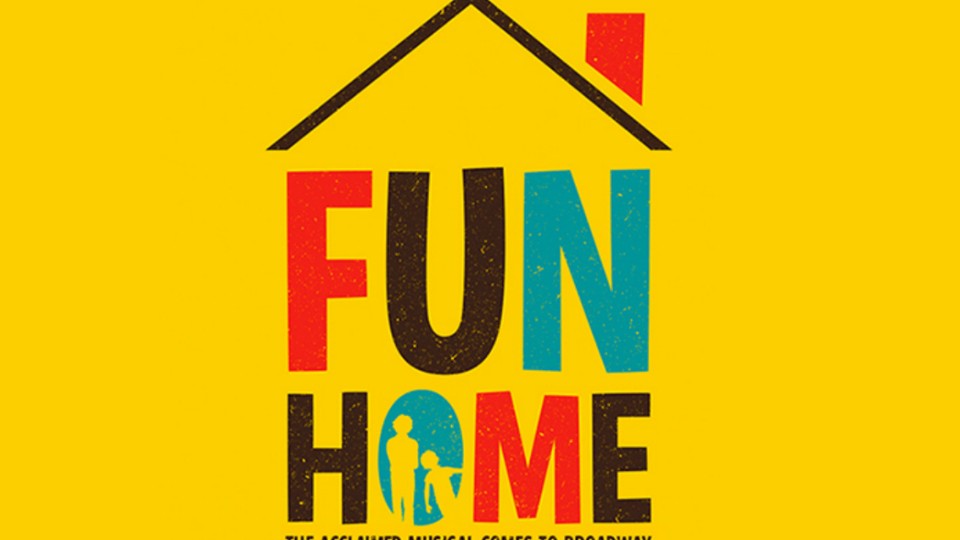 "What would happen if we spoke the truth?" Alison Bechdel asks midway through her critically acclaimed graphic memoir, Fun Home. It's a fitting question to ask in a story that hinges on the idea that things left unsaid can have as much weight as those let out in the open. In Fun Home, Bechdel delves into the troubled, often secret-filled relationship with her late father, a closeted gay man whose death she concludes wasn't an accident, but suicide. Unaware of how her father was struggling with his sexuality, Allison was coming to accept her own queerness—a complicated dynamic that plays out with humor, pathos, and wit in the pages of the novel.
Fun Home has since made the leap to the stage, first as an off-Broadway musical adaptation before launching to Tony Award-winning, mainstream fame. If Bechdel's heavy themes and light-hearted tone remain intact in the performance itself, the way her story has been marketed has undergone a calculated shift to ensure it reaches the broadest audience possible. And that has naturally meant downplaying the more controversial elements, such as queerness and suicide. In its year-long run as a musical, Fun Home has offered a timely case study for how producers and marketers successfully tap into the universal aspects of potentially polarizing stories—but at the risk of perpetuating the idea that LGBT issues still don't belong out in the open.
First published in 2006, Fun Home emerged as a critical darling and a cult favorite, in part thanks to the loyal fanbase for Bechdel's long-running Dykes to Watch Out For comic strip. When the book was adapted into a musical in 2013, it saw rapid success at the Public Theater and became a critical sensation once again, named Best Musical by the New York Drama Critics' Circle and a finalist for a Pulitzer Prize in Drama. After several reruns by popular demand, word came in fall 2014 that the show would move to Broadway. At the new venue, the 700- to 800-seat Circle in the Square Theater, the show's capacity had more than doubled, and it needed to reach more people. Fun Home's producers decided it necessitated a rebrand—a job that went to SpotCo, the marketing agency that has worked on hit shows such as Hamilton, The Book of Mormon, and School of Rock.
Selling Fun Home on Broadway meant balancing two aims: making it appeal to as many people as possible without misrepresenting the story's spirit or substance. Two years after receiving the project brief for Fun Home, SpotCo's co-founder and chief strategy officer Tom Greenwald recalled the main goal for marketing the show: "Make sure that it's never ever associated specifically with the 'plot or subject matter,'" he said, "And make sure that people realize that it's a beautiful, universal, family story of self-identification, reflection, and ultimately, hope." Not an easy task for a show that Greenwald said the marketing team jokingly referred to as a "lesbian suicide musical."
The rebranding largely played out through the visuals and the taglines used to promote the show. After Fun Home arrived on Broadway, newspapers, social-media feeds, and the streets of New York City lit up with colorful advertisements selling it as a fun, feel-good musical. One initial poster featured the show's logo—a rectangle house with Bechdel and her father as cut-out figures inside the "O" in "Home"—with a small tagline underneath announcing the arrival of "A NEW BROADWAY MUSICAL." After lavish critical praise, that was changed to: "NOT JUST A NEW BROADWAY MUSICAL. A NEW KIND OF BROADWAY MUSICAL." And finally, after a total of five Tony wins, the slogan said nothing but "WINNER! BEST MUSICAL 2015 TONY AWARDS."
Of course, "a new Broadway musical" is very far from "a different Broadway musical," let alone "a queer Broadway musical." Despite a wide range of shows with LGBT characters, from Rent to Priscilla, Fun Home is the first musical on Broadway with a lesbian protagonist. The show's all-female writing team was also the first of its kind to win the Best Original Score Tony Award. All of these notable achievements were lost in the attempt to garner as broad a viewership as possible—a sign of how difference is given room to breathe, but only in the margins.

As for the design of the show's posters, the new versions moved away from Fun Home's previous, slightly ominous red-white-blue color scheme. "We wanted to make sure it felt warm, as opposed to cold," said Greenwald, who added that they also wanted to capture a vintage look since Fun Home is set in the 1970s. I search the logo for traces of queerness, maybe hints of the Stonewall Riots, the 1969 protests that ignited the modern gay-rights movement. The cut-out characters in the letter "O" come across as playful and serene, and while the color scheme is quirky, its range is too narrow and shades too deep to justify any real parallels to the queer flag. The cheeriness isn't a total misrepresentation: Bechdel's memoir is fun, but it's also morbid and sad.
The musical's branding marks a major departure from the cover of the book version. The cover of the paperback, for one, is much darker than the musical's promotional materials and bears a gothic, Addams Family-type font for its title. The effect of a name like Fun Home is quite different when it's accompanied by muted shades than when it's paired with a cheery color scheme—the former captures the work's conflicted essence, while the latter masks it entirely.
The print and online advertising campaigns for Fun Home have continued the taciturn trajectory of the branding. Review quotes like "It speaks universally about big things that matter: life, love, family surviving," or "Fun Home occupies the place where we all grew up, and will never be able to leave. WE'RE HOME," give nothing away of the actual plot, but they seem more secretive than most teasers. This month, SpotCo debuted a new TV commercial for Fun Home that will be shown across America as the show kicks off its U.S. tour this fall. The 30-second ad features a voiceover that says: "Welcome to a musical about a family that's nothing like yours—and exactly like yours." Again, in an effort to tout the most universal aspects of the story, the marketing comes dangerously close to diluting it.
Still, the show has made it a priority to champion LGBT rights. The cast has sung at an LGBT center for senior citizens. The marketing team meticulously chose its partners, including Spotify, Uber, and Yelp—all companies that support LGBT rights. Further, the show's content is anything but subdued: There's a passionate lesbian scene, and although the story has a darker tone in print, the musical is as upfront as the book. Greenwald said that, ultimately, no Broadway show—especially a Tony-winning musical like Fun Home—can limit itself to only one kind of audience, because it will fail to address people of all backgrounds. "There is absolutely no reason why a 70-year-old straight male can't be as emotionally fulfilled at this show as a 25-year-old LGBT person," he said.
This fear of Fun Home being pigeonholed is a real and serious one that has been echoed by others in the industry. Hamilton's producer, Jeffrey Seller, has discussed the challenges faced by Lin-Manuel Miranda's previous Tony-winning musical, 2008's In the Heights. "We were saddled in some ways with perceptual difficulties with rap music and racism," he told The New York Times. "It became known as 'the hip-hop musical,' and that unfortunately limited the audience. It deserved to run longer, and I believe it would have if not for that issue."
For a queer story like Fun Home, traditional advertising may simply be a matter of survival—of finding the critical and commercial success it deserves within an imperfect system. And yet there's no ignoring the way advertisers are complicit in perpetuating flawed, deep-seated views in society. Though more progressive commercials appear to be on the rise, gender, racial, and gay stereotyping are still rife in ads. By sidestepping the story's more divisive subjects, Fun Home advertisements are potentially slowing the embrace of proudly queer voices and perspectives.
Last month, the novelist Garth Greenwell criticized the mainstream branding of queer lives in the broader context of American society. He acknowledged that gay people have finally attained some degree of widespread acceptance and legal rights—all of which is important, but nonetheless came at an enormous cost. "And that cost was a marketing campaign that took queer lives and translated them into values that could be appreciated by people who are disgusted by queer people," he said. This meant presenting a queer life that looks like the most acceptable kind of straight life: "a monogamous relationship centered on the raising of a child."
Suddenly the way the musical's branding emphasizes ideas of family and home makes a lot more sense—yes, those subjects are present in Bechdel's story, but they're also the most palatable to people who might otherwise be unreceptive to a work that explores gay themes. The trend in attitudes toward LGBT people is one of growing tolerance, but media coverage tends to focus specifically on acceptance rates of same-sex marriage—figures that are not entirely representative of change. The National Bureau of Economic Research reports that there's significant systemic error in the data on the LGBT population: "We find substantial under-reporting of LGBT identity and behaviors as well as underreporting of anti-gay sentiment ... even under anonymous and very private conditions."
Still, there is some hope that Fun Home can help change minds. The U.S. Ambassador to the UN, Samantha Power, took 17 of her fellow ambassadors to see Fun Home last month, including several who represent countries like Russia and Namibia where homosexuality is a crime. Most of them didn't know anything about the show, except that it had won the top Tony Award, but Power said later in an interview with Seth Meyers that they were "blown away by the show." She added:
Sometimes when you come at your fellow ambassadors frontally on the importance of LGBT rights … they can end up in a defensive posture. But if you bring them into a show where you watch a young girl grappling with her first crush, and … seeing life played out forward, rather than as a matter of politics or ideology, it can be easier to create more of a sense of empathy and community.
In this light, perhaps, the benefits of Fun Home's publicity campaign appear to outweigh the negatives. Maybe what matters most is that the marketing for the show works—that it draws in the crowds to watch a show that meaningfully expands audiences' perceptions of how gay people navigate life, love, and personal relationships. The musical is recently reported to have recouped its initial investment of $5.25 million and is on solid financial ground at last. To what extent that's thanks to the show's advertising or other factors is difficult to measure. If the marketing that works in today's age is one that obfuscates rather than clarifies, or shies away from difference, then that's a reflection of society at large. When important works like Fun Home reach the masses against the odds, they're helping to change that.