Why Beyoncé Is Embracing Her Own Backlash
The "Boycott Beyoncé" merchandise on sale at her concerts affords her a new kind of appeal.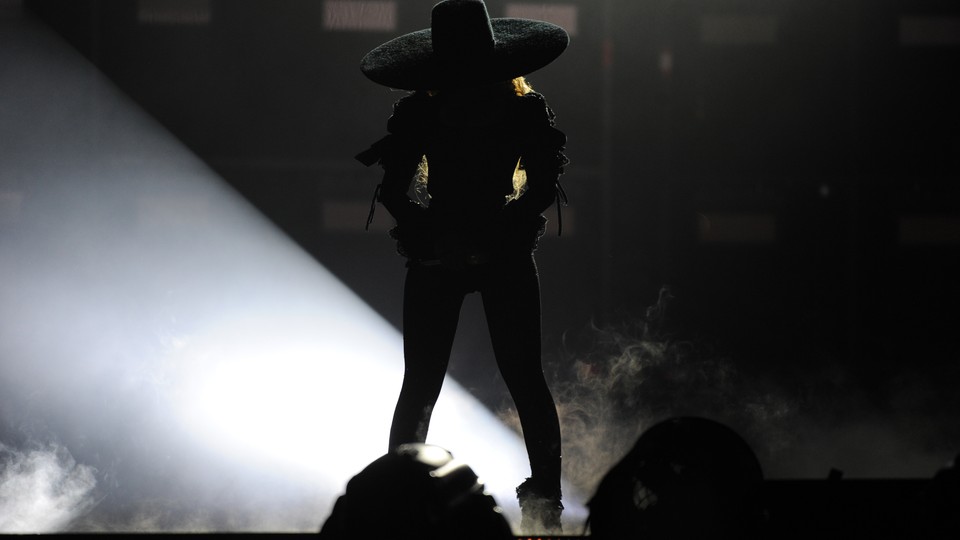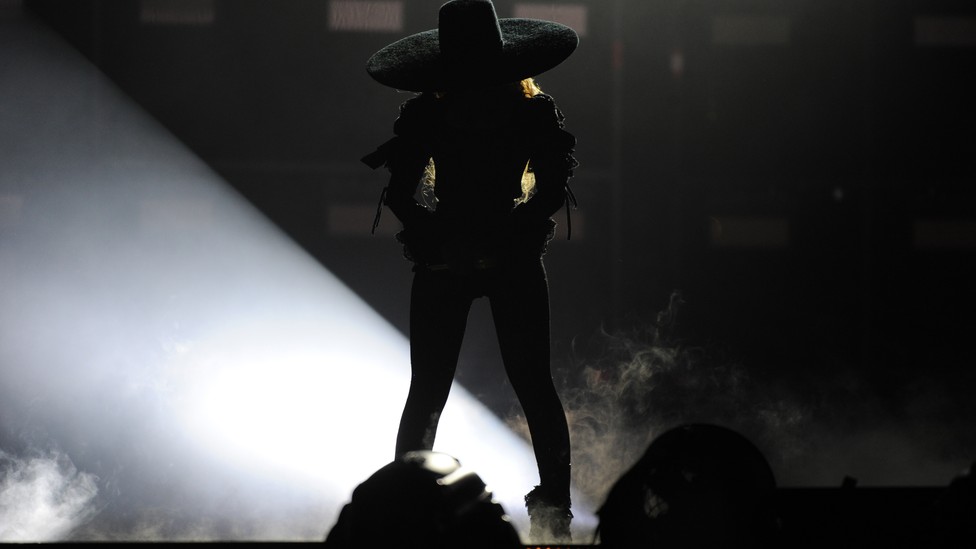 Beyoncé is selling t-shirts and phone cases that say "BOYCOTT BEYONCÉ" at her current tour, which kicked off last night in Miami. The slogan's swiped from calls by some law-enforcement organizations to shun her after her "Formation" video and Super Bowl performance. Now, for $45, you can confuse all who encounter you as to whether you're a cop or a Beyoncé fan with a sense of irony, or both.
Beyoncé is one of the most popular singers in the world, and the notion of her as someone who's defined by controversy would have seemed strange until recently. Her acclaim was so unanimous that in 2014 SNL aired a sketch about the Beygency, a shadowy group that punishes anyone who dared criticize her. But part of what's been fascinating about her 2016 PR campaign is the way it has encouraged and capitalized on the notion of her as someone whom everyone can't agree on. It's a maneuver that recognizes the drawbacks of her previous model of uber-popularity, fits in with pop culture's love of conflict, and frees her to be a more politically pointed artist.
You could tell she was up to something different from the opening lyrics of the surprise single "Formation," which shouted out the sole group that Beyoncé at that point could reliably refer to as "haters": people who think she and the rest of the cultural elite are members of an evil secret society. Madonna and a number of rappers more known than Beyoncé for their divisiveness have already previously used the conspiracy theorists for musical fodder. Now Beyoncé has helped herself to the psychic payoff that comes with delivering a diss that can't miss: "Y'all haters corny with that Illuminati mess."
From there, she earned a more influential class of haters by aligning herself with Black Lives Matter in her lyrics and at the Super Bowl. Political commentators on the right and some police-union leaders immediately took umbrage and made, yes, calls for boycotts. SNL sent up the backlash in another sketch, this one about white people realizing suddenly that Beyoncé is black. "Anyone who perceives my message as anti-police is completely mistaken," she later explained in Elle. "I have so much admiration and respect for officers and the families of officers who sacrifice themselves to keep us safe. But let's be clear: I am against police brutality and injustice. Those are two separate things."
In the end, a full three dissenters showed up to a highly publicized anti-Beyoncé event in New York City, and her Miami tour opener was reportedly fully staffed by law enforcement. From a brand-management perspective, the amount of noise without significant action is a bonanza for Beyoncé. The Blaze's TV commentator Tomi Lahren recently said she declined the pop star's request to take 30 seconds of Lahren's on-air rant about Beyoncé's Super Bowl show and use it on the Formation tour. Selling pro-boycott merchandise is the same idea—call it, well, turning lemons into Lemonade.
This news circus is a microcosm of a more meaningful shift in Beyoncé's music. The 12-track album and hourlong art film released Saturday night is far more about struggle than triumph, and struggle, of course, can only arise with opposition. In the universe of the album, that opposition is both one man's suspected infidelity and a larger cultural burden that has weighed on black women for centuries. As moving and widely relevant as Lemonade's storyline is, it is not the sort of shiny pop product designed for just anyone to insert themselves into. The "generic" tag cannot apply anymore, if it ever did; people finally have something to argue over regarding Beyoncé other than whether her music lives up to the hype or not.
By selling "Boycott Beyoncé" merchandise, she's on one level simply helping herself to the joyful and cheeky rock tradition that includes such self-deprecating titles as The Who Sell Out and "Refused Are Fucking Dead." She is also directly acknowledging the people she's alienated and telling them she doesn't want them to come back: What she stands for is what she stands for. There's also the fact that boycott calls are usually directed at large and important institutions—recognizing this controversy means recognizing her power. As a bonus, a hint of embattlement has long reliably cinched the tie between fans and their idols ever-tighter, and here it's also being used to sell more product. Beyoncé said it at the end of "Formation": The best revenge is your paper.