How Amazon Made the Leap to Cannes
The studio bought the rights to Woody Allen's new film, which will open the 2016 festival and mark a milestone for the company.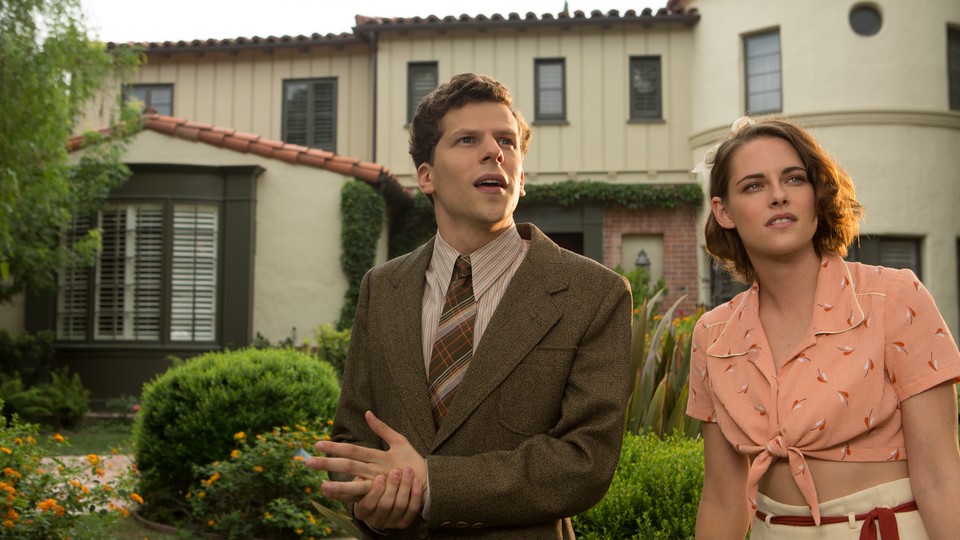 The news that Woody Allen's new movie Café Society will open the 2016 Cannes Film Festival is hardly shocking. It'll be his 14th film to screen out of competition at the festival, and the third to open it, after Hollywood Ending and Midnight in Paris. But for all that, a milestone is still being set: Café Society will be the first Amazon film to occupy that coveted position, the beginning of what should be a make-or-break year for the streaming studio, as it looks to establish itself as a major player in the indie-film world along with its online competitor Netflix.
Not much is known about Café Society, other than that it's a 1930s Hollywood-set comedy starring Kristen Stewart and Jesse Eisenberg, and apparently required a $30 million budget because of its period trappings. That's where Amazon comes in. The studio paid a reported sum of $20 million to secure the rights to the film, helping to offset its costs while shutting out traditional independent distributors. Last year, Amazon released Spike Lee's satirical comedy Chi-Raq, and in the coming months it'll feature films from established directors like Allen, Whit Stillman, and Kenneth Lonergan. So far, theaters (and viewers) have been largely resistant to the streaming-movie model, but 2016 could be the year that changes.
Allen usually works with Sony Pictures Classics, an established indie distributor that reportedly advanced figures in the low millions to obtain the rights to his films. His last, Irrational Man, cost them $1 million and grossed $4 million in the United States and $27 million worldwide (a typical balance for Allen's minor-key films, which always play better internationally). Sony Pictures Classics has a good relationship with Allen, since his Midnight in Paris and Blue Jasmine became their second- and third-highest grossing films of all time, but it couldn't hope to match Amazon's offer.
Amazon has released films before, most prominently with Chi-Raq. But that was initially released in theaters by Roadside Attractions, only streaming on Amazon a month later. Amazon was apparently looking for the same deal with Café Society, with Sony Classics releasing the film on U.S. screens before it jumped to streaming. But Sony turned down the offer—partly due to contractual commitments and partly because Allen's films don't make the kind of money stateside to make the deal worthwhile. Amazon's $20 million offer was absurdly high, but it was the only way to get noticed by a director loyal to a particular studio (it also helped that the studio is producing a TV show with Allen).
Café Society will get a full theatrical rollout from Amazon before jumping to streaming. But it'll be a tough balance for the studio to strike with cineplexes, which remain loudly hostile to the incursion of online movie distributors into their business. Amazon also nabbed the rights to Lonergan's Manchester by the Sea, one of the best-reviewed films at this year's Sundance Film Festival, with a $10 million bid—it'll come out in November for an Oscar run. Stillman's Love & Friendship, an adaptation of Jane Austen's epistolary novel Lady Susan, will be released by Amazon in May. Elvis & Nixon, a dramatization of the meeting between Elvis Presley (Michael Shannon) and President Nixon (Kevin Spacey), is out on April 22.
Allen, Lonergan, and Stillman are the kind of established indie directors who don't guarantee major box-office takes, but command automatic attention from critics and awards voters, which is exactly what Amazon wants as it looks to make its name as a serious distributor. It has money to burn right now, but it can't be making $20 million bids for Woody Allen films forever; once these releases gain legitimate traction, the model can shift. The same is true for Netflix, which was also a major player at Sundance but ran into a problem when trying to acquire the rights to The Birth of a Nation, the Nat Turner biopic that won the festival's Grand Jury Prize.
Netflix reportedly offered $20 million for the rights to The Birth of a Nation, but lost out to Fox Searchlight, who bid $17.5 million. (Fox Searchlight is yet another established indie distributor that mounted a successful Best Picture Oscar campaign for 12 Years a Slave.) Netflix, meanwhile, has struggled to attract a theatrical viewing audience for any of its films so far. Beasts of No Nation made a minuscule $90,777 in its two-week theatrical run because it simultaneously debuted online: Most theaters refused to show it as a result, and those that did likely lost their audience to home viewers.
The same went for Crouching Tiger, Hidden Dragon: Sword of Destiny, which grossed nothing domestically (but at least earned a solid take worldwide). Netflix isn't concerned with theatrical grosses; it boasted about Beast of No Nation's 3 million online views shortly after its release. But filmmakers want their work to be seen in theaters, and more importantly, by Oscar voters, a conservative bunch who snubbed Beasts of No Nation last year despite heavy buzz for its star Idris Elba. Netflix also has a huge slate of films coming down the pike in 2016, part of its dramatic push towards original content. But its proposed revolution—a world where major films hit multiplexes and homes on the same day—may take longer to arrive.