Is the Government Wasting a Fortune on Art?
Jason Chaffetz is on a mission to find out.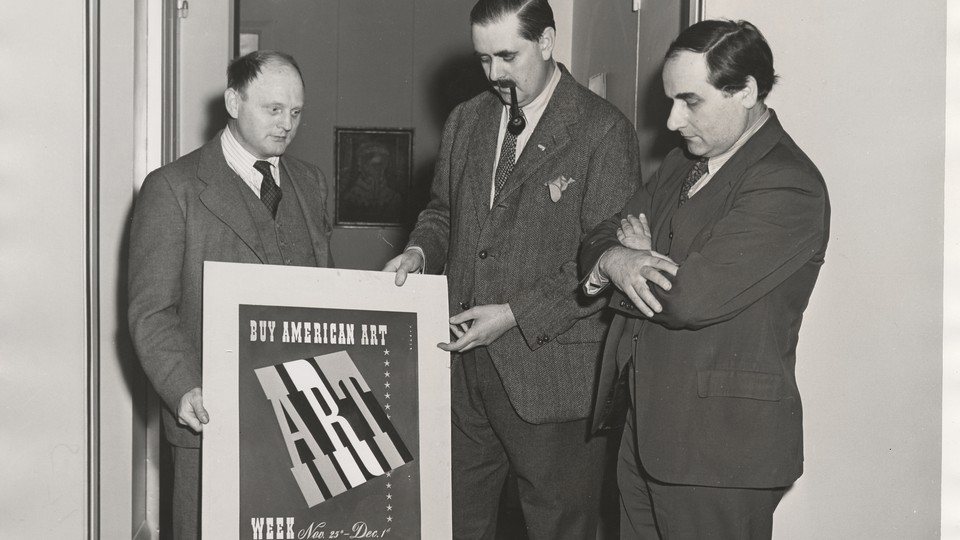 Even in this time of partisan tumult, two endeavors seemingly unite the Grand Old Party: cutting wasteful spending and fighting '90s culture wars. The Republican Representative Jason Chaffetz from Utah's third district has found a novel way to combine these traditional conservative interests.
The U.S. House Committee on Oversight and Government Reform launched a wide-ranging probe this week to find out how much money the federal government is spending on art. Chaffetz, the chair of the committee, signed a letter dated March 21 and addressed to 25 different agency leaders, including every cabinet-level secretary.
"Art collections in federal buildings bring creative and artistic beauty to public spaces, and create attractive work environments for federal employees and the public that they serve," it reads. "These taxpayer funded art programs, however, raise the potential for wasteful spending."
How much wasteful spending, exactly, is something Chaffetz has recently been on a mission to find out. House Oversight is asking these 25 agencies to identify every artwork they possess, "including, but not limited to, paintings, mural and easel, photographs, prints, sculptures, artifacts, electronic-based artworks, textiles, ceramics, and stained glass." The letter seeks to discover how much each agency and department has spent on artworks and artifacts, insurance premiums, contracts, and other related purchase since 2006 (which is, incidentally, the year the Democratic Party swept both houses of Congress). The inquiry further seeks details about the number of employees involved in managing and preserving these collections. By April 4, when these documents are due to be delivered, Congress will have a detailed register of the nation's federal artworks.
According to the letter, this probe was spurred by another, year-long investigation into the U.S. Department of State's art-collecting expenditures. State runs the Art in Embassies Program, which sponsors exhibits and collections around the world—a vehicle for global diplomacy or a fathomless void into which taxpayer money is being shoveled, depending on one's partisan affiliations.
In a January letter from the State Department to House Oversight, the assistant secretary for legislative affairs Julia Frifield complained about the number of ongoing investigations by Congress into the department's activities, which she describes as "dozens of investigations by nine different committees, involving hundreds of specific requests for hundreds of thousands of pages of documents."
Art in Embassies, the target of one of these investigations, is a public–private partnership that places artworks in more than 200 venues in nearly 200 countries and operates some 60 diplomatic permanent collections, according to its website. The program is akin to "smARTpower," the groan-inducing title of a separate State effort that sends American artists abroad in the name of cultural diplomacy. State also runs the U.S. Pavilion at the Venice Art Biennale, the American Arts Incubator initiative, Museums Connect, and other programs sure to set a fiscal conservative's teeth on edge.
None of these likely represents any considerable strain on the federal budget. But if spending any amount of taxpayer money on art is deemed wasteful, then Chaffetz will uncover the landfill that he's looking for. (A request for comment from his office went unanswered.) As his letter acknowledges, the federal government manages more than a quarter of a million different buildings, inside many of which paintings and photographs hang alongside portraits of federal functionaries. Government agencies each have different levels of commitment to fine art: NASA launched an artist-in-residence program in 2004, an easy A given the awe-inspiring images that agency produces year after year. What role art plays in the U.S. Department of Homeland Security is harder to say, although it does administer the Cultural Property, Art, and Antiquities office, which investigates art theft and trafficking.
One agency missing from the current House Oversight probe: the National Endowment for the Arts. If Chaffetz is looking for a new NEA to beat up on—a new culture-war front that will produce as much heat as the Robert Mapplethorpe obscenity trial or the Piss Christ furore—he's unlikely to find much of one lurking in the Office of Personnel Management or the Small Business Administration. He'd do better to simply attack the agency that spends its entire $146 million budget on art. But he might also discover that many Americans see the arts as more than just a frivolous drain on the federal purse.