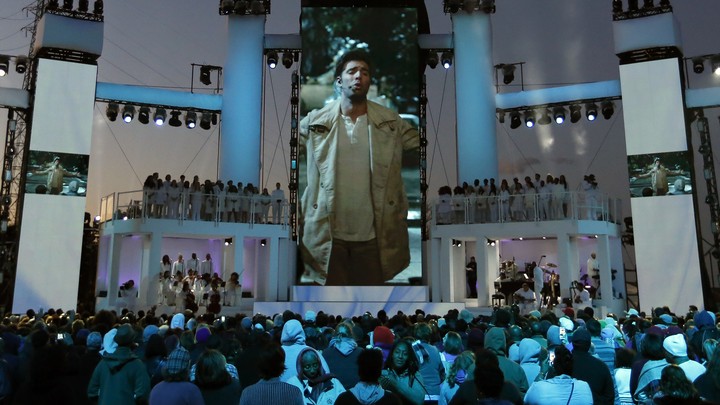 In The Passion, the live, televised musical "event" hosted by Tyler Perry Sunday night on Fox, Jesus, played by Jencarlos Canela, did the following things:
Get bread, presumably for the Last Supper, from a food truck
Belt a Creed song to an audience of his disciples, who were dressed like models from a Land's End catalog
Exchange (unintended?) flirtatious looks with Peter as they sang a duet of Phillip Phillips's "Home"
There's so, so much more. Judas, played by a black-leather-clad Chris Daughtry, performed a moody Evanescence solo in a warehouse. Jesus told Peter, played by Prince Royce, that he will be the rock of the church—in what looked to be an upscale coffeeshop/bar complete with flavored syrups in the background, just in case the disciples like their lattes with a hint of vanilla. The music selection was definitely aimed at people who came of age in the early aughts—remember Hoobastank? Not really? Well, Peter mournfully sang one of the band's only hits, "The Reason," right after Jesus was arrested. Trisha Yearwood was, as ever, a magnificent performer. But when Mary, mother of Jesus, wears giant diamonds on her ears, something's a little off.
In some ways, this was the perfect portrayal of Jesus for the 21st century. It was rich in the familiar imagery of urban bourgeoise consumerism (there wasn't a poorly dressed person in sight). It mostly subbed in top pop songs for tunes with explicitly religious messages (only a few numbers actually referred to angels or God). The Passion was heavy on spirituality, with only light pepperings of theological specificity. As Canela told People, "We make the mistake of attaching the word God to religion," he said. "The word God is way bigger than religion."
From a religious perspective, this represents low expectations about what people are interested in with regard to theology and faith. The special was definitely a creative way to tell the story of Jesus, and it's arguably remarkable to see the story of the crucifixion and resurrection broadcast on primetime television. But the trappings also seem to suggest that the middle- and upper-middle class people watching at home will most resonate with the story of a poor fisherman if they see him dressed and coiffeured like he's headed to Starbucks. It mainly tells the story of the gospels through music that has nothing to do with the gospels, hoping that the emotional register of dramatic pop songs can serve as a clean substitute for religious fervor.
Perry orchestrated the special from a stadium in New Orleans, alternately narrating the story of Jesus and cutting over to Entertainment Tonight's Nischelle Turner, who walked with a crowd carrying a giant, lit-up cross in a creative recreation of the Stations of the Cross (the Christian name for stops Jesus made along the path to his crucifixion). It's that time of year—some Christians pray or reenact the Stations on Good Friday or at other points during Lent, the 40 days preceding Easter. The Passion seems, in part, an attempt to make that tradition cool—complete with Hatch Show Print-style posters for each of the Stations.
Turner tried to make her segments political, talking about the destruction and redemption of New Orleans after Katrina. As Perry said at the beginning: "From suffering can arise love and renewal—that's New Orleans." But mostly, Turner's segments had the feel of Dick Clark's New Year's Eve—highly orchestrated woman-on-the-street reporting in the middle of a very expensive, highly inorganic spectacle. To their credit, the people in the streets weren't afraid to speak about their faith. Several of those carrying the cross and walking with the procession spoke about their belief in Jesus. The people caught on camera in the stadium often did seem moved; many sang along to hits likely not heard on the radio in a decade, and several had wet-looking eyes. At least a few clergy were in the crowd; the camera crew seemed particularly apt at picking out shots of the few men and women in collars.
But if the show's creators, Mark Bracco and Adam Anders, had truly wanted to make a powerful political statement, why didn't they make Jesus—the man who is portrayed and arrested by police—black, instead of Pontius Pilate, played by the musician Seal? If they had truly wanted to make a statement about faith, why didn't they feature the homeless and poor of New Orleans, inviting them to carry the cross?  
Toward the end, there were moments of religious frankness—at one point, Perry stared directly into the camera and explained exactly how Jesus was crucified, complete with graphic descriptions of each of his wounds. He narrated the burial of Christ in a tomb, and his rise three days later—which got immense cheers from the crowd. Weirdly enough, Perry was the most religious figure in the whole special, speaking about Christ directly rather than in pop-song euphemisms. "For millions of us, then and now, it summons feelings of deep faith, of a promise fulfilled, and our personal salvation," he said.
This heartfelt moment, though, was followed by a rendition of "Unconditionally," arguably the worst Katy Perry song, and one that probably wasn't written about God or Jesus. The performance of it was undeniably stunning: Jesus sang from the top of an office building near the stadium, accompanied by a impressive choir in the stadium itself. From an entertainment perspective, that moment was a fair summary of what The Passion was trying to provide: strong performances, glitzy visuals, and perhaps a nostalgia for the early years of American Idol. It was a solid take on this relatively new genre of television, which has sometimes succeeded (as in the case of Grease) and sometimes flopped (as in the case of Peter Pan).
But there's an inherent tension between entertainment and faith: The former thrives on glitz and glam, while most religions explicitly reject that kind of showmanship in favor of humility before God. ​The Passion​ may be a creative vision of what the resurrection can look like, but it's an unfaithful vision of faith—one that assumes TV audiences need to be dazzled and soothed into believing, rather than sticking to simple conviction.
We want to hear what you think about this article. Submit a letter to the editor or write to letters@theatlantic.com.
Emma Green
is a staff writer at ​
The Atlantic
, where she covers politics, policy, and religion.