Sketch Comedy's Unlikely Revival
Fox's Party Over Here and Netflix's The Characters are giving the spotlight to new talent via an old format.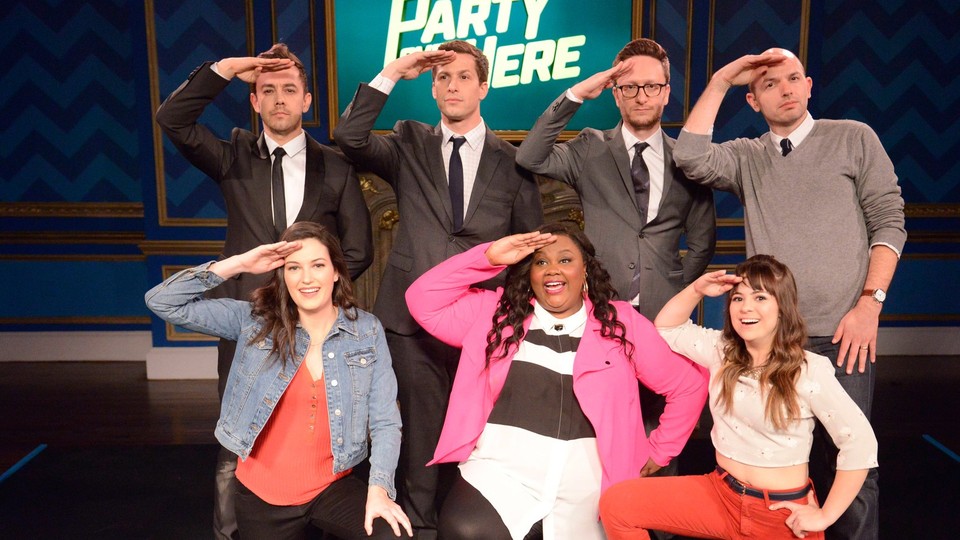 One of the most telling moments in the pilot episode of Fox's new sketch-comedy show Party Over Here came 10 minutes in, when the three female cast members paused to acknowledge their producers. Nicole Byer, Jessica McKenna, and Alison Rich, who were front-and-center throughout their half-hour Saturday night debut, pointed to Andy Samberg, Jorma Taccone, and Akiva Schaffer, the trio better-known as The Lonely Island, whom the camera revealed were dressed in black tie and frowning from the rafters. The three leading ladies immediately began grovelling and begging for attention and approval, popping the bubble of self-importance implied by the Saturday Night Live alums' mentor status.
The message was clear: Party Over Here might have found a home thanks to the big names behind it, but it will live or die by the merits of its cast members and writers. In that, it marks something of a progression from the cable sketch-comedy shows of recent years, which have anchored themselves firmly around the star power of a single performer (Inside Amy Schumer, Kroll Show) or a double act (Key and Peele, Portlandia). Rather, both Party Over Here and the new Netflix sketch show The Characters are gathering casts of relatively unknown comedic talents and giving them the freedom to experiment without the live-TV constraints of a product like SNL. Both have a long way to go before they can be considered must-see TV, but their existence alone is encouraging, giving young, diverse comedians a place to showcase their talents on two of television's biggest platforms.
Party Over Here is no rehash of The Lonely Island's greatest hits—the SNL vets are simply using their clout to get new talent on the air. Its first episode had the typical ups and downs of a late-night debut: One sketch about a suffragette who didn't feel inclined to vote for either man on the 1920 presidential ballot was funny but felt a little one-note, while another gently mocked the cultural blowback to "vocal fry," and the hysterical policing of women's voices. Each sketch had a solid premise but no follow-through, and unlike plottier sketch shows like Portlandia or Kroll Show, there's no organizing principle to Party Over Here: It simply consists of the funniest things the writers can cook up each week.
It wasn't the confident, politically astute, social media-ready debut of a show like Full Frontal With Samantha Bee, but that's typical of sketch comedy, which can take weeks to find its voice. Even Saturday Night Live, a well-oiled machine that's been running for 40 years, hits the ground slowly every year on its return,  and for such a consistently popular show, it can be wildly inconsistent. Party Over Here has yet to establish its three actors' comedic identities, but that might be a good thing, because it offers them more versatility going forward. Though it feels radically different because of its smaller cast size, it's still an ensemble show in the SNL model, and part of its appeal lies in watching the cast members flit between characters and personas with grace, playing the straight-arrow in one sketch and a maniac in the next.
The show's premiere seemed to mostly fly under the radar (ratings data was unavailable because of its late-night debut), but hopefully Fox will see the advantage in its low-stakes time slot. There's plenty of time for Byer, McKenna, Rich, and the show's talented and diverse group of writers to find their voices. Netflix, however, doesn't allow for such evolution. The streaming service's own take on sketch comedy, an eight-part series titled The Characters, debuted last Friday. Each episode is devoted to the comic persona of one up-and-coming comedian, and the talent includes the podcast star Lauren Lapkus, 30 Rock's John Early (he played Jenna Maroney's son), and the delightfully strange stand-up comic Kate Berlant. Netflix's binge-watch model isn't particularly suited to topical comedy—if broadcast TV still has benefits, it's that it offers the ability to be instantly reactive, giving shows like Party Over Here an opportunity to distinguish themselves.
But The Characters is worth checking out too, because unlike Party Over Here, its comedic voice is immediately distinct. Every episode is devoted to the idiosyncrasies of its host—Early's takes the shape of a "gay fever dream" populated by characters played by him, while Lapkus's has more of a structured narrative, with its outsized characters feeling more reminiscent of reality-show stars. There's a broad range of talent on display (the featured cast rotates along with each of the eight stars), and while each comedian only gets one episode to show off, it gives them the chance to distill their ideas into a kind of showreel that could launch them to future fame. It's a long way from the old cable-TV model, where only more proven stars could hit it big, and coupled with Party Over Here's embrace of younger, unproven talent, it's an encouraging sign of the upside of Peak TV.