The Catch: A Flimsy Effort From Shondaland
ABC's new crime drama might join the same Thursday-night lineup as Scandal and Grey's Anatomy, but there's no comparison.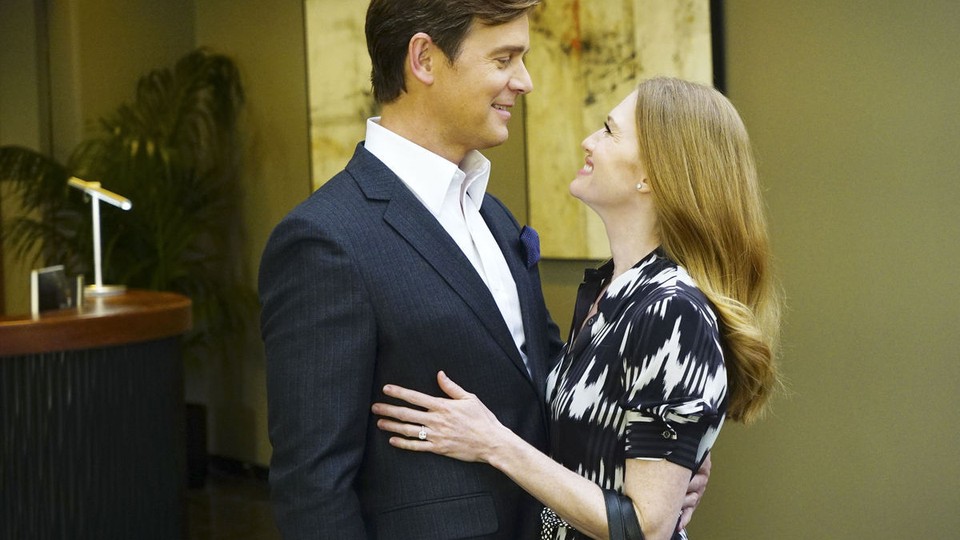 ABC's new drama The Catch bears all the superficial hallmarks of a series from Shondaland, the production stable headed by the superstar writer and producer Shonda Rhimes. An impeccably dressed, beautiful cast works in a fancy, glass-walled office, drawing names and arrows on whiteboards as part of their glitzy jobs. Here, they're not doctors or politicians, as in Grey's Anatomy or Scandal, but investigators of some sort. The action is propelled mostly by an expensive-sounding soundtrack of current pop hits. But though it's crisp-looking and well-cast like its predecessors, The Catch is mostly a flashy lot of nothing.
Like the smash hit How to Get Away With Murder, The Catch is only produced by Rhimes (and her Shondaland partner Betsy Beers). Created by Jennifer Schuur and Helen Gregory, the show follows a team of private investigators whose purpose is vague: The protagonist Alice (Mireille Enos) and her firm seem to provide security for their rich private clients, but unlike Scandal or Grey's Anatomy, the cases of the week don't get much screen time. And unlike the best Shondaland shows, it's hard to grasp on to what's so impressive about the work these people are doing—they're presented as exceptional professionals, yet the overarching plot involves them getting swindled by a master criminal. The Catch appears to be aiming for the feel of Catch Me If You Can, a romp about tricky thieves and the spies who chase them—but thanks to a weak premise and even weaker characters, there's nothing beneath the surface.
The central plot of The Catch is one of personal betrayal: Alice, engaged to the dashing financier Ben (Peter Krause), realizes halfway through the pilot that she's been conned. Ben is a high-end thief who infiltrated her life just to steal her firm's secrets. At least on this front, the extent of Ben's double life is fun to behold; The Catch's first episode is the ultimate 30-something nightmare, a tale of the perfect fiancée turning out to be a two-faced fraudster.
Ben, who swept Alice off her feet a year ago and started planning a wedding with her, is actually in league with another gorgeous thief (Sonya Walger), and once he's executed his heist, he vanishes without a trace, leaving no hint of his real identity behind. In a particularly absurd (but brilliant) moment, Alice scrolls through her photo album looking for a picture she can scan into the firm's criminal database, and realizes Ben always turned his face away from the camera in every picture she had of him. (Now that's what the kids call "ghosting"—he didn't even leave a selfie behind.)
Ben, of course, actually fell for Alice during his long con, and their connection is supposed to propel the series through its first season as Alice chases down her firm's stolen secrets. Enos (best known for her roles on The Killing and Big Love) and Krause (Six Feet Under, Parenthood) are charming enough as individuals, but they make an ill-matched pair onscreen. And the rest of the cast, which includes Alimi Ballard, Jacky Ido, and Rose Rollins, is a gorgeous, diverse bunch, many of whom cut their teeth on other Shondaland shows. But this collective talent alone can't keep the show afloat. Alice's job is thinly sketched, and the pilot's spy-thriller set-pieces are annoyingly perfunctory (the show spends 10 minutes watching Ben lift an errant flash drive while Alice's team bumbles around trying to figure out where he is).
Every Shondaland show follows the same storytelling model: A serialized romantic melodrama with a case-of-the-week format. Meredith Grey is a medical intern embroiled in a relationship with her boss. Olivia Pope is a D.C. fixer who also has a messy history with the President of the United States. Annalise Keating and her students fight cases in court while trying to cover up a mysterious murder on campus. But The Catch doesn't have either of these elements covered, making it a pale imitation of the better shows it wants to align itself with.
Of course, a dull pilot doesn't need to spell disaster for a series. But it's hard to see how The Catch will furnish cases of the week that are interesting enough to sustain viewership (Alice's firm needs to be doing more than chasing flash drives around town). It's even tougher to reconcile the future of Ben's plotline. His betrayal of Alice in the pilot is absolute and irredeemable, but the writers seem to hope their chemistry will be enough to suggest that a future reunion, or at least more double-crosses, can happen. The problem is, there's no real chemistry—a fact made more brutally apparent by the show's poor plotting. Enos and Krause may be magnetic actors, but Alice and Ben are no Olivia and President Fitz, nor Meredith and Derek. Whatever connection they had was destroyed in the first few minutes of the pilot. No amount of sexy spy games will get it back.