The Carmichael Show Proves Sitcoms Can Still Be Provocative
Last summer's surprise hit returns to NBC, tackling infidelity and Bill Cosby in its first two episodes.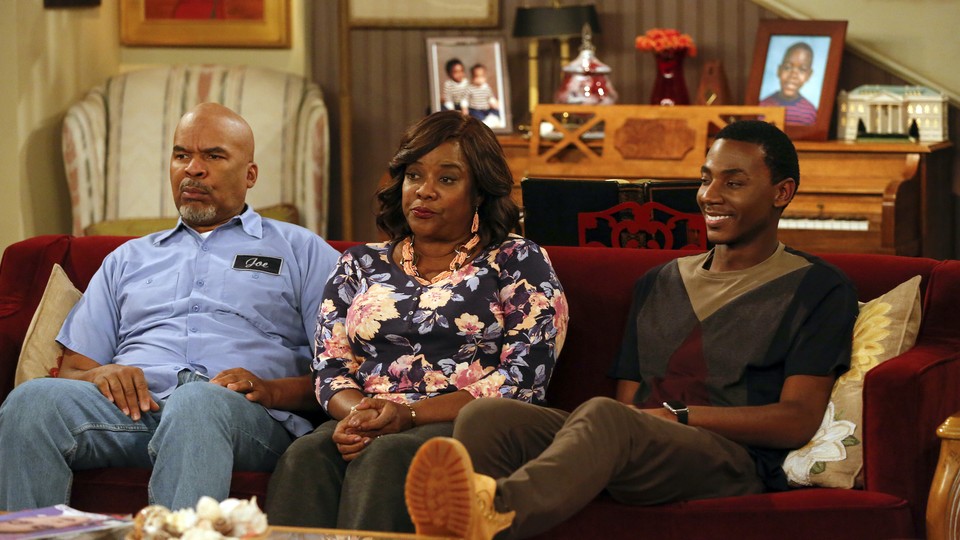 An early episode of The Carmichael Show's second season, which returns this Sunday on NBC, deals with one of the network's former idols, Bill Cosby. The halcyon days of NBC's "Must See TV" are long gone, and the episode mostly serves to reckon with the remains of Cosby's disgraced legacy, which it does deftly. That a bare-bones sitcom like this can confront such a complex issue is an encouraging sign for the future of the genre—the Cosby episode is at once formulaic and strikingly modern. But it's also a hopeful sign for the future of the sitcom. After its six-episode run proved a surprising success last summer with both critics and viewers, The Carmichael Show is back for a longer season , and it hasn't lost a step—it's still one of the most audacious comedies currently airing.
The stand-up comedian Jerrod Carmichael, who created the show alongside Nicholas Stoller, Ari Katcher, and Willie Hunter, is trying to do something many others have failed at: Revive the old-fashioned Norman Lear sitcom. Lear's shows, which included All in the Family, The Jeffersons, and Good Times, analyzed contemporary social and political issues at the dining room table, bringing debates about racism, politics, and generational differences to American viewers through the lens of many a beloved sitcom family. The Carmichael Show does the same, examining topics like transgender rights, Black Lives Matter, and obesity among African Americans in its abbreviated first season. This year's topics are just as timely, while each loud debate is as funny as ever.
This season gets a special "sneak preview" after The Voice on Wednesday night, a sign that NBC knows it has a hit on its hands, before moving to a Sunday timeslot for a 13-episode run. The Carmichael Show was on for only three weeks last summer, airing back-to-back episodes in the doldrums of August, and yet it still managed to find an audience despite its radical throwback vibe. Most episodes take place in the Carmichael family's living room, but though the topics discussed are usually heavy, the mood remains light, with Carmichael's mother (Loretta Devine), father (David Alan Grier), brother (Lil Rel Howery), and girlfriend (Amber Stevens West) all taking different sides of an issue.
It feels like the kind of show NBC used to air all the time, and indeed, in the episode "Fallen Heroes" (which talks about what to do with Bill Cosby's comedy legacy), Carmichael explicitly recalls the era of Must-See TV, asking his father why he wasn't a fan. "I don't like people telling me I must see something," his dad replies. "Makes me feel like I want to rebel." In an era where the more cinematic single-camera comedy has become the norm, and when NBC mostly leans on reality competitions, sports, and crime dramas for ratings, The Carmichael Show seems like a small rebellion, offering up a defiantly unfashionable piece of television that just happens to be good. It's heartening to see quality rewarded.
"Fallen Heroes," which airs this Sunday, feels like a definitive take on the Cosby scandal. The assault accusations against the comedian and actor are never questioned by anyone in the family, and there's no rehashing of the more depressing debates about the character of the accusers which have unfortunately echoed through the media. Instead, the show grapples with Cosby's comedic legacy, an obvious inspiration for The Carmichael Show and so many other family sitcoms of recent decades. Jerrod has two tickets to a Cosby stand-up concert and wants to take his girlfriend, insisting that he can still enjoy the jokes even if the man telling them has been exposed as a serial rapist; reactions within the family range from outright revulsion to a desire to still be able to enjoy The Cosby Show even while acknowledging the sins of its creator and star.
In every episode, Carmichael and his writers do a fine job treading the awkward line between letting their characters speak their minds and avoiding being outright offensive. Inevitably, someone has to say something that lands with a politically incorrect thud every episode, simply to provide jumping-off points for deeper, more reasoned discussion. It's hard to do that without provoking a distracting wince; it's even harder to make it funny. The Carmichael Show does both just about every minute of every episode. It helps that the family feels drawn from real life: The themes being debated might be familiar, but everyone's positions are always perfectly in character.
Other network shows are tackling topical issues with the same fearlessness: Think of ABC's Black-ish, which centered a whole episode around a family debate regarding police shootings this year. But that show is a broader family sitcom with less of a political bent every episode, and its format shift that week was notable, though applause-worthy. Black-ish is intentionally coming at sensitive issues with a little more remove, partly because of its family's upward mobility (the title, of course, refers to that blurring between race and class status). Its more cinematic approach blends montage, music cues, and fantasy sequences; The Carmichael Show marches right up to the camera and pushes a hot button every week. We're lucky to have both.