The (Booze-Infused, Bikini-Clad) Values of The Bachelor 
The show's "historic" 20th season insists that it takes a family to accept a Final Rose.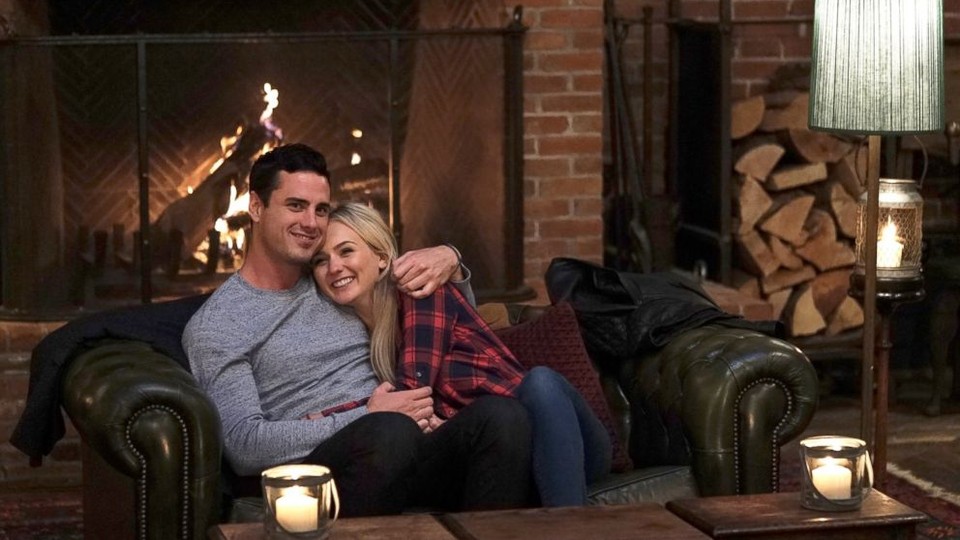 [Warning: Spoilers abound.]
One of the weirder elements of the extremely weird Monday-night finale of the 20th season of The Bachelor was the presence of Denny Wilson, Bachelor Ben Higgins's pastor from his hometown of Warsaw, Indiana. Denny was on hand, along with the families of Ben and Lauren Bushnell—the woman who would be revealed to be the show's winner and Ben's new fiancée—because Ben had, in a previous interview, said that he "would marry her tomorrow if I could." Ben was being rhetorical. The show didn't care. The Bachelor was going to give Ben an opportunity to make good on his claim. On live TV.
"I told you this was going to be the most dramatic finale ever!" The Bachelor's host, Chris Harrison, told the cocktail-dress-clad crowd, after a commercial break. He paused, dramatically. "How are we doing so far?"
The crowd cheered. Harrison continued: "And don't forget, we have Ben's pastor from his hometown church in Indiana standing by. And tonight could end in a wedding."
Spoiler: The night did not, in the end, end in a wedding. ("We both owe it to each other to do a wedding with our friends and our family and a big wedding and celebration to cap off this craziness," Ben, 27, told Chris, rather sheepishly.) But: The families were there. The pastor was there. And one of the rules of reality TV production is that if you've gone to the expense of flying people out to a set, you don't let that expense go to waste. So, for the final scene of The Bachelor's 20th season—a "historic" one, Harrison insisted in a preview, without explaining what gave it the distinction—the families of the newly betrothed couple, the moms and the dads and the siblings and the Denny, were brought onstage. They talked about the future. They talked about the respect they have for each other. They hugged. They waved to the cheering crowd. It might as well have been a wedding.
"I mean, look at them," Ben's father said, beaming at his son and his soon-to-be new daughter-in-law. "They're perfect!"
It was a fitting conclusion for a season that went out of its way to emphasize—in its gaudy, Moroccan-lantern-lit, drippingly Bachelorian way—the importance of family. The competitive dating show, at first blush (and The Bachelor is a show that gives you many things to blush about), wouldn't seem to be the type of institution that would call to mind the term "family-friendly." There's, for one thing, its treatment of the make-out as a kind of Darwinian sport ("I'm the only one who hasn't kissed Ben yet!" a distraught contestant frets early on in the season, when the women remaining in the competition number in the double digits). There are also the scanty outfits ("We can totally see her vagina in that dress!" one woman snarks about another), and the dramatic build-up to the delightfully innuendo-ed "overnight date," and the fact that roughly 85 percent of the show's action takes place in hot tubs.
And there are also, of course, many more broadly blushworthy things about The Bachelor: its extremely non-diverse casting choices; a structure that encourages women to fight against each other for a man's affections; the show's tendency to downplay, and pretty much ignore, the fact that its cast consists of humans with jobs and lives and intellects. (This season, the show outdid itself in that regard by repeatedly listing two of its contestants' occupations as "Twin.")
But beyond the superficial—the sequins, the spray-tans, the fact that everyone involved seems to participate in the show's action in a state of low-grade intoxication—The Bachelor is otherwise extremely traditional in its assumptions. It believes, above all, in highly structured conventions when it comes to romance: the week-by-week progress that will end, ultimately, in marriage. You put a rose on it until, finally, you put a ring on it. The show functions, in that sense, as a kind of mass-market matchmaker: Resign yourself to the producers' judgment, the logic goes, and you might find your soul mate. But it also fills the role of the stereotypically meddling mother: It cajoles and enables and insists. It is delightfully unsubtle. It puts the "ma" in "Machiavellian." As Chris Harrison insisted during the Bachelor at 20 special that aired in the run-up to this season's finale, "The Bachelor is not just roses, fairy-tale dates, and proposals. It's real people on real emotional journeys to find the love of their life."
What all that amounts to is a celebration of romantic orthodoxy. The Bachelor, as The Cut put it, is "an advertisement for old-fashioned, heteronormative matrimony between white people." And it pulls, in that capacity, a canny trick: It gets its week-by-week drama through its airing of hot tub-based make-out sessions, but it gets its overall drama—its ethical drama, even—from the thing those sessions come to represent: the testing of partners, the sowing of oats. The "journey" The Bachelor presents, week by week and season by season, is highly regulated. Its cocktail parties and Rose Ceremonies and Hometown Dates and Fantasy Suites are all part of its rules of, literally, engagement.
Last season, on The Bachelorette, Kaitlyn Bristowe briefly broke those rules. She took a date back to her hotel room long before the card offering that "night in the Fantasy Suite" had been offered; she had sex with another suitor, too. She said the word "sex" on air—a first for a show that so masterfully revels in insinuation. Kaitlyn's season, however, ended in precisely the way most Bachelor(ette) seasons will: with a heartfelt proposal of marriage. (A proposal that, was made, as per Bachelorette tradition, not by Kaitlyn, but by her final fella.) And, indeed: "We're happily engaged!" Sean and Kaitlyn announced in The Bachelor at 20.
Yet even though Kaitlyn and Shawn Booth, via that so-far-lasting engagement, have joined the small pantheon of Bachelor couples that have stood the some kind of test of time, The Bachelor season 20—Ben's season, in the show's vernacular—read as something of a rebuke to Kaitlyn's: It emphasized, even more than past seasons, the rules of engagement. (Ben's one deviation from these came from a romantic place: He told two different women he was in love with them. Drama!) And the show also emphasized, even more than past seasons, the core importance of family to one's romantic journey.
"I can't wait to meet them!" Lauren, 24, winner of that Final Rose, said during her first date with Ben. She was talking about his family. (She and Ben would laugh about that—sooooo awkward!—when she met his parents for the first time, at a Sandals resort in Jamaica.) Lauren—who from the beginning repeated how close she is to her family, and how much she wants to replicate that closeness with her own husband and kids—functioned within the show as the classic "wife material" candidate. JoJo, the runner-up (and, Harrison announced last night, the new Bachelorette), was not.
The wife material won. This was a surprise to precisely nobody. Because Ben, of course, has functioned within the show as classic "husband material." The Bachelor has emphasized, from the beginning, how close Ben is to his parents. It showed him reiterating, episode after episode, that "I'm here to find my wife." It featured long scenes of him playing at the beach with the young daughters of Amanda, the show's third runner-up. (The single mother would later announce, on The Bachelor: The Women Tell All special that aired the week before last night's finale: "Being a mom is my jam!") The show set a date with Lauren at a kids' recreation center in Warsaw. Ben has a large tattoo on his torso—visible during the many, many Bachelor scenes that found him clad in a bathing suit. It comes from Proverbs 16:3, and it reads: "Commit to the Lord, whatever you do, and he will establish your plans."
The family values—the general sense that it takes a village to give a rose—were reflected in the broader story of Season 20, as well. The Women Tell All began with a montage of Ben and Chris crashing some of the IRL viewing parties put on by members of the "Bachelor Nation." The producers interviewed a woman who was carrying a baby clad in a white dress with "#hometowns" written on it back. "I can't believe Ben's so tall! He's a stud!"the woman said. She added, "But we'd like to see his abs in person, if we could make that happen." (And, then, to her baby: "Ella, do you want to see Ben's tummy?") The producers also interviewed a beefy guy who declared, "This is way better than football." As he talked, he cuddled a tiny baby (a girl, wearing a headband with a white bow).
Family also featured prominently in The Bachelor at 20, a special that emphasized the marriages and children that have resulted from the franchise. Ashley (of "Ashley and J.P.," from The Bachelorette Season 7), announced to the crowd, "This is our son, Ford—say hi, Ford!" (This technically wasn't the first time some fans had met Ford, though: The couple introduced him via a televised ultrasound that aired as part of a previous Bachelor special.) The Bachelor at 20 also flashed back to the Bachelor contestant Emily, who confided, "More than anything, I want to be a wife, and I want a family, and I want a husband." It aired the audition video of the would-be contestant who declared, "I'm not getting any younger, and my eggs are not becoming any more fertile." It aired a clip of Ali Fedotowsky, a former Bachelor contestant and Bachelorette—and now a TV host—saying, "There's, like, a lot of love in the Bachelor family. It's just a feel-good show. It leads to babies, it leads to marriages. It creates all these life-long friendships. I hope it lasts forever."
Whether the latest engagement The Bachelor can boast will follow in the footsteps of Trista and Ryan, and of Ashley and J.P., and of Jason and Molly, and of Jade and Tanner—couples whose "journeys" on the show have led to legal marriages—remains to be seen. But with the fact that their families—and Denny—were present last night, the show continues to insist that, whatever happens with Ben and Lauren, the whatever in question will involve the Higginses and the Bushnells. The Bachelor is an institution that has taken for granted the idea that a few months spent in hot tubs and helicopters and Sandals resorts—a few months spent, more specifically, being filmed in all of those settings—can lead to coupledom. Real people on real emotional journeys to find the love of their life. Now, it's expanding its purview: Here is a reality TV show, promising not just romantic love, but familial. A character on last night's finale, after Ben declared his feelings for Lauren, replied, sighingly: "Ben, those are words I only imagined hearing over the years." It was Lauren's father—giving Ben his blessing to ask for Lauren's hand in marriage.