Pay and the 'Lady Players' of Tennis
Controversial remarks by Raymond Moore, the CEO of Indian Wells Tennis Garden, have reignited a conversation about prize money in the sport.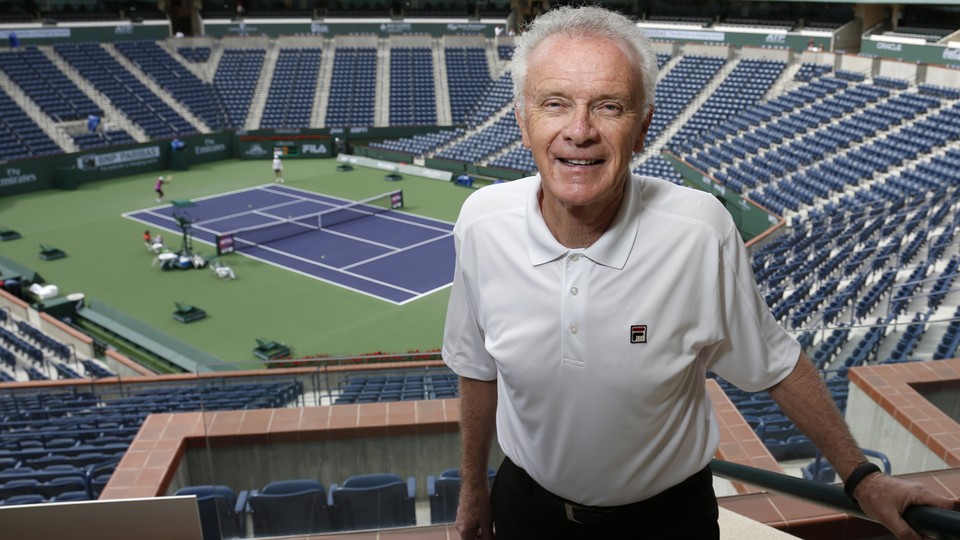 Over the weekend, Raymond Moore, the pro-tennis executive and former player who heads the Indian Wells tournament in California, became the latest prominent 69-year-old CEO to make his misogynist musings public. In remarks made ahead of the women's finals match on Sunday, Moore had this to say about the supremacy of men's tennis:
You know, in my next life, when I come back, I want to be someone in the WTA [Women's Tennis Association] because they ride on the coattails of the men. They don't make any decisions, and they are lucky. They are very, very lucky. If I was a lady player, I'd go down every night on my knees and thank God that Roger Federer and Rafa Nadal were born because they have carried this sport. They really have.
Serena Williams, arguably the game's biggest star, was among the many to  responded to Moore's comments. Shortly after her finals loss, she condemned his statements, calling them "very, very, very inaccurate."
"Obviously I don't think any woman should be down on their knees thanking anybody like that," Williams said. "I think Venus [Williams], myself, a number of players have been—if I could tell you every day how many people say they don't watch tennis unless they're watching myself or my sister, I couldn't even bring up that number."
Williams noted that just last August, ahead of the U.S. Open, the women's final sold out before the men's final for the first time in history. Following Williams' press conference, Moore apologized for his earlier remarks, saying they were in "poor taste and erroneous." (Demands for Moore's resignation continued to grow on Monday as more attention was paid to some of his other comments.)
In theory, the story might have ended there. However, Novak Djokovic, the world's No. 1 men's player and winner of this year's Indian Wells tournament, also waded into the controversy by suggesting that professional tennis, whose biggest tournaments offer equal prizes for men and women, should offer higher pay to men because they attract high viewership. Adding that the conversation about women's pay was "delicate," Djokovic then decided to go indelicate.
"I have tremendous respect for what women in global sport are doing and achieving," Djokovic added. "Their bodies are much different to men's bodies. They have to go through a lot of different things that we don't have to go through. You know, the hormones and different stuff, we don't need to go into details."
(Inadvertently or not, this was a callback to heavily criticized remarks made by the French player Jo-Wilfried Tsonga in 2013 in which he blamed "inconsistent" play in women's tennis on "bad things" like "unstable" emotions and "hormones.")
Of course, pay equality in tennis isn't a cut-and-dry issue. In Grand Slam tournaments, men have to win three sets to advance while their female counterparts have to win two. The irony of Sunday's remarks is that they came at a tournament where both male and female play their matches in a best-of-three set format. On Sunday, Williams played 20 games in her loss to Victoria Azarenka while Djokovic played 14 games in his win over Milos Raonic.
One reason frequently given for the lower viewership in women's tennis is its failure to produce an echelon of top-level players who consistently win tournaments. A data dive by Carl Bialik at FiveThirtyEight last September seems to show that if women played in best-of-five matches, the game's top contenders would emerge victorious on a more frequent basis.
Nevertheless, that hasn't stopped Serena Williams from winning more Grand Slam titles than any of her male counterparts. That's also true for Margaret Court, Steffi Graf, Helen Wills Moody, Martina Navratilova, and Chris Evert.