Zayn Malik, Why So Serious?
The ex-One Direction singer's gorgeously pouty debut, Mind of Mine, may be the the pinnacle of the current sad-dude pop moment.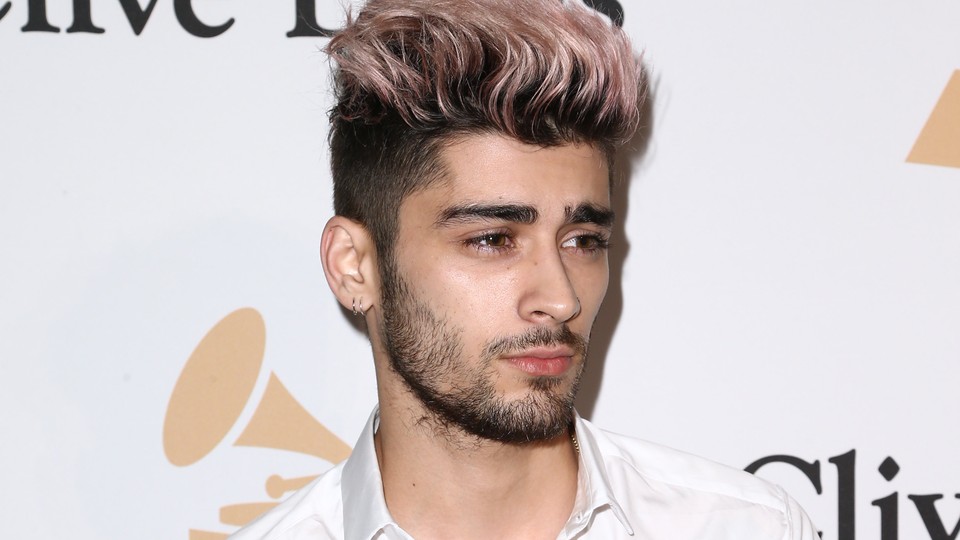 All the Sad Young Men, F. Scott Fitzgerald's 1926 short story collection, may need its title repurposed for today's pop landscape. Fifteen years ago, Justin Timberlake bid farewell to boy-banddom using an irrepressible brew of Spanish guitar, beatboxing, and Neptunes party rhythms. Two decades before that, his inspiration, Michael Jackson, transcended pipsqueakdom with one of the most joyful disco sets ever recorded. But today, whether seeking to banish the image of a sweet Degrassi teen (Drake) or of a purple cardigan and bowl cut (Bieber)—or whether simply and sacrilegiously seeking to become the "new Michael" (The Weeknd)—pop's men prove their maturity with prayer hands, bitten lips, and slow songs about the profound burden of dating supermodels.
Maybe all these grim assertions of adulthood come out of the same malaise fueling 21 Pilots's hit whine "Stressed Out," which is to say they're either a symptom of Millennial economic insecurity or of Gen-X parental coddling or of social-media-induced anxiety. Or maybe we're just at one end of the pendulum swing for pop aesthetics. In any case, Friday's release of the debut solo album from the ex-One Direction member Zayn Malik may mark peak sad-cool-dude. Which isn't a knock—Mind of Mine might be the best chart-pop album this year's provided. But after these 18 (or 20, depending on the version) decadent airings of sexualized angst hit the marketplace, it's hard to imagine further efforts like it won't feel redundant. The pout has gotta be on its way out.
Frank Ocean's producer, Malay, has a heavy presence on the album, and it opens with the sonic signifier that will date today's hits very soon: a vocal onomatopoeia pitch-shifted to sound like the yelp of an anime fairy (see also: "Sorry," "Roar," "Out of the Woods," "I Really Like You," every Skrillex song). But it's hard to dismiss Malik as a trend-hopper when he has, for so long, seemed to want to make an album just like this. Once the dour/mysterious foil to the happy-go-lucky rest of One Direction, he's spent the press tour for Mind of Mine indicating that his old group's bubblegum rock was never to his taste. Instead of jock-jam hand claps and riffs stolen from Martin Scorsese's favorite songs, Mind of Mine swirls with synthetic studio mist and slithers to the tempo of R&B.
Malik's played coy about whether he expects people to have sex to this album, but he definitely expects people to have sex to this album and maybe cry afterwards. If the music itself didn't make that clear, there would still be all the non-pejorative uses of the word "fuck," as well as allusions to it: "I get her wetter than ever / four letter are never a question," he sings on "Wrong," one of many dread-tinged odes to a manic hipster dream girl. The she of "She" is snorting coke and wants Zayn's body; the dreamy and insistent chorus makes the interaction sound all good under a club's strobe lights, but his wails elsewhere suggest that he's not sure he should give her what he wants. And the lead single "Pillowtalk," which may have rocketed to No. 1 thanks to his fearsome fan base but stayed in the top 10 due to its slow-mo pole-vault of a chorus, sums up the duality that rules this album and many like it: "It's a paradise / and it's a war zone."
The intricate, lush production and mannered yet powerful performances from Zayn make the album into an excellent mood piece for whatever-you-want-and-chill sessions, not unlike Rihanna's Anti earlier this year. But the vibe is so singleminded that it can be tough to tell many of the songs apart, and at a certain point you're left wishing for a moment, any moment, of pure abandon. Profiles of Zayn have painted what sounds like a fantastic life of playing with crossbows outside of his own personal pub, and yet his latest music video, for "BeFoUr," is all about nostalgia for his pre-fame days where he could hit up a chip shop freely. The closest we get to the sound of out-and-out fun is on "Do Something Good," a reggae track about smoking pot and playing video games, relegated to the Target-exclusive edition of the album. Even there, if you listen closely you'll hear not only a lightsaber noise but Zayn shaming himself for enjoying the day off. Bobbing your head almost feels wrong given the implication: The kids may be all right, but the new adults aren't.