Peyton Manning's Semi-Storybook Ending
Weeks after winning the Super Bowl, the diminished NFL great and future Hall-of-Fame quarterback is walking away from football.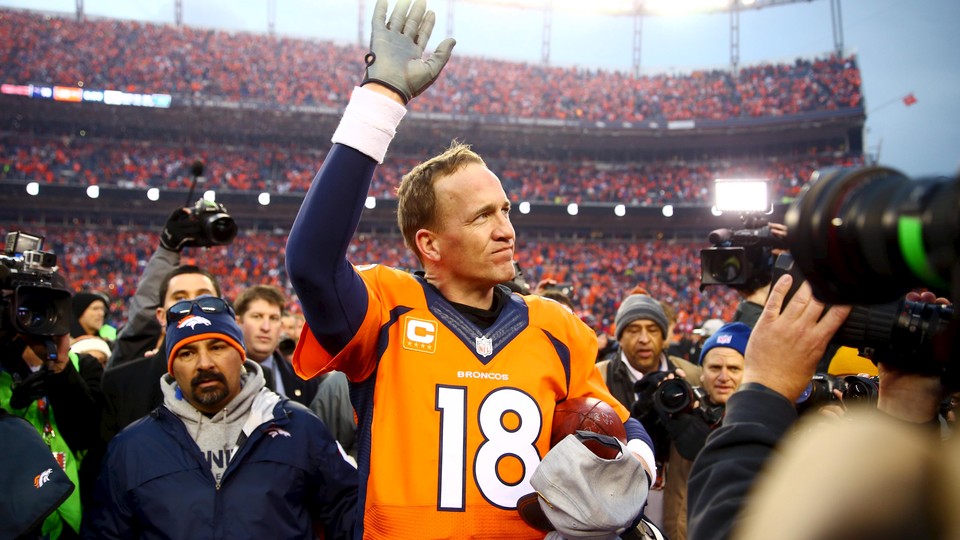 Updated at 3:02 p.m. on March 7, 2015
Four years ago this week, Peyton Manning was released by the Indianapolis Colts. It was an emotional, tear-filled occasion. The Colts were the team that Manning had refashioned from perennial laughingstock to annual Super Bowl contender. Over the course of 13 seasons at quarterback, Manning never missed a game and the Colts won eight division titles, two AFC championships, and a Super Bowl.
After neck surgery forced Manning to miss the entire 2011-2012 season, the Colts decided to let him go. He was then a 36-year-old free agent and the only four-time MVP in NFL history. And despite some skepticism about his age and ability, Manning was courted by a number of teams including the Denver Broncos, who had a pitchman that no other team did.
Days after Manning's release from Indianapolis, John Elway, the general manager of the Broncos, sat across from Manning and promised that "I would do everything in my power" to ensure that Manning  finished his career "the way I finished mine." Fifteen years earlier, Elway, then quarterback for the Broncos, had finished his similarly storied 16-year career with two straight Super Bowl victories. Weeks after the second one, he retired.
The pitch worked. Eschewing potentially more favorable arrangements with other teams, Manning signed with Denver. And, just weeks after winning his second Super Bowl, Manning announced his retirement on Monday afternoon.
"I revere football. I love the game," he said in a press conference in Denver. "You don't have to wonder if I'll miss the game. Absolutely. Absolutely, I will."
As news of his retirement spread, tributes came in from teammates and rivals alike. Patriots quarterback Tom Brady, who had been Manning's nemesis and foil throughout their careers, was among the first to weigh in:
Every game he has played, I have watched. I have file folders of his plays, of how he plays. It'd take years for me to watch it all again. But what he's done in Denver has been incredible. Think of what he did—changing teams, changing organizations, at his age, and then in four years going to two Super Bowls with that team.
In four years in Denver, Manning also led the Broncos to four division titles and, in 2013, Manning had the best season of his career, breaking two NFL single-season records for touchdowns (55) and yards thrown (5,477).
Despite all of this, Manning's last few years weren't entirely without blemish. His otherworldly campaign in 2013 ended with a savage 43-8 loss to the Seattle Seahawks in the Super Bowl. The next year, Manning and the Broncos lost at home in the playoffs to the Indianapolis Colts, who were led by Andrew Luck, the quarterback who replaced Manning.
Manning's final season had a pathos-filled, Elvis-in-Vegas quality to it. Hampered by injury, he threw eight more interceptions than touchdowns and was benched halfway through the year. The Broncos continued to win on the strength of their defense and their run game. Manning eventually resumed his starting role in the playoffs, ably managing the offense, but hardly standing out.
A Super Bowl win conceals most cracks and flaws, but Manning's triumphant coda also dovetailed with the reemergence of an old sexual-assault claim from his college years and the fallout from a report alleging that Manning used human-growth hormones in 2011. On Monday, an NFL source told NBC Sports that investigations into the latter controversy will continue despite Manning's retirement, but with limited potential effect.
Nevertheless, following Manning's press conference on Monday, he'll almost certainly end up in the front office of an NFL team or in the broadcast booth that he was seemingly made for. And in short time, the NFL Hall of Fame.