James Corden and Late Night's Viral Future
The CBS host has tapped into YouTube to reach a younger audience—an approach favored by the new talk-show generation.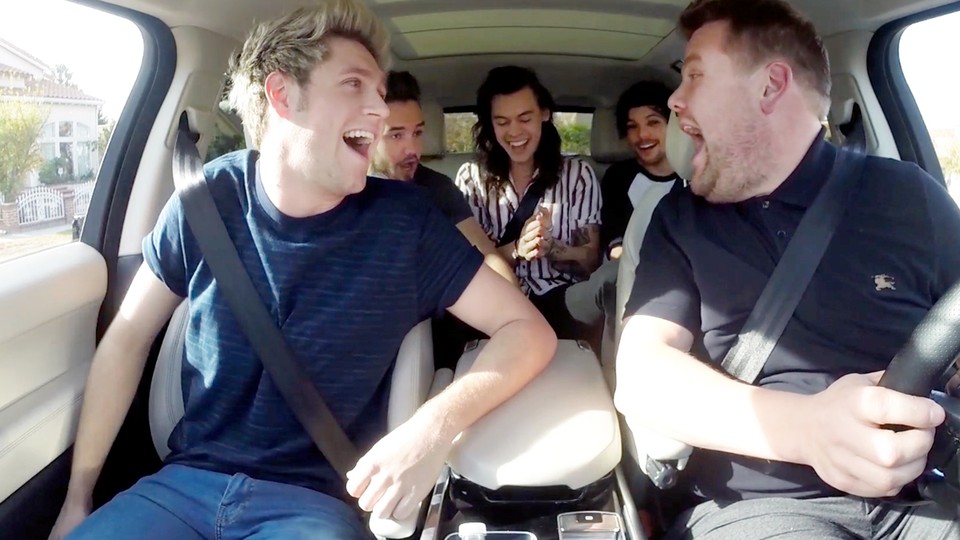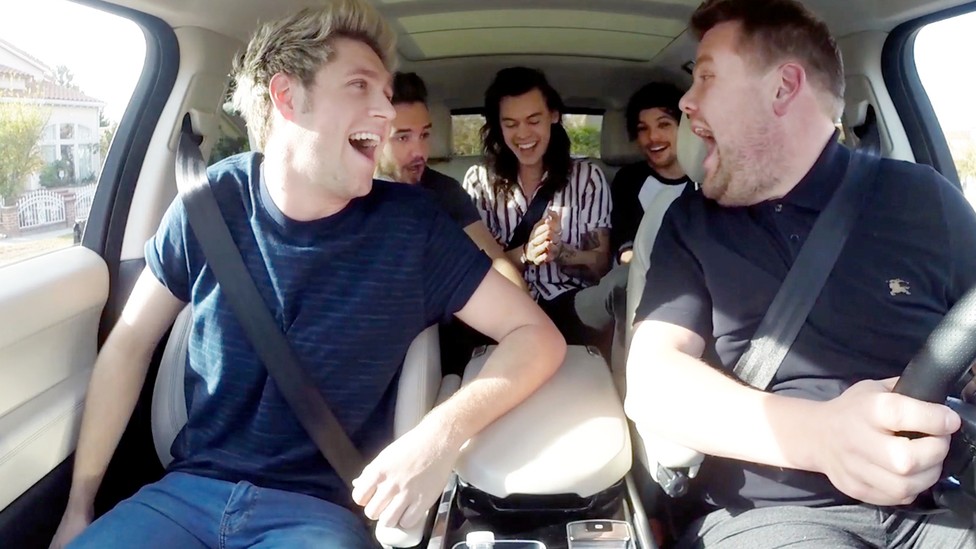 Since it debuted a little over a year ago, The Late Late Show With James Corden has averaged about 1.2 million viewers a night, a respectable figure that puts it solidly in the middle of the crowded world of late-night television. By comparison though, Corden's "Carpool Karaoke" segment with Adele, a 15-minute odyssey that touches on the singer's love for the Spice Girls and Nicki Minaj, has been watched 90 million times since it was posted in January. Corden remains an up-and-comer for U.S. TV audiences, but in the viral world of YouTube, he's already a superstar—and that's far more crucial for his future.
Perhaps that's why his network, CBS, decided to cash in on the popularity of "Carpool Karaoke" with a primetime special that sliced together some of its greatest hits with new footage, including a ride with Jennifer Lopez that culminated in Corden taking her cellphone and sending a text to Leonardo DiCaprio. The crucial appeal of "Carpool Karaoke" is the same quality that's helped popularize other late-night viral sensations, like Jimmy Fallon's lip-sync battles or Jimmy Kimmel's mean-tweet readings. They're staged events with celebrities that strive for authenticity, sweeping aside the creaky sit-down chat for something that actually has the air of spontaneity, while sacrificing any attempts at satire.
Near the end of her "Carpool Karaoke" segment, J. Lo held her phone's screen triumphantly up to the camera, astonished that Corden had the temerity to send DiCaprio a funny text. The stunt was for real—eagle-eyed reporters  analyzed her buddy list to verify it—but it's hard to know just how organic it was. Off-the-cuff moments are what make Corden's videos seem special: Whether or not his rides are totally improvised, they feel relaxed, in contrast to the scripted banter of a typical late-night chat. The crucial moment from Adele's segment involves her reciting a verse from Kanye West's "Monster." And Justin Bieber's mellow appearance, one of the first to explode on Corden's YouTube page (which now has more than 4 million subscribers), helped rehab the singer's image ahead of his new album release.
A certain pre-planned quality was part of the appeal for hosts like David Letterman, who always maintained a cautious distance from his guests (all the better for gently mocking the ones he didn't like). His was an era of snark, of healthy disrespect for fame and the beatific glow it could bestow on the lowliest celebrity. Jay Leno, slightly more of a schmoozer with his guests, was similarly irreverent in his attitude toward the American public, whom he'd mock with segments like "Jaywalking." Corden has upended that approach too, with another viral segment where he arrives at someone's home to deliver a pizza … often with celebrity guests in tow.
Fallon is the acknowledged master of the "celebrity buddy" genre, tapping friends old and new (from Justin Timberlake to Bruce Springsteen) to pal around on his set. There's a collaborative feeling to his mainstay sketches (Lip Sync Battle, Wheel of Musical Impressions, Evolution of Dancing) that harkens back to his days on Saturday Night Live, where a celebrity guest host is brought in to brainstorm sketch ideas every week. ABC's Jimmy Kimmel, who's far more openly indebted to Letterman, allows celebrities to embrace their meaner side by letting them clap back at rude tweets; his "Lie Witness News," which asks invasive questions of strangers on the street, has an air of Leno's "Jaywalking."
Not everyone in late night is going the celeb-heavy route. Seth Meyers seems to be making a play for Jon Stewart's audience, with his "A Closer Look" series focused on political stories. Conan O'Brien tapped into a huge new audience with his brilliant "Clueless Gamer" series, where he plays video games with staffer Aaron Bleyaert. The segments play off O'Brien's general disinterest in gaming, using his generational malaise to his advantage. At 52, he's now one of the oldest late-night hosts, after spending decades as one of the youngest—a sign of just how drastic the changeover has been. With Stewart, Letterman, and Leno all now retired, even Fallon is practically the old guard, when five years ago he was an upstart and late-night shows were actively resistant to putting clips on YouTube for fear of lost revenue. These days, those page views can help pay a star's salary.
Late-night hosts are like Supreme Court justices: Once appointed, they can be on the bench for decades, so when there's turnover, the changes can feel drastic. Watching one of Corden's videos, I'm reminded of the comedian Andy Kindler's keynote address at the Montreal Just for Laughs festival, a satirical stock-taking that's become an annual tradition in the industry. "You've gotta be able to do a potato-sack race with Cameron Diaz," he joked in 2015, bemoaning the brave new world of celeb-friendly late night. There probably are only more sack races to come.