House of Cards Season 4, Episode 4: The Live-Binge Review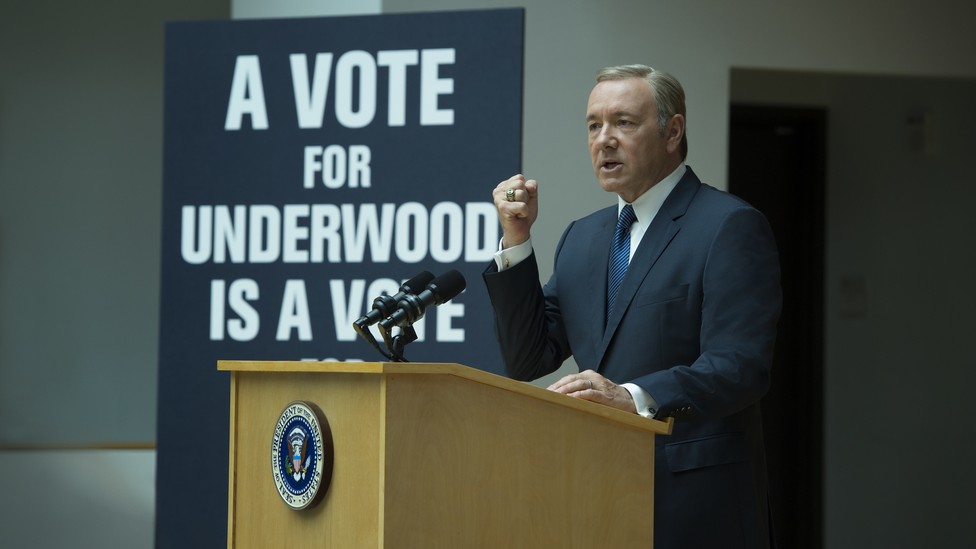 As in previous years, I'm binge-reviewing the latest season of Netflix's House of Cards, the TV show that helped popularize the idea of "binge watching" when it premiered in 2013. Don't read farther than you've watched.
Episode 4 (Chapter 43)
If you're don't like how the table's set, flip it over. House of Cards has taken Frank's maxim to heart, resolving an intractable—and, honestly, preposterous—stalemate between the Underwoods by shooting one of them.
A work of plausible storytelling caused by carefully set plot dominos falling into place, this is not: A lot of coincidences had to happen for Lucas to get free, and then to get homicidal. But as a work of near-Shakespearian thematic convergence meant to keep this TV show lively for at least another season and a half, it's fabulous. With this twist, a longstanding loose cannon in the form of Lucas finally fires; a longstanding ally, Meechum, gets to make his heroic sacrifice; the violent motifs of the season pay off but in an unexpected way; what had been an intractable storytelling knot gets torn apart, opening up fascinating possibilities for the next tangle.
My biggest quibble was with how the show blew its surprise. You knew something bad was going to happen during Frank's meet and greet with protestors, which went on for longer than any benign scene of its kind would normally have. I remember when Fitz was shot on Scandal—now that was well-timed. Then again, from another perspective, the timing of this assassination attempt wasn't so bad. What I perhaps loved most about this bombshell episode was that it nestled the assassination attempt in the middle, so the misdirecting build-up and the immediate aftermath could unfold without having to hit "next" at the cheap urging of a cliffhanger.
Elizabeth Hale hopes Frank dies, but that isn't likely, given how delicious it will be to watch him come to in a presidential race that Claire has reshaped. As soon as the first bullet rang out, you knew she would use this catastrophe for a power play; the suspense is over how exactly she'd do it (and over whether she'll show any discernible remorse or concern for her husband's life; so far, she hasn't). Her persuasion of weak-willed Donald Blythe to find a gonzo third way out of the Russian diplomatic dilemma reads ambiguously. Is she trying to sabotage Donald with bad advice? Or is she trying to bolster her own position with what she believes to be good advice?
Farewell, Lucas—you might have planned on surviving and bringing attention to the fate of Zoe Barnes during trial, but you were facing a bodyguard dedicated to his president in more ways than you could imagine. So farewell, too, Meechum. If you're in heaven, I'm sorry to report your threesome buddies will not likely ever join you there.
Read the review of the next episode.