The Ongoing Rebellion Against Rock-and-Roll Harassment
Whether the occasion is a concert or an interview, women are making pigheaded behavior toward them public.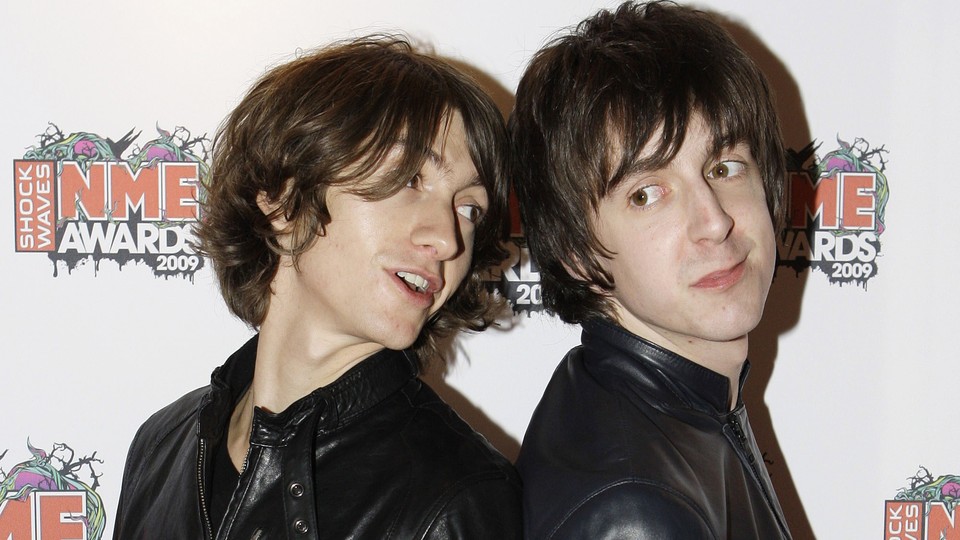 When the rock publicist Heathcliff Berru resigned and went to rehab earlier this year following public accusations of sexual assault, one takeaway that I and others noted was the simple fact that words can create change. More specifically: The music world, where drinking and macho swagger and transgression of decorum are often part of the appeal, has long been a place where for many women enduring harassment is just part of the terrain. But if the paradigm were to shift toward one where harassment was regularly called out and sanctioned, some men might think twice before doing or saying pigheaded things.
It's an idea that's being put into action more and more. Of course, women who speak out face risk—threats of reprisal, criticism, legal fights, and further harassment. But just today, there are two fascinating examples of women speaking out about experiences that might have previously gone unmentioned—and getting a response.
On Facebook, the metal band Baroness posted a link to what, they said, was "the WORST review we've ever gotten," adding, "WE WANT YOU TO READ IT!"  The article was by Rosie Solomon for Red Brick. She said that she attended a Baroness concert, the first concert she'd ever gone to alone, and ended up getting followed around by some guy who kept shoving his crotch on her. It's a gross story and one that also, for many, probably isn't shocking: Lots of female music fans have similar tales. The crux of Solomon's piece was answering the question of what to do about it:
What convinced me to write this article is the fact that, if [the police] manage to identify this man, I am planning to take him to court. I'm going to give a victim's statement, and I hope he'll get the punishment he deserves. I wanted to write this article to encourage anyone to do the same. My friends have told me about being grabbed in a club, called out to on a street, being pressed up against on a crowded bus, or even cases where I've heard a man masturbating over a friend on public transport. The sheer volume of these stories is horrific, shocking, upsetting and frankly unacceptable.
Baronness broadcast the statement on Facebook to their fans, adding their support:
I promise, not one person amidst the Baroness tour-party would show sympathy for the man in this article. We do not condone and we do not tolerate any form of sexual aggression or intolerance, nor will we ever. The man detailed in this article, whoever you are, if you read this post, stay the fuck away from Baroness and our audience. We don't need you at our show, we don't want you in our audience
At Spin, the journalist Rachel Brodsky found herself in very different circumstances from Solomon but took similar action. When interviewing the Last Shadow Puppets members Miles Kane and Alex Turner (also of Arctic Monkeys), she wrote, Kane seemed to be hitting on her. At one point, he invited her to his room (adding that he was just kidding after his publicist spoke up); at another, she said, he responded to her offer of a goodbye handshake by pulling her in and kissing her on the cheek.
The piece she wrote begins as a relatively straightforward profile of a band with a new album, but midway through shifts in to her own discomfort and whether to speak out about it:
As I recounted the exchange with Kane to friends, co-workers, and my fiancée, I witnessed a spectrum of reactions: Some people twisted their faces in disdain and said stuff about lines being crossed. Others looked annoyed but shrugged it off with one word: bands.

Bands will be bands. Boys will be boys. Women years deep into their music careers have thrown this just-put-up-with-it rationale at me, and it has not been isolated to this one experience. In total honesty, I'm still grappling with how to feel about an interview that takes this undesirable direction. Plenty of people in my position will chalk this up to the occasional occupational hazard, not all that far removed from waking up hungover on a weekday after a late-night show. But the more just-kidding-but-not-really come-ons I absorb, the more I understand that unlike getting too sloshed at a show, this particular hazard is mostly limited to one gender.
Before Brodsky's story was published, Kane sent her an apology for the "silly remarks I made during our interview" and said that he was "mortified." In the piece, Brodsky replies, "Instead of apologies, I'd like to see a little more foresight and a lot more professionalism toward women in the music industry." By writing the article, she may have helped make progress toward that state of affairs.