Truth as Marketing: Gwen Stefani's Pop Confession
This Is What the Truth Feels Like mines the No Doubt singer's divorce and tabloid-baiting new romance—but the honesty feels far from radical.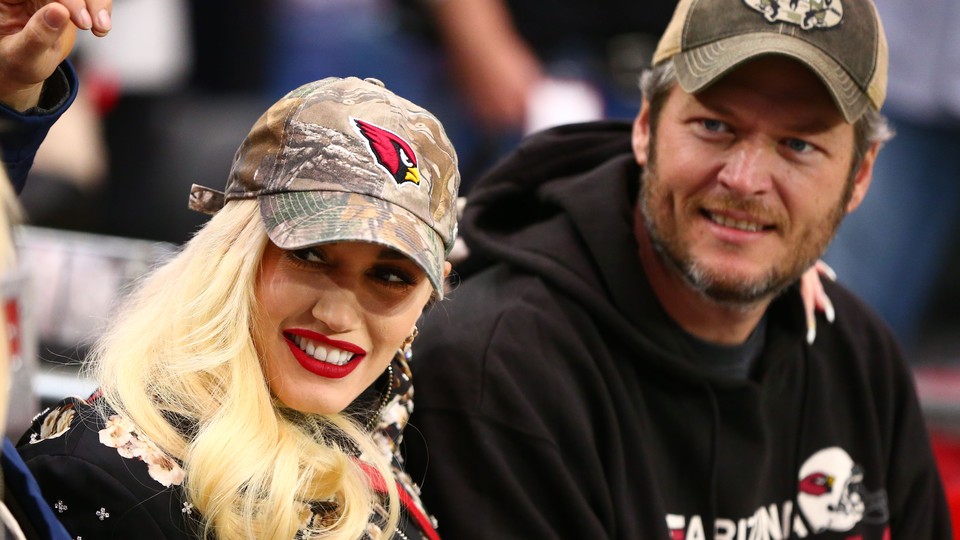 In the press tour for her new solo album This Is What the Truth Feels Like, Gwen Stefani has told a few interviewers that she never planned on fame. When her band No Doubt released its commercial breakthrough Tragic Kingdom in 1995, "We knew we were making music that couldn't get on the radio," she said to EW. "It was pop in the middle of grunge—it made no sense!"
The notion of pop music as underdog might seem jarring today. But it's true that in the mid-'90s, No Doubt's brand of catchiness must have felt new. The authentic-seeming angst that had beat back synthpop and hair metal a few years earlier in the zeitgeist had started to feel like just another gimmick. No Doubt was everything the Nirvana knockoffs weren't: airy, lively, vulnerable, feminine. Pop's claim to honest expression is often asterisked by the specter of commercial calculation, but in the early days—watching, say, the "Don't Speak" video—it felt like you could believe No Doubt.
Stefani very much wants people to believe her again. The pitch for This Is What the Truth Feels Like—from its name to the music video where Stefani tearily stares in the camera in one take—is that it's the rare pop album where you're not supposed to guess about the difference between art and author. She has said she initially set out to "curate a record … like every other pop girl does"—probably by enlisting Swedish songwriters and knocking out the vocals in a few afternoons—but scrapped the results after her 14-year marriage to the Bush frontman Gavin Rossdale imploded in 2015. Real life had happened; real music should result.
This may be an admirable artistic goal, but in a strange irony, its real significance may be as a marketing move. This Is What the Truth Feels Like does not sound like a departure for Stefani or for anyone seeking radio play at the moment. Instead of whatever industry pros she ditched after recording that earlier set of songs, she teamed up with … industry pros fresh off of No. 1 hits from Justin Bieber and Adele. A large portion of the album is presumably inspired by her new boyfriend Blake Shelton, the country star and fellow judge on NBC's The Voice. Even in this, the notion of truth has been rendered janky thanks to the celebrity marketplace: Rumors about the rumors about "Gwake" say that it's all a fauxmance to boost ratings; Stefani even cheekily endorsed that conspiracy theory in the period before she and Shelton went fully public. So, like with the average Taylor Swift or Bieber release, the fun of this album is improved by reading the tabloids.
In any case, Stefani's recent drama helps her take a crack at doing what great love songs are supposed to do: nail a micro-moment or peculiar dynamic within a universal experience. Heartbreak-to-uplift is a common trope, but Stefani reinvigorates it a few times here by foregrounding feelings of surprise and gratitude. "Make Me Like You," a strong single that adds a dash of her signature pout to Sheryl Crow strumminess, neatly charts three distinct emotional phases in verse, pre-chorus, and chorus. "Hey, wait a minute / No, you can't do this to me," she protests to an exciting new love interest during the second phase, perhaps also speaking for anyone trying to resist the song's charm. On "Truth," she acknowledges that everyone is going to write off her new squeeze as a rebound—a canny move, though somewhat ruined by a misplaced hint of raunch in the line when she commands that squeeze to "rebound all over me" (it's not the only awkward maybe-double-entendre on the album: "I need some water, so water me" she says later).
The music—let's call it "acoustic-tronica lite-reggae dancepop"—is uniformly crisp and tuneful, with occasional inventive touches. The album's at its best when it uses its star's distinctive voice for moments of multi-tracked beauty or play; often there's a lovely sensation of floating upwards, as when Stefani coos the title of "Rare," the album-closing ode to joy. On "Favorite," an electro-toybox twinkle recalling "Dance of the Sugar Plum Fairy" complements Stefani's lyrics about romantic exploration.
But in other places, the professional polish does not serve the subject matter. A couple of songs clearly try to recapture the rude energy of "Hollaback Girl" or Rock Steady, but end up recalling the strained, cringe-worthy provocations of Iggy Azalea and recent Madonna. Most heartbreaking is "Used to Love You," both because of its sentiment and its execution. Stefani has repeatedly told an anecdote about her record label complaining that the album had no hits and then going gaga with praise once she sent them "Used to Love You," which she says is one of the most personal songs she's ever written. Unfortunately, the results feel born of compromise: A raw observation and vocal squeak in the chorus might prompt tears like the ones in the accompanying video, but the rest of the song struggles, incongruously, for light toe-tapping. It should have been a true ballad.
Ultimately, the album succeeds and fails not on the amount of truth involved, but the amount of musical inspiration involved, which is mild. Stefani, of course, is not the first person to approach the public with the pretense of breaking with convention and then offering a mostly conventional product. The opening song, "Misery," describes a head rush that you can't find "at the grocery store." Whatever that feels like, she hasn't quite approximated it here.