Remembering Garry Shandling
The comedy giant was famed for creating and starring in the Emmy-winning HBO series The Larry Sanders Show.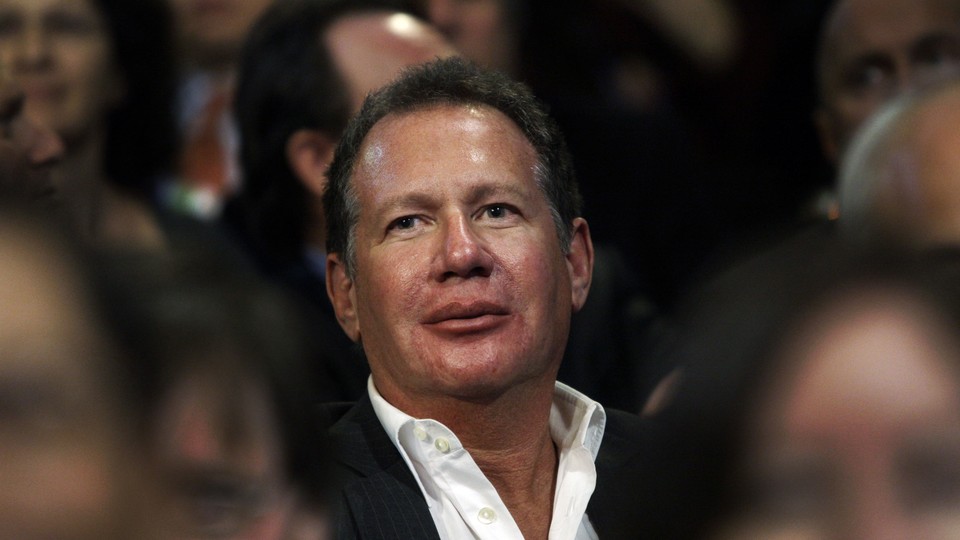 Garry Shandling, a towering figure in American television history, died in Los Angeles today at the age of 66. His death is a tragically sudden end to a storied career that more than once redefined comedy: He was best known as the creator and star of the surreal 1986 sitcom It's Garry Shandling's Show, which ran for four seasons on Showtime, and the landmark HBO series The Larry Sanders Show, a spoof of late-night talk shows that pioneered an age of darker, more adult humor on television and inspired a new generation of comedians.
Born in Chicago in 1949, Shandling broke into the industry in the early '70s, writing scripts for sitcoms like Sanford and Son and Welcome Back, Kotter, before eventually moving into stand-up comedy, where he became a star on the L.A. comedy scene—particularly at the city's famed Comedy Store. He was a regular guest and replacement host on The Tonight Show With Johnny Carson, assuming the persona that was at times neurotic, brittle, and anxious, but always blisteringly funny and original.
Rather than submit to the formula of the network sitcoms he loved to deride, Shandling created It's Garry Shandling's Show with the former Saturday Night Live writer Alan Zweibel, airing on the then-nascent Showtime network from 1986 to 1990. The show was presented as a sitcom, but one in which Shandling was self-aware about being in a TV show, along with the rest of his cast. He would make surreal asides to the audience, zip years into the future without warning, and even air live episodes. The show's famous theme song, by Bill Lynch, emphasized the show's zany metatextual quality, a revolutionary concept at the time.
Shandling then moved on to create The Larry Sanders Show for HBO in 1992. The more straightforward comedy series took a look behind the scenes of a long-running talk show, in which Shandling played a character more loosely inspired by his own foibles. Surrounded by an incredible ensemble that included Jeffrey Tambor, Rip Torn, and Janeane Garofalo, The Larry Sanders Show became the premium network's earliest original hit, collecting hordes of Emmy nominations over its six-season run and giving special guest stars the opportunity to play deranged versions of themselves on the show (David Duchovny's turn remains a notorious highlight).
Throughout The Larry Sanders Show's acclaimed run, Shandling was offered the chance at a real late-night gig by multiple networks, but he continually turned them down, more interested in the unfettered creative access offered by HBO. The Larry Sanders Show was acerbic, heartfelt, and consistently brilliant: It launched the careers of comedy luminaries like Judd Apatow, Peter Tolan, and Paul Simms, and it broke ground for "single-camera" comedies that didn't stick to the rigid format of the classic American sitcom.
Once The Larry Sanders Show ended in 1998, Shandling went into semi-retirement, appearing occasionally in films like Mike Nichols's What Planet Are You From? (2000), which he co-wrote, and Peter Chelsom's Town & Country (2001), which was a notorious bomb. More recently, he showed up as an evil U.S. senator in two Marvel-Universe films (Iron Man 2 and Captain America: The Winter Soldier) and wrote a book called Confessions of a Late Night Talk Show Host. Though he divulged very little about his personal life over the years and never married, Shandling remained a beloved figure in Los Angeles and an idol to comedians for whom he remains a remarkable influence.