City of Gold and the Richness of the Melting Pot
A portrait of the Los Angeles Times's food writer, Jonathan Gold, explores how humans connect through food.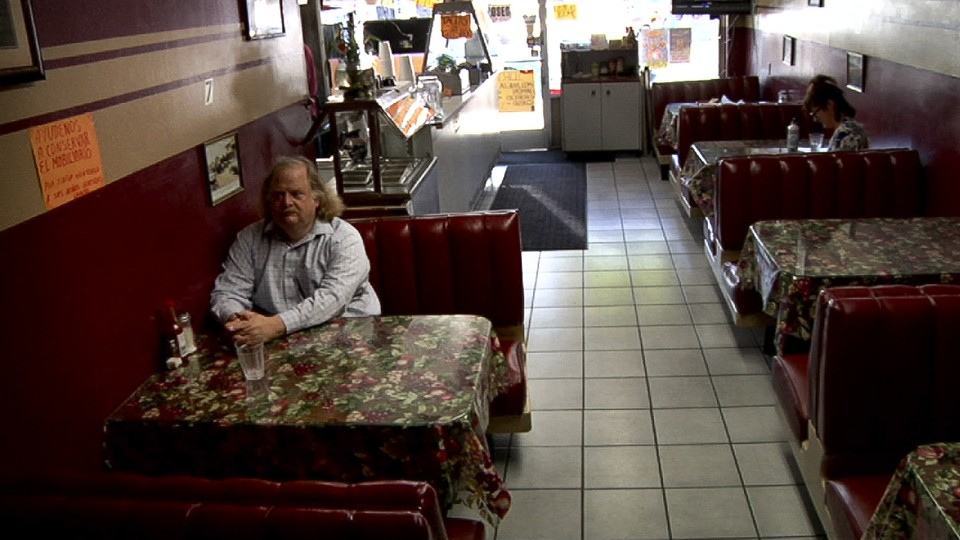 "It seems to me that our three basic needs, for food and security and love, are so mixed and mingled and entwined that we cannot think of one without the others," M.F.K. Fisher writes in The Art of Eating. Jonathan Gold seems to agree. A mole he encounters is "as spicy as a novella and as bitter as tears." A taco isn't a dish so much as a verb—one long continuous motion from grill to dish to diner, preferably via a truck. Food writing isn't service journalism, it's cultural anthropology: a way of examining the manifold shades and textures of humanity without needing a Ph.D. or a passport.
So it's no coincidence, perhaps, that the word "taste" describes both how humans perceive food and how we perceive culture. No food writer today seems to intuit this confluence better than Gold, the ostensible subject of Laura Gabbert's new documentary, City of Gold. Gold is the Los Angeles Times's restaurant critic, although that title implies a degree of white-tablecloth formality that doesn't quite fit him—he is, as Andrew Zimmern states in the movie, one of the great democratizing forces of cultural criticism in the 20th century, proving that a roadside burrito can be as worthy of appraisal as a $200 tasting menu. As Gabbert follows Gold from hot-dog stand to strip-mall restaurant to a meeting at Momofuku, what becomes clear is that she's using him as a lens to expose the richness of American culture, and the disproportionate role immigrants play in sweetening the melting pot.
Not that Gold himself isn't an extraordinary subject. The movie premiered at Sundance in 2015, a week after Gold publicly abandoned his career-long attempts to remain anonymous, citing the impossibility of keeping your face a secret in the age of Instagram, as well as a belief that "the game of peekaboo is harmful both to critics and to the restaurants they write about." This is just as well, because on camera he's a resplendent figure with a mane of graying strawberry-blond hair, a freckled face, and keen eyes that light up when he peers through the window of a taco truck. "You're not going to find cooking like this anywhere but L.A.," he explains.
Gold grew up in South Central, and the movie reveals glimpses of his youth—the meticulous hierarchy regarding the Jewish deli his family shopped at, his time playing the cello in a punk band, how he fell into the exploration of ethnic cuisine because he was bored in an early job as a proof reader. But Gabbert seems less interested in Gold the person than Gold the critic, and his extraordinary influence as a champion for off-the-radar restaurants and chefs in Los Angeles. (For extra insight into the former, read Dana Goodyear's 2009 New Yorker profile of Gold, which includes an anecdote about how he once burst into tears in a restaurant in an anxious fit after spending the day on a mission to sample the city's espresso.) Gold and L.A., she proposes, are an almost impossibly perfect match of city and surveyor, where Gold, like Reyner Banham before him, maps out the complexities of its ethnic enclaves, one meal at a time.
As he drives around in his oversized Dodge truck, Gold points out highlights on the culinary map—a joint where they put boiled ox penis in your pho here, an "art-directed take on Korean street food" there. He stops to greet a man whose hot-dog spot has closed, but who continues to hawk butterflied dogs from a cart right outside. Gabbert interviews Ludo Lefebvre, whose face becomes cement-tight, and who starts berating a sous chef when he sees Gold sit down at a table. And, more tellingly, she talks to Genet Agonafer, an Ethiopian chef whose son funded her restaurant with loans he took after finishing medical school, and whose business was bleeding money until Jonathan Gold reviewed it. Suddenly, she says, "I could not cook the doro wat fast enough."
Gold clearly has an extraordinary palate, but his interest in food comes across in the movie as almost abstract—you get the sense that it's simply a vehicle for accessing his real subject, which is people. As a young reporter, he explains, he learned that if you try and talk to strangers in the street, they shut down, but if you strike up a conversation in the context of having a meal, you can more easily connect. He visits a restaurant four or five times before he writes a review, explaining that his mission is to achieve "exhilaration, infatuation, and, if you're really lucky, understanding." Food, he seems to believe, is simply what keeps us alive; cooking is what makes us human.
As a portrait of an artist, Gabbert's film is moving, intriguing, and fragmented. There are hints at a larger narrative reveal that never unfurls: mentions of frequent writer's block, missed deadlines, editors explaining how they have to psychotically stalk him to get him to finish a story. Everyone from David Chang to Ruth Reichl to Calvin Trillin praises his writing at length, but few seem able to offer much insight into what, beyond food, makes him tick. But as a portrait of a city, and a rapidly evolving moment in culture, City of Gold is endlessly fascinating. Gold's Los Angeles is a vivid microcosm of the American Dream, where first-generation immigrants can build successful businesses—and raise their children to be doctors, bankers, maybe even food writers—by replicating the tastes and traditions that attach them to home.
You get the sense that he's writing not for the millions who read his reviews, but for those who don't. City of Gold, whose scenes are accompanied by gorgeous original music by Bobby Johnston that conveys a sense of the extraordinary diversity of L.A., captures the spirit of a vast metropolis of interconnected souls finding communion through food. "We are all citizens of the world," Gold explains before the movie's closing credits. "We are all strangers, together."