Boys Among Men and the NBA's High-School Boom
Jonathan Abrams's fascinating new book looks at the success stories (and the failures) of basketball's "prep-to-pro" era.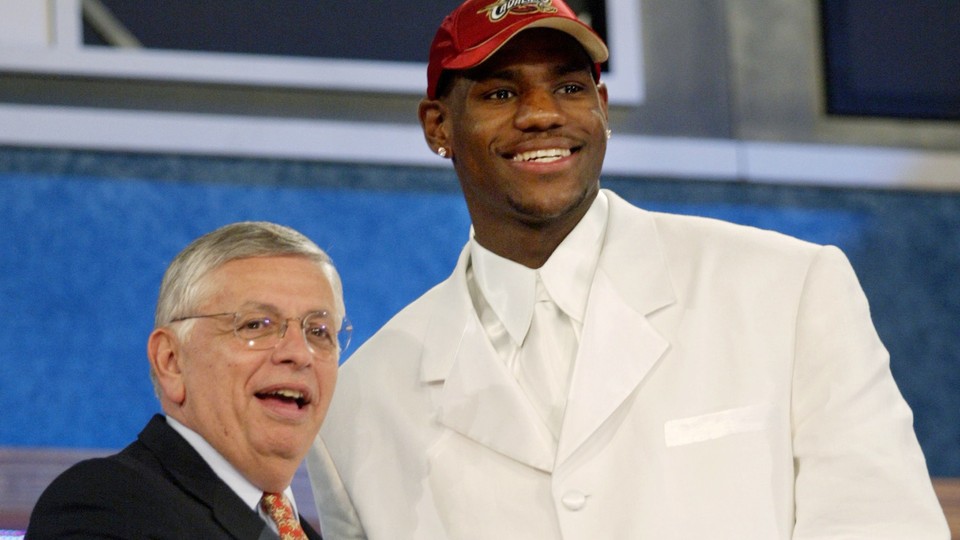 When the basketball phenomenon Korleone Young declared for the NBA Draft in 1998, he was still in high school—but he was already being tipped for superstardom, and mentioned in the same breath as recent phenomena Kobe Bryant and Kevin Garnett. Both had jumped straight from high school to the pros in 1995 and 1996 respectively, sparking a trend that snowballed into the new normal: After years of players only making the leap from college, each draft featured a handful of "prep-to-pro" prospects who bypassed the NCAA entirely. Young was picked 40th in the draft by the Detroit Pistons. He appeared in three games before getting cut; his pro career literally lasted 15 minutes.
Jonathan Abrams wrote about Young's tragic story arc, and the ups and downs of the prep-to-pro boom in the NBA, for Grantland in 2013. Inspired by the variety of narratives, from successes like Bryant and LeBron James to perceived "flops" like Kwame Brown and forgotten players like Young, he's written a masterful book called Boys Among Men that takes the entire, roughly 10-year era into account. The NBA banned the practice of drafting high schoolers in 2005, instituting the so called "one-and-done" rule, which requires players to spend a year in college or play overseas until they're 19 years old to be eligible for the NBA Draft. The rule remains controversial, so much so that even after years researching the history of high-school stars, Abrams still isn't sure exactly where he falls on it.
"The rule as it is today was basically established for the NBA teams, and their general managers," he told me. "It's there to protect them, so that they're able to see these guys when they're more mature and project where they will go." Though Abrams talked to many players who perhaps recklessly jumped to the pros straight from high school and remain troubled by the decision, he acknowledged that for all-stars like James or Bryant, the "one-and-done" restriction would have simply hurt their earning power, as college athletes can't be compensated.
The non-success stories "all started at the same origin point," Abrams said. "They were all in high school, all forecasted to be NBA stars, and then at some point they veered off. The ones who didn't make it, they're now in their early to mid-30s, and it's a cloud hanging over them, that their chance at fame and fortune is eternally lost." He's particularly interested in the way these players essentially peaked as high schoolers and live today in a kind of "suspended reality," still trying to figure out who they are.
Boys Among Men's exhaustively researched and reported chapters jump between the biggest prep-to-pro successes (Garnett, Bryant, James, Tracy McGrady, Dwight Howard, Amar'e Stoudemire), the players who had to struggle for years in the NBA wilderness before making it big (Gerald Green, Shaun Livingston, Tyson Chandler), and perceived "busts" like Kwame Brown, who was the first high schooler picked #1 (in 2001, by the Washington Wizards). It's loaded with details, such as Billy Donovan (who was the head coach of the University of Florida basketball team at the time) recalling a heartbreaking conversation with Brown over whether he should declare for the draft.
Brown had committed to attend Florida, but backed out when he realized he could go first in the draft, which would guarantee him the kind of salary that would help his impoverished mother and siblings. "In his heart of hearts, he really wanted to come to college," Donovan told Abrams (the chapter was excerpted on ESPN). "I think he knew he was not ready. He had to go. He was really doing it for his family." Brown's decision wasn't as tragic as Young's—he spent 12 years in the league, mostly as a backup player—but he's still regarded as one of the biggest draft disappointments in NBA history, burdened by hype he couldn't match.
"Some of it was right place, right time, and some of it was the right organization," Abrams said of the wide variety of successes and failures. "One of the common characteristics I found was that guys like Kevin Garnett and Kobe Bryant saw getting drafted and entering the NBA as the first step in a long process." He said those players were content to focus on training and practicing in their early years, often deferring to more-famous players on the team. Others saw the mere fact that they had entered the league and signed a big contract as an indication that they'd "made it," and consequently didn't focus on the extra development needed to stay afloat in the pros.
Players who are drafted high will make millions of dollars a year from the start, the kind of payday that even more mature recruits can struggle with managing properly. Some 18-year-olds are up to the pressure, but many aren't, and their stories fill the margins of Abrams's book. But he always presents their lives with empathy and care. He doesn't gawk at the misfortunes of the NBA Draft's famous "busts," nor does he offer simple moral judgments about why some prep-to-pro players succeeded and others didn't. As such, he wraps up without a simple answer as to whether the one-and-done rule did enough to help new players adjust to the league better.
"I'd like to see a baseball-type rule, where guys can make the jump [from high school], the LeBrons and Kobes," Abrams said. "But if they go to college, they have to stay there for two years, so when they come out they're that much closer to a college degree if they ever decide to go back to school." That system would let the real prodigies get to the NBA and start making money immediately, while encouraging youngsters with more marginal talent to spend longer in college and either refine their basketball craft or make progress toward an alternative career if they find the sport isn't for them.
The current one-and-done rule seems to hurt star players like Ben Simmons, the Australian phenomenon who just wrapped a disappointing season at Louisiana State University, a college he will almost certainly depart after one year. The NBA age limit means there's rash of similarly perfunctory college careers every year, players who bide their time before moving on to the NBA. Some teams, like the University of Kentucky, will see entire starting rosters leave after only a year.
"What was the point of Ben Simmons going to school for a couple of months? It's not like he's going to be a chemist, he's going to be an NBA player," Abrams joked. Still, he acknowledged the advantages that come with letting a player develop in college for at least a year, even if they know they're going to leave eventually. "Making that transition from high school to college is tough," he said. "Making a transition to the pros is tougher."