Ben Harper, Reluctant Protest Singer
On his new album, Call It What It Is, the musician reflects on police brutality, ageing, and a pink balloon.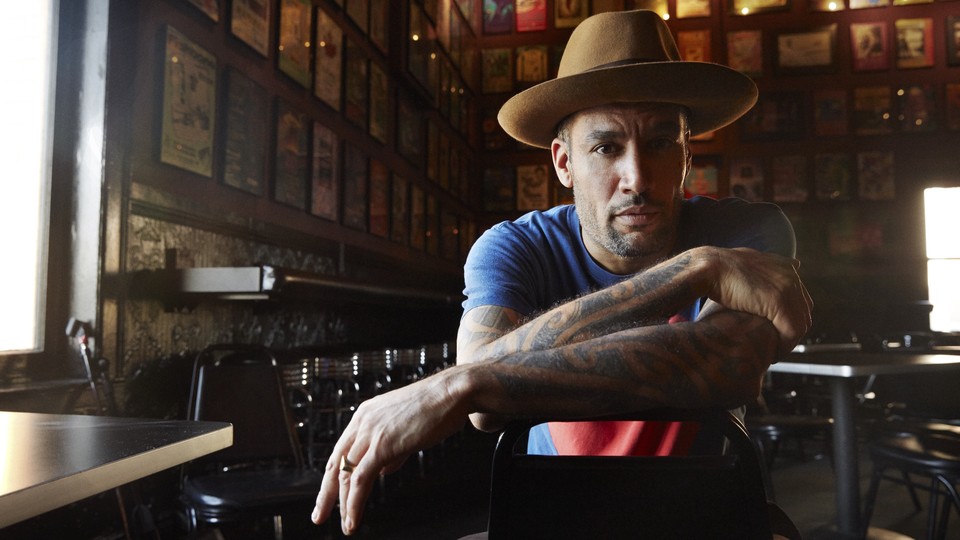 Ben Harper has been handcuffed and forced to the ground, his face kissing the pavement, twice: once in the '80s and again in the '90s. In 1999, he was driving through Burbank, California, on his way to the studio when he spotted a helicopter. "God," he remembers thinking, "that helicopter is really flying close to me." He kept driving and the helicopter kept tailing him. He got off the freeway and encountered some roadblocks, which he navigated his way around, and pulled into the parking lot of Alpha Studios, where he was going to record a song called "Steal My Kisses" for Burn to Shine, his fourth album.
Immediately, as Harper recalls, "I'm freakin' surrounded by no less than 20 cops and a helicopter, like, 15 feet above my head." The police had gotten a call about a stolen truck. Which was blue. "My truck is gold. All right? Guns drawn, helicopter above, face down, cuffed. I said, Well, all you had to do was pull me over, all you had to do was run my license plate."
J.P. Plunier, Harper's producer (and childhood friend), was on his way to the same studio, driving in from Claremont. He turned on the radio for a traffic report and, as he hurtled closer to Burbank, heard that his exit was closed due to police activity. That's when he saw the helicopter. When he finally got to the studio, Plunier learned, to his irritation, that his friend was late.
"So I went, got a cup of coffee, came back out, Ben pulls in, and all of a sudden the whole place is surrounded by police," he says. "Ben was on the ground and cuffed." The studio was bordered by a wall, perhaps 12 feet high. And on the wall were sharpshooters. It was, Plunier says, a situation that could have easily taken a bloody turn.
Thankfully, the police were quickly persuaded that Harper, rather than being a truck thief, was instead a victim of mistaken identify. Later that day, Harper says, "the police captain came down to apologize, literally hat in hand."
"Steal My Kisses" would peak at #15 on the Billboard charts. But seven records and three Grammys later, Harper is not immune to harassment. Eight months ago, he and his wife were followed by police for several miles, until an officer drove up next to Harper's car, saw his face, and left the couple alone. "It happens a lot," he said. "I drive a Honda Odyssey minivan, man. If you're coming after me at midnight and following me—who's sober, stone sober—someone else is getting away."
* * *
The burden of being a person of color in America—call it a melanin tax—is among the thematic strands of Call It What It Is, Harper's 13th record, which comes out April 8. The title—and the album's main track—grew out of a conversation he had a couple years ago at a skate park.
Harper, a lifelong skater, was at L.A.'s Stoner Park. A few days before, 18-year-old Michael Brown, black and unarmed, had been shot and killed by a white Ferguson police officer. Two days before that, Ezell Ford, age 25, had been fatally shot by the LAPD. It's what everyone was talking about. The conversation turned to the long history of police brutality against African Americans in the U.S., with the younger skaters hopeful that cell-phone cameras might discourage future assaults.
Harper, who is 46, took a long view. "I'm the old man at the skate park. These kids weren't around for Rodney King and probably didn't research Watts and other riots that have happened around the country in the name of racial inequality," he said. He told them stories, suggesting, gently, that cops have been beating black Americans in full view of cameras for a long, long time. As the discussion wound down, Harper told the kids how frustrated he was that the police shield didn't permit honest terminology when it came to such assaults: "What frustrates me is that people just don't call it what it is. I mean, it's murder!"
Harper went home and, in one sitting, wrote a song.
They shot him in the back
Now it's a crime to be black
So don't act surprised
When it gets vandalized
Brown, Ford, and Trayvon Martin are all mentioned by name in "Call It What It Is." This was to some extent arbitrary. Harper has been asked why he didn't name, for example, Eric Garner, who died after being put in an illegal chokehold by an NYPD officer. "The other names are there," he said, "whether I say them or not."
* * *
Call It What It Is is unpredictable, lacking much cohesion, weird—and brilliant. It was recorded over the course of a year, with sessions sometimes happening months apart. I theorized to Harper that the record's melodic, lyrical, and thematic inconsistency was related to the intervals between sessions, and he didn't disagree. "Oftentimes what you are doing and what you think you are doing aren't the same thing," he said. He needed time in between sessions to let the recordings settle, to give himself some critical distance. He ended up with an album that tacks between the dark—images of the literal end of the world—and the light, with a girl carried aloft by a pink balloon. Call It What It Is is an exercise in getting jerked around; it's an 11-track tilt-a-whirl.
"When Sex Was Dirty," which kicks off the record, is upbeat and drum-driven, beer-soaked. It begins:
I remember when sex was dirty
And the air was clean
Harper grew up in Claremont, which is situated east of Los Angeles in a smoggy nexus of cars, geography, and industry. In the song, he remembers it before all this, in the '70s and '80s, when he was a kid. This was, he says, "when there were orange groves," and sex "was not really in the conversation."
The song's an ode to his old friends who know him best. To all the sons and daughters of the boulevard who learned to go without sleep and to hide all the scars.
"It's for them, it's for my closest friends who have survived and sustained through some of the harder periods of the human experience," he said. "Now mind you, it's not famine, it's not a Third World situation, but it's incredible how First World problems can quickly degrade into a significant level of despair."
That despair permeates many of the songs on the record. "How Dark Is Gone" is inspired by a friend of Harper's from Claremont; Dee was a few years older, another black kid in a town where there weren't many. "I have vivid memories of sitting with him outside the front of my house on the rock wall," he says. "Even though I was just a little grom, he always gave me an affirming nod and a kind word, seemingly as curious about me as I him."
In the early '80s, Dee was put in jail. In an attempt to escape, he tied some sheets together. The sheets slipped open and he fell to his death. Harper wasn't terribly close to him, but his friends were. Said Harper: "To see them grieve and the stories that we all now tell, having coming up to the middle of our lives—it's a song for us."
"How Dark is Gone," with its fast, aggressive strumming and thumping that recalls a club's drenched and dirty floor, is effectively at odds with lyrics that deal meaningfully with getting old.

As life traces
The lines in our faces
I won't look away
* * *
Ageing, in fact, seems to be among the record's dominant obsessions, and it's certainly present in  "All That Has Grown," which is Call It What It Is's literal midpoint. The song, a reflection on an enduring, not always placid relationship, evokes in the listener a serenity that, given what has preceded, feels well-earned. It offers a few minutes to catch our breath before the record flips over:
After the storm
And the skies are blue
After everything
We put each other through
The dust and the mud
Have become stone
After the storm
Just you and me on our own
"That song was at the end of the record for so long," Harper said. But late in production it found its proper place.
And then, with "Pink Balloon," the album reboots. It's short (not even two and half minutes) and fast and loud, the story of a girl carrying a pink balloon. "It's really an innocent song," he said. His wife, Jaclyn Matfus, who isn't a songwriter by trade, had awoken with the melody in her head, hummed it into her phone, and went back to sleep. Three months later, she got the nerve to play it for her husband.
"A lot of people bring me songs, so I'm not going to go easy on my wife," he said. "You know, you got to have the goods." She played it for him and scampered away. "Holy shit," said Harper, "this is really good." Matfus got a songwriting credit and, if you listen closely, you can hear her singing the hook.
* * *
Call It What It Is closes with the shimmering, lovely "Goodbye to You." It's the antithesis of "When Sex Was Dirty" and borders on a dirge.

I wake up feeling like I've aged a year
'Cause I go to sleep in fear of the dawn
Head full of dreams unclear
Make the days seem twice as long
After all we've been through
I don't know how to say goodbye to you
The song was prompted, in part, by the death of Daryl "Chili" Charles, the father of Oliver Charles, Harper's drummer. Chili was a busy session man for, among others, Taj Mahal, Harry Nilsson, Brian Wilson, and his son is now, improbably, the fifth generation of Charles drummers. But the song is also inspired by the Innocent Criminals themselves, the band with whom Harper recorded 1999's Burn to Shine and 2007's Lifeline.
Harper and the Innocent Criminals split in 2008. As tends to happen in collaborations, tensions had emerged, then grown. "I think by the time I threw my Borsalino hat on the stage and stomped it to a pancake, that was probably the sign of things changing," he told me. This wasn't a metaphor. He'd really stomped a hat. As Harper later explained it, the incident occurred during a 2007 concert in Memphis. ("I remember it well, as it was the day after my birthday," he wrote by email. "The hat was magnificent.") The band had suffered from Harper's tendency to be a workaholic; too many rehearsals, too many sound checks, too many shows.
The break-up was rough. Most of the Innocent Criminals—Juan Nelson, Leon Mobley, Oliver Charles, Jason Yates, and Michael Ward—had been playing with Harper since the '90s. A two-year radio silence followed, then, gradually, communication resumed. They all began, as Harper puts it, "ramping up, reconnecting, and individually and collectively processing why it went down the way it did, how it went down the way it did, and gaining an understanding of each other's perspectives."
The band began to meet for group dinners. After a while, they decided to try making music together again. Harper didn't know what to expect, of himself or the band, so he booked only a week of studio time. But the inaugural session went well. It was the same band, but a different sound.
"From the time that we've been a band and friends, which is decades now—I mean, through the '90s, 2000s, 2010s—we've all had to say goodbye to so much in our lives," said Harper. In a way, the band is singing a lament about itself.
* * *
For Harper, "Call It What It Is," that song that was aching to be written, recalls "Like a King," which he wrote in 1993, and which appeared the next year on his first record. It begins:
Well Martin's dream
Has become Rodney's worst
Nightmare
Can't walk the streets
To them we are fair game
Our lives don't mean a thing
It upsets Harper that, after all these years, he can't get away from it. Racism remains too systemic to completely move on to sunnier topics. Mavis Staples—for whom he recently wrote a song—puts it this way: "I look at the world today, and it hurts me to know what we went through and it's still not fixed." Until it is, she and Harper are, to some degree, stuck.
"I'd rather," Harper said, "be writing love songs."