Party Over Here Continues TV's Sketch Revolution
Fox's new series is produced by Andy Samberg and his Lonely Island partners, and stars three female comedians.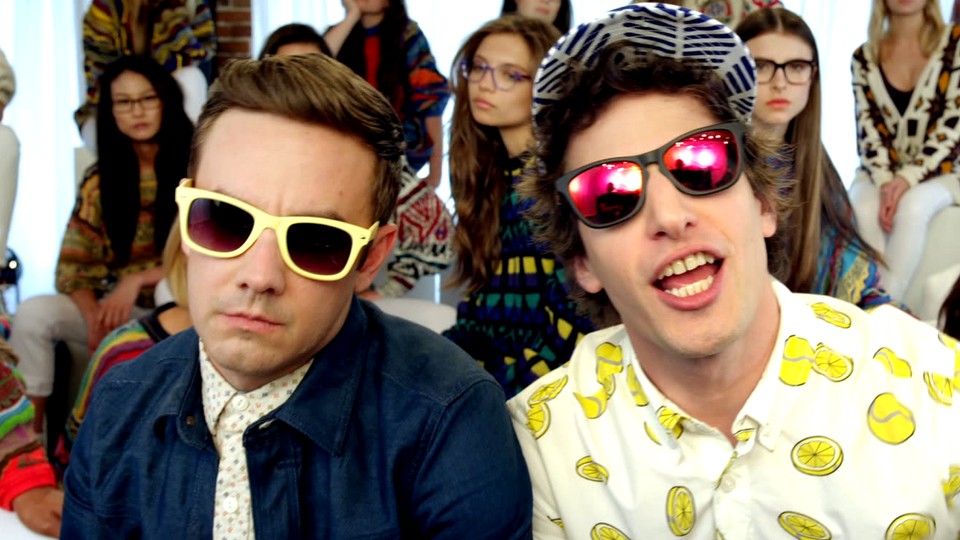 The sketch show has been popular for years now—cable iterations like Inside Amy Schumer, Kroll Show, Comedy Bang Bang, Portlandia, and Key & Peele have turned a once-stodgy format into a platform for delivering some of television's freshest, most incisive comedy. They've become so popular that the Emmys started an awards category devoted to them. That trend has yet to spread to network TV, where Saturday Night Live remains the genre's only standard-bearer, which makes Fox's decision to order its own sketch series—a small-scale, half-hour effort called Party Over Here—all the more intriguing.
The show will debut March 12 with a regular cast of only three performers, all of them women. It's being touted as the new show from The Lonely Island (Andy Samberg, Akiva Schaffer, and Jorma Taccone), who pioneered SNL's Digital Shorts, but the trio will only serve as executive producers alongside their fellow comedy giant Paul Scheer. From the initial details released about its cast and writing staff, Party Over Here seems like a more interesting gamble than a Lonely Island project: It wouldn't be an SNL threat airing on a rival network, but a smaller-scale show centered around voices that often get marginalized on the biggest comedy stages.
The show's three main cast members are Alison Rich, a former SNL writer; Nicole Byer, a sketch comedian and actress who was part of MTV's talk-comedy series Girl Code; and Jessica McKenna, a comic based out of the Upright Citizens Brigade theater in Los Angeles. The show will air on Saturdays, but at 11 p.m., running for only half an hour and staying out of SNL's time slot. It's a low-stakes move for Fox (which gives the show room to experiment), but it's also the network's first real venture into late-night comedy since the decline of MadTV in the mid-2000s. Other attempts, like a talk show hosted by Wanda Sykes in 2009, didn't survive beyond their initial episode order, but the TV landscape has changed drastically since then.
A late-night comedy show, even with low ratings, can be a smart little investment—it's aimed at a young audience, can be packaged into online clips with the potential to go viral, and doesn't cost a ton to produce. One reason an SNL clone has never really thrived on network TV is the vast resources required to get one off the ground—the NBC juggernaut currently employs some 29 writers and 16 full-time cast members—but Party Over Here will have a writing staff of just five, and two repertory players alongside its three stars. The network gave no details on the kind of material the show will explore, but its female-dominated roster of writers and performers speaks volumes.
"The late-night landscape is wildly competitive, and we thought long and hard about the kind of audacious, attention-getting voices we needed," Fox Broadcasting's entertainment president, David Madden, told The Hollywood Reporter. "Andy, Akiva, Jorma, Paul, and our three stars—Nicole, Jessica and Alison—are the ideal group of talent to do just that. They're fearless, original and, of course, very, very funny."
Network TV is littered with the bones of sketch shows that were sold with the help of their famous executive producers only to quickly fizzle out. Kelsey Grammer produced a Fox series called The Sketch Show starring a cast of comedy luminaries before they were famous, including Paul F. Tompkins and Kaitlin Olson—but that only lasted for four weeks. ABC's Dana Carvey Show was a notorious bust (now worshipped as a cult classic) that featured writers and stars including Stephen Colbert, Steve Carell, Charlie Kaufman, and Louis C.K. It survived for seven weeks.
But those shows tried to make it in the far more competitive world of primetime TV, where bad ratings can spell cancellation within a week. Small-scale shows like Party Over Here are usually left to the cable networks, but bigger channels have likely noticed the recent awards attention (and even the ratings) that the likes of IFC and Comedy Central are enjoying. If it does well—attracting a cult following or sneaking into the Emmy conversation, for example—it could be a watershed moment: for the genre, for women in comedy, for network TV, and of course, for the fans themselves.