The Evolution of Judd Apatow's 'Nice Guys'
In Netflix's Love, Gus isn't the one-sided archetype he appears to be.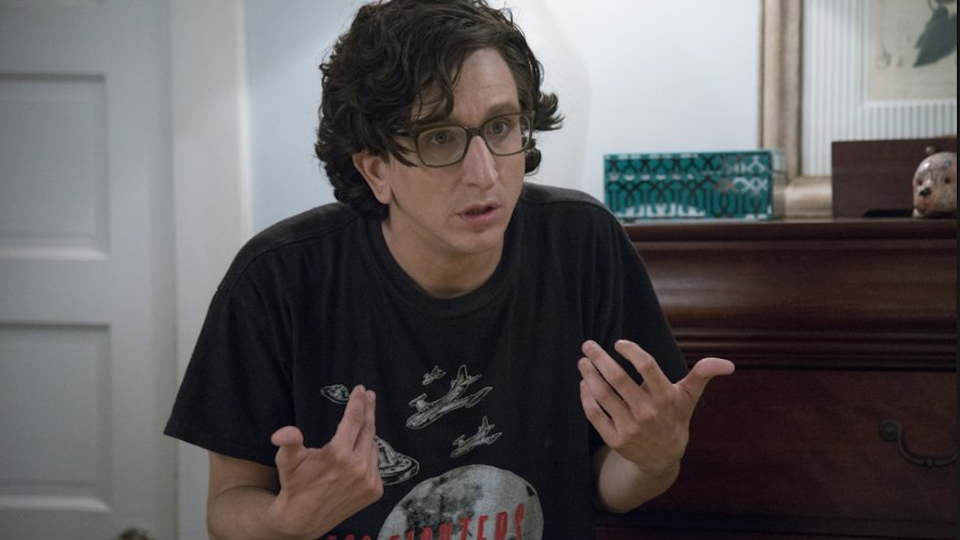 The Judd Apatow canon is, among other things, a repulsive and charming parade of so-called nice guys. These include, to name a few, the actual Nice Guy (Nick Andopolis, played by Jason Segel in Freaks & Geeks), the lazy-stoner Nice Guy (Ben Stone, played by Seth Rogen, in Knocked Up), the stunted-coward Nice Guy (Pete, Paul Rudd's character This Is 40), and the only-a-nice-guy-can-save-you-from-yourself Nice Guy (Aaron, played by Bill Hader, in Trainwreck).
Then there's Gus.
Gus is played by Paul Rust in the Apatow-created Netflix original series Love, which was released to the streaming service on February 19. (Rust and Lesley Arfin, who are married, are co-creators.) The show begins with Gus getting his heart broken, and follows him as he picks up the pieces in the weeks and months after his split from a long-time girlfriend. Which sounds like a classic Nice Guy premise (see also: Forgetting Sarah Marshall), especially when Gus is paired with a woman who appears to be the archetypical Manic Pixie Dream Girl, Mickey, played by Gillian Jacobs.
Except Mickey and Gus aren't either of these things. Mickey's not just a stunning beauty with a sailor's mouth who will cure a stranger's hangover by hotboxing her car with him: She's a narcissist struggling with addiction. And Gus is, well, an asshole.
Love's dismantling of too-familiar tropes—the awkward nice guy, the quirky wild child—is part of what makes the series appealing. It's engrossing, too, because it's funny and uncomfortable—though in a sad rather than cringeworthy way, which makes it something of a departure from the Apatow oeuvre. (Any assessment of Love's merits also requires a mention of the stellar, scene-stealing work by Claudia O'Doherty and Iris Apatow, in particular.)
Apatow has tackled dark subject matter before, and he's done so successfully. But where he's faltered, it's sometimes been because the format he's working in rewards optimism rather than realism. The Hollywood happy ending. Improbably sunny conclusions that can be either reassuring or maddening, depending on your outlook. Love isn't like that. Working within the structure of a 10-episode series allows Apatow to explore the real dynamics of a relationship between people who are flawed, and who possibly have no business being together. As it progresses, Gus's niceness becomes increasingly more questionable. In this, the show's messiness, its relative non-conformity, doesn't just make Love interesting—they make the rest of Apatow's work more interesting, too.
The moments that ring true in Apatow's writing are often searing, and that's probably because he frequently tells stories loosely based on his actual relationship with his wife, Leslie Mann, who also stars in several of his films. (Similarly, Arfin says Mickey and Gus are based on versions of her and Rust.) But authentic character development, especially for Apatow's nice guys, has historically been sacrificed for laughs and happily-ever-afters. How "happy" those afters are, however, is a matter of debate.
"[Apatow's] movies—and his life—are about more than winning the girl. They're about how you become a good person," Amy Nicholson wrote in The Village Voice last May. Apatow has said that he's interested in exploring the worst sides of people, but, as Nicholson points out, that usually means rooting for the best of them to prevail. "Apatow's insistence that everyone has feelings and no one is a villain is quietly revolutionary," she wrote, "especially given that he won't paste on false happy endings. As [Katherine] Heigl says in Knocked Up, 'Just because we're two nice people doesn't mean we should stay together.'"
Maybe, in that movie, Rogen's laidback stoner and Heigl's uptight E! presenter don't end up happy together. This is closer to the premise of Love, which as a series gives its creators enough creative breathing room to really explore a question that can't be resolved in two hours. (To a fault, several critics have complained, saying the pace drags, though I disagree.) "I think the basic instinct was, 'What if Knocked Up was a TV series?' What if you could just show the next day and the next day and how that relationship played out?" Apatow told Indiewire.
So, instead of following a well-worn narrative trajectory and ending the story, say, when Mickey runs out to kiss Gus after his disastrous date with her roommate, Love's audience gets to know both characters as they continue to get to know each other. Gus brings to Apatow's work a level of depth that Apatow has always suggested is there, but isn't always visible. This is why watching Gus transform, through Mickey's eyes, from a nice guy to a not-so-nice guy is weirdly a little surprising. By unraveling Gus's "nice guy" image, Love throws the rest of Apatow's nice guys, and their other-dimensionality, into relief. Not that we need Love to do this for us. The meaning of the "nice guy" is so culturally loaded and definitionally splintered at this point that calling someone nice is just as often a way of meaning the opposite.
On the Nice Guy spectrum, Gus probably edges closer to "actually nice" than "sociopath," but that doesn't make him a good person. He spends much of the series acting deplorably. He cheats on a test for a child actor, just so he can protect his job. He handles Mickey's request to borrow his jacket on their date at least as poorly as she handles refusing to give it back. He has an ego-fueled conniption in the writer's room. And, all the while, he has startlingly little self-awareness about his bad behavior. Instead, Gus is obsessed with, and he believes victimized by, what he sees as his defining characteristic: niceness.
"Maybe I'm not nice, you know," Gus says at one point, before quickly turning what seems for an instant like genuine reflection into a joke. "Like, sometimes, like if a waiter's like really bad, I'll just, like, tip them, like, 30 percent, so they go, like, 'I didn't deserve this.'"
Gus's perception of himself as a nice guy—the sense of entitlement he feels as a result, and his resentment toward others for either seeing him that way or not—all lend his character a degree of authenticity that some of Apatow's other nice guys have lacked. Gus isn't just bumbling, or lazy, or clueless, or self-centered, or trying to do his best and failing: He's manipulative. And he might not be redeemable as a result.
"You know I like you," Gus tells Mickey halfway through the first season. "I'm not just, like, some nice guy ..." He ends this thought with some swearing and a sense of finality. The message is clear: If he can't get what he wants from her, romantically, it's not worth his time. Anything less would be an affront to his dignity.
Later, Gus tries to put an end to an argument by repeatedly urging: "Can you be nice? Can you just be nice?" But Mickey is undeterred.
"You're mean. Do you know that? You're actually a really mean person," she tells him. "You pretend to be nice, and that's worse."