Is This the End for Fashion Week?
Traditional, seasonal fashion shows are exhausting, expensive, and increasingly irrelevant—and many designers are opting out.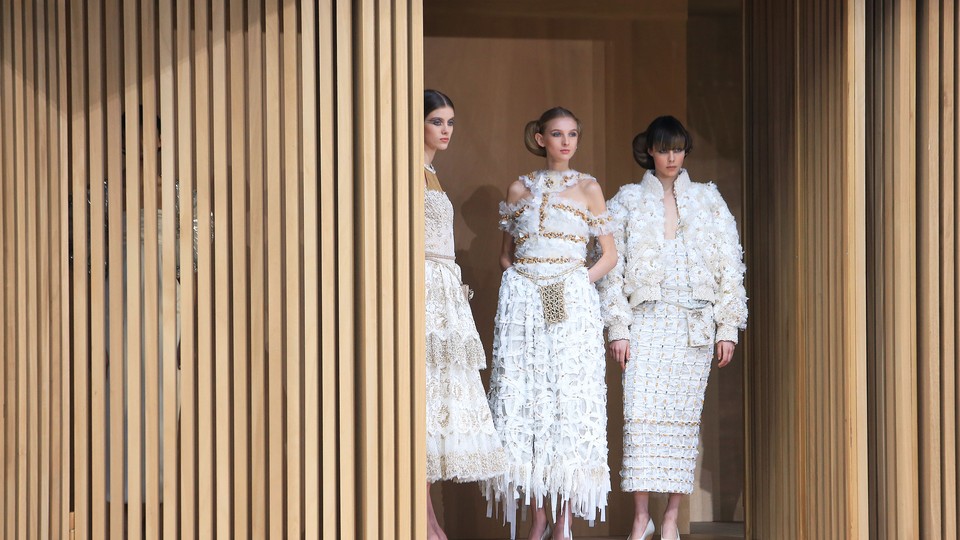 New York Fashion Week officially starts on Thursday, but the hottest show of the season happened the night before, when Hedi Slimane presented his fall menswear collection for Saint Laurent Paris at the Hollywood Palladium, 2,500 miles from Manhattan. The space is a massive concert venue—not the kind of place typically used for a high-fashion debut. But Saint Laurent is only one of a number of major labels abandoning the tents and runways of seasonal shows for something a little less conventional.
Does Fashion Week matter anymore? It's a question that comes up every year in some form or another, along with debates over whether models are too skinny, and whether the industry should ditch fur. But it's not a rhetorical one: Even in a generic tent or studio space, the cost of mounting a show averages just under half a million dollars. With up to two dozen shows per day in New York alone, many scheduled at the same time, it's a game of diminishing returns for designers, in terms of press coverage as well as sales.
The glamour of live fashion shows—from the star-studded front row to the backstage drama—has become enshrined in American pop culture, eliciting tears in the Project Runway finale and laughs in the Zoolander films. But labels are increasingly (and rightfully) questioning the value of traditional, seasonal runway shows in a time of social media. Big names from Misha Nonoo to Tom Ford are already experimenting with possible alternatives, including informal "presentations" that bring models and journalists together, and videos, pop-up shops, and Instagram feeds instead of live shows. It's a sea change that could bring renewed energy, creativity, and engagement to an industry that, for all its innovation, is still often reluctant to depart from convention.
Consider how the anachronistic notion of seasonal collections has persisted in a global fashion market: It may be freezing in New York right now, but it's 90 degrees in Singapore. Online shopping has made it possible to buy clothes from around the world, at any time of year, for any type of weather. Bill Blass—rebooted last fall as an online-only company—is eschewing seasonal offerings in favor of adding new product every few weeks, a business model pioneered by fast-fashion purveyors like Zara and H&M. (Fittingly, Blass himself was an early advocate of seasonless clothes, which he considered more appropriate to the jet-set lifestyles of his socialite clients.)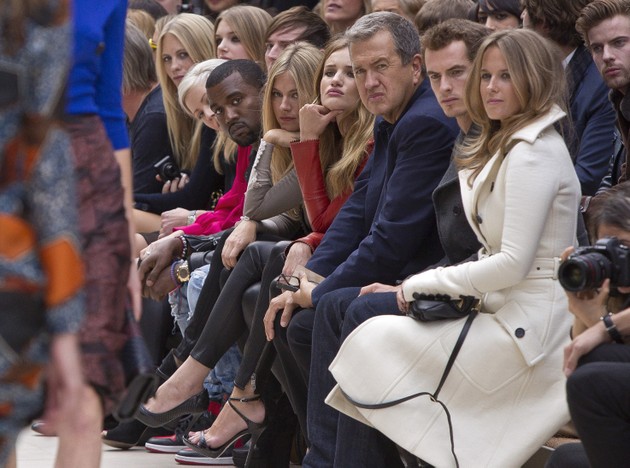 The enduring practice of seasonal collections has a human toll. The sad, self-destructive cases of Alexander McQueen, John Galliano, and L'Wren Scott have put the punishing schedules of fashion designers in the spotlight. Raf Simons was creating six collections per year for Christian Dior when he stepped down abruptly in October, citing the relentless pressure of the job. For many designers, spring and fall ready-to-wear collections are joined by haute couture, menswear, and "pre-collections," meaning resort (or cruise) and pre-fall. In addition to being creatively demanding, each collection brings the frightening prospect of critical failure and financial disaster.
Editors, too, suffer from burnout, following the fashion circus from New York to Paris, London, and Milan. Diane von Furstenberg, the chairman of the Council of Fashion Designers of America, suggested in 2013 that "someday designers might show their collections only digitally"—a step that would go a long way toward putting designers—and journalists—of all backgrounds and budgets on an equal playing field. More recently, the CFDA indicated it was considering changing the format of Fashion Week, in response to concerns of consumers and designers alike. Steven Kolb, the council's president, said: "We want to take a broken system and create a new system ... 95 percent of the people I've spoken to say, 'Amen.'"
There are plenty of labels and designers who are continuing to do things mostly as they've been done for decades—Ralph Lauren, Michael Kors, and Calvin Klein will all be participating in New York Fashion Week as usual. But their choice appears to be more like an attempt to wait to see where the industry goes next than a dedicated effort to preserve the status quo.
* * *
The history of how fashion shows came about points to how ill-suited the system is to a modern environment. The incongruous notion of designers presenting their fall collections in February (and their spring collections in September) can be traced all the way back Louis XIV, who imposed a strict seasonal schedule on the French textile industry in an effort to strengthen his kingdom's finances. New textiles appeared seasonally, twice a year, encouraging people to buy more of them and on a predictable schedule. Regardless of the weather, the summer fashion season began promptly on Pentecost (the seventh Sunday after Easter), with winter clothes donned on All Saint's Day (November 1). It was a brilliant economic stimulus plan, forcing French consumers to replace their clothes semi-annually because the textile patterns had been superseded by new ones, not because the garments themselves had worn out.
The runway aspect of the equation arrived in the late 19th century, when Charles Frederick Worth—the so-called "Father of Haute Couture"—became the first designer to present seasonal collections on live models in his atelier. While all couture was custom-made, Worth's innovation was to offer his clients a predetermined range of styles in his own inimitable taste, from which they could choose their individually tailored wardrobes. Worth's system became codified by the Chambre Syndicale de la Couture Parisienne, founded in 1910. In the aftermath of World War I, the Chambre Syndicale established a fixed calendar of live fashion shows timed for the convenience of the French fashion industry, the media, and foreign buyers, who paid for the right to produce licensed copies of Paris couture. The long lead time allowed clients to choose their clothes from the runway, and received the carefully hand-finished garments a few months later, just as the weather began to change.
The biannual media feeding frenzy now known as New York Fashion Week was launched in 1943 by the fashion publicist Eleanor Lambert; tellingly, it was originally called Press Week. With the once-dominant French fashion industry crippled by World War II, Lambert spotted an opportunity to promote American designers. Press Week had a transformative effect on both the internal and external perception of the American fashion industry, and changed the way Americans considered and consumed fashion. It was the first of the "Big Four" fashion weeks; Milan did not follow until 1958, trailed by Paris in 1973 and London in 1984.
At a time when most "American" fashion houses were accustomed to simply knocking off French couture on the cheap, Press Week served as a timely reminder that New York did have its own ideas to offer. Thanks to the war, New York manufacturers weren't able to copy or expected to compete with Paris. Indeed, Lambert's chief accomplishment was to brand New York as a style capital in its own right, if not the style capital. Press Week brought America's fashion reporters to New York en masse, to be dazzled by the collective creativity and skill of Seventh Avenue. Lambert arranged for journalists' travel expenses to be paid and ensured that a good time was had by all, arranging cocktail parties with the New York fashion press, audiences with the mayor, and tickets to Broadway shows. Fashion was presented as being an integral part of the city's character.
Before Press Week, regional reporters had shadowed hometown buyers—the influential gatekeepers who decided what got sold in department stores and specialty boutiques nationwide—as they placed orders in Seventh Avenue showrooms. Instead of these informal viewings, Lambert staged fashion shows—or "mannequin parades"—like those regularly held by French houses, subtly elevating New York ready-to-wear to the status of Parisian couture. These were low-tech productions, enlivened by the designers' personality and passion rather than sophisticated stagecraft or pulsing soundtracks. Although conceived as a wartime stopgap, Press Week continued unabated after the war ended; in fact, it became more important than ever as American women got over their wartime frugality and the Paris fashion industry rebounded. Within a few years, Press Week stretched to nine days.
Eventually, Press Week became known as Fashion Week. But it remains a publicity-generating machine, even if today's front-row seats are reserved for bloggers and street-style stars, as well as A-list celebrities and top-tier editors, all of whose tweets, reviews, and photos circulate within minutes rather than weeks.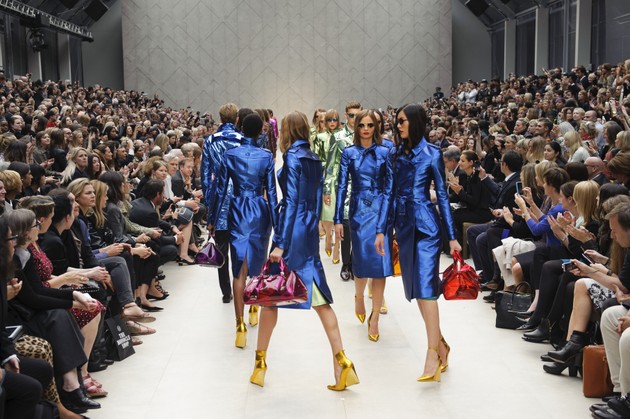 But rather than catering to the press, designers are increasingly pitching their runway shows to consumers rather than journalists, bypassing the critical eye of the media. More seats at Fashion Week are being reserved for regular customers, not reporters and retailers. Shows livestreamed (if not televised) to the uninvited public are now de rigeur; designers can also connect with their fans directly on social media, for better or for worse (Marc Jacobs made headlines last year for accidentally Instagramming nude selfies). A few years ago, "seasonless" was the industry's favorite buzzword, signifying clothes that could work for multiple seasons; today, it's "in-season," meaning that the clothes shown on the runway—and instantly shared around the world—should be available to buy immediately rather than six months later.
Fans have become accustomed to seeing celebrities model designer samples on the red carpet at the Oscars or the Met Ball, just after their runway debut. But the publicity generated by these high-profile appearances isn't free of drawbacks: Customers are frustrated when they can't find runway looks in stores, and by the time they arrive there, they're old news. The Paris-based designer Esteban Cortázar has struggled for years to close this gap; the sculptural, sequined navy gown Cate Blanchett wore to the London Film Festival in October was in stores by Christmas, thanks to Cortázar's carefully coordinated network of suppliers and retailers. Proenza Schouler took a simpler approach when they showed their pre-fall collection to the press in December: They embargoed reviews and photos until the clothes hit stores later this spring.
Both of these tactics achieved the same end result: a shorter interval between the runway and retail. But a different strategy is quickly gaining momentum within the industry: replacing the six-months-early Fashion Week with one geared to a "retail" or "consumer" schedule. On Friday, Tom Ford announced that he will not show at Fashion Week this season, instead debuting his fall 2016 collection to the press and public in September, as it arrives in stores. While he may do so in a runway show with all the usual trappings, the excitement it generates won't have six months to dissipate. On the same day, Burberry unveiled plans to change the way it presents it collections, condensing its current four collections into two "seasonless" shows per year and releasing the clothes to consumers worldwide immediately following the shows. Paul Smith and Vetements have already followed suit.
For all three, opting out of the traditional Fashion Week schedule will have the added advantage of allowing them to combine their men's and women's lines into one show, just as Slimane did Wednesday. Rebecca Minkoff will use her Fashion Week slot on Saturday to show a slightly revamped version of the spring/summer 2016 collection she debuted in September, not her fall/winter one. Like Ford, Misha Nonoo is sitting out Fashion Week so she can debut her fall collection in September. While this strategy has obvious benefits to shoppers craving instant gratification (or a heavy coat in January) it will also thwart the knockoff artists who have plagued the fashion industry in recent years. As von Furstenberg has admitted, under the current system, "the only people who benefit are the people who copy it."
In this consumer-friendly climate, store openings have become the new seasons. Last fall, the highlight of New York Fashion Week was an unofficial presentation by a French label, the house of Givenchy: a no-expenses-spared, 9/11-themed runway extravaganza staged at Pier 29 on the anniversary of 9/11, celebrating the opening of the label's Manhattan flagship store. The show was notable for being open to the public (via a lottery) as well as hundreds of invited celebrities, reporters, and industry insiders; it was also livestreamed to a global audience that dwarfed its actual audience.
A few months earlier, Valentino moved its couture show from Rome to Paris, in honor of its new boutique there, and the Italian label Max Mara presented its resort collection in its new, three-story London flagship. In April, following the opening of its Rodeo Drive location, Burberry took over L.A.'s Griffith Observatory for a runway show and party for 700 guests, including Anna Wintour, Elton John, Naomi Campbell, John Boyega, Cara Delevingne, and the Beckham family, plus a battalion of Grenadier Guards. The Los Angeles Times called it "a high point in Anglo-Angeleno relations." This year, the New York-based designer Rachel Comey will skip Fashion Week in favor of a March show in Los Angeles, where she's opening her first West Coast boutique.
Other designers have coped with the limitations of Fashion Week by pouring money into their off-season or "pre-collection" presentations, where there's less competition for media coverage (and, potentially, a longer window for sales). Chanel launched the current trend for splashy "destination" fashion shows for its off-season collections, staging lavish junkets to exotic destinations like Dubai and St. Tropez. Louis Vuitton chose Bob Hope's modernist mansion in Palm Springs as the backdrop to its 2016 resort collection (the models paraded around the pool in lieu of a runway). Last month, Stella McCartney staged her pre-fall show in a Los Angeles record shop. In October, Chanel smugly announced that its 2017 resort collection will be presented in Havana, Cuba; Gucci countered with Westminster Abbey—not exactly the first locale that comes to mind when one thinks of resort wear, but groundbreaking in its own right.
At this rate, it won't be long before we see resort shows in space. It's precisely this kind of one-upmanship that's driving so many designers to opt out of the runaway race, if not the fashion business itself, as Elbaz has done. By the time the CFDA figures out a permanent place to pitch its tents for future Fashion Weeks, the runway's time may have run out. But as long as labels are taking the initiative and breaking from the norm—and as long as the public continues to embrace their efforts—the industry itself may soon find itself more refreshed, relevant, and healthier than it's been in years.