Some Inescapable Facts About Hollywood's Diversity Crisis
A comprehensive study suggests that "political correctness" in film and TV has not, by any significant statistical measure, run amuck.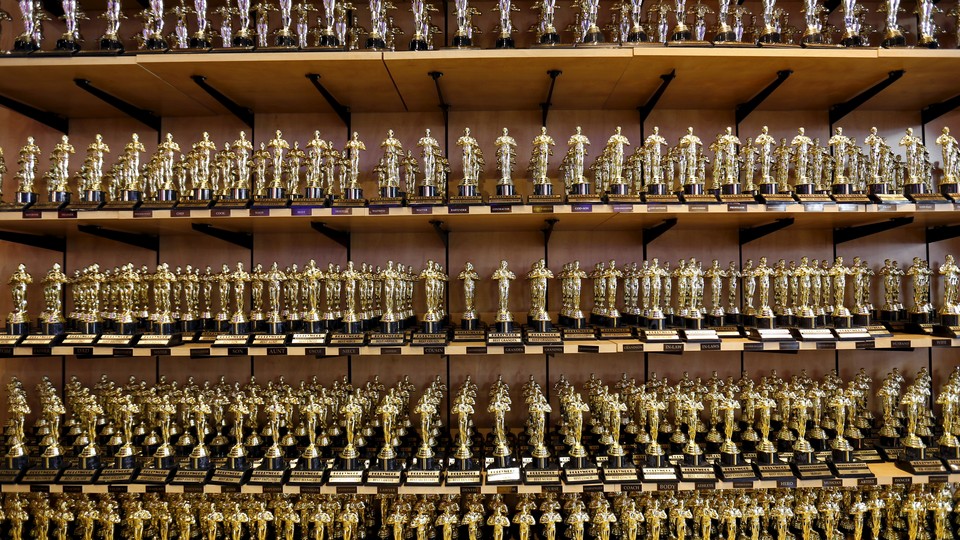 For every female character speaking or named in a widely distributed TV show or movie, there are two male characters. For every female director making those shows and movies, there are 5.6 men. For every woman in the highest levels of decision-making at Hollywood studios, there are four men.
For every non-white character on screen, there are roughly 2.5 white ones. For every non-white director, there are roughly 6.7 white ones.
Just two percent of characters are identified as LGBT.
The top-line takeaways from USC's Comprehensive Annenberg Report on Diversity in Entertainment, released today, paint a bleak picture of inclusivity in Hollywood, at a time when movements including #OscarsSoWhite and a campaign to reduce the gender gap seem to be constantly making headlines. The statistics also undercut the critics or viewers who claim that "political correctness" rules TV casting decisions. By almost no metric does popular entertainment reflect the diversity of the United States: There are more white people, more men, and more straight people on-screen than there are in the general population, sometimes by a drastic measure.
The USC report looked at 109 major-studio movies released in 2014 and 305 scripted shows from TV networks and streaming services released from September 2014 to the end of August 2015. It examined the gender, racial, and sexual-minority status of characters with speaking roles; the gender and race of directors for movies and TV premiere episodes; the gender of writers of movies and of TV premiere episodes; and the gender of top-level executives at major entertainment companies. It also assigned "inclusivity ratings" to each of the studios, most of which were found to have failed by nearly every standard.
Reading the report in full gives a good sense for how various sectors of media differ. Film, for example, tends to lag behind TV when it comes to racial and gender diversity. Streaming services are more inclusive in some areas (i.e. transgender characters), and less in others (e.g. female directors). A number of findings show very specific sorts of inequality: There are very few roles for women over 40; white gay men far outnumber any other kind of LGBT person on TV; only two black women directed a major-distributor movie in 2014.
Still, the difficult tangle of cause and effect around inclusivity remains hard to understand. Can Hollywood hope to fix itself when long-term, systemic racism and sexism remains a documented fact of life in America? And is Hollywood extraordinarily un-diverse, or is it in line with other industries? An analysis of U.S. census data last year found that arts and entertainment made for the third-whitest employment sector, nearly as white as the legal profession and social sciences. A study of the Fortune 250 in 2013 found that in top companies across the economy, only 18.5 percent of board of director members were female—almost exactly the same percentage that the USC report found for female board-of-directors members of Hollywood companies (19 percent).
What's clear is that despite persistent gaps, some companies are finding ways to buck the trend. While film distributors were rated as "not inclusive" in nearly all categories tracked by the USC study, Sony and Viacom did, at least, release slates of movies where the percentage of non-white characters basically matched the U.S. population. And among TV distributors, Disney, the CW, Viacom, and Hulu each received some "fully inclusive" scores, with Hulu achieving full gender parity on screen as well as a non-white character percentage in line with the wider population. None of these studios received unanimously good marks, but the fact that in some areas they've been able to break from the overwhelmingly white, male tradition supports the belief that progress is possible. Whether or not it actually manifests probably depends on how seriously the entertainment industry takes the idea that it needs to change.