Saying Goodbye to The Good Wife
The show will be remembered as one of the last great network-TV dramas—and it'll get to go out on its own terms.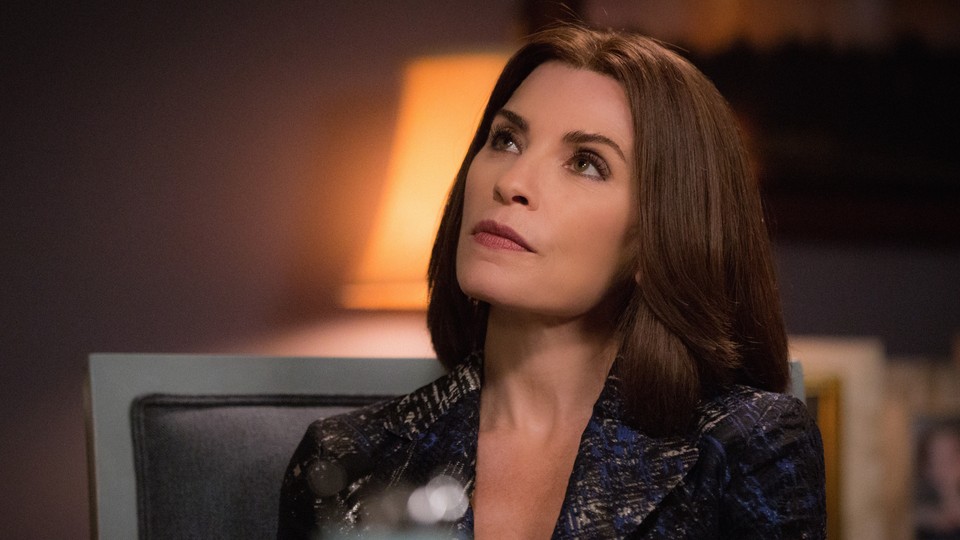 When The Good Wife debuted on CBS in 2009, it was mostly dismissed as salacious fluff that traded its marketing on a single image ripped from the headlines: the wounded wife of a politician standing by him as he confessed to an affair. But it immediately broke free from that pigeonhole, and over the last seven years has been one of network television's most audacious delights. It's a legal drama wrapped in a political thriller balanced on well-drawn romances, an ensemble piece with one of the best casts on television, centered around a dynamic lead performance from Julianna Margulies. But it's time for it to end.
On CBS's Super Bowl broadcast Sunday night, the network made it official with a commemorative commercial: The Good Wife's current season will be its last. The show's creators, Robert and Michelle King, had already announced they'd be leaving after season seven, but CBS had hinted the show might live on without them. Still, it's better this way. The classic network model, particularly for the kinds of case-of-the-week dramas CBS favors, has always favored the product over the process—hits like NCIS, Blue Bloods, and Criminal Minds can last forever in the hands of a rotating stable of writers. But The Good Wife has always been a special case, stringing together complex, multi-season plotting that required thorough viewer investment—all on a network that favors simplistic storytelling. Without the Kings, the show would have lost the inimitable sense of authorship that helped it succeed in the first place.
To be sure, The Good Wife's ratings compared to other CBS mainstays were always middling to poor. In its later seasons, the show struggled to maintain its frantic pace, getting bogged down in political subplots that felt like re-runs of its better, earlier years. But it's also the last network show to have been nominated for an Emmy for Best Drama Series (in 2011). In a television world  increasingly dominated by "prestige" cable networks and streaming series that demand to be binged in 10-episode gulps, The Good Wife continues to put out 22 Emmy-worthy episodes over a year without feeling like an artifact from network TV's glory days.
Unlike the average legal drama, The Good Wife delves deep into the ethical murkiness of life at a white-shoe firm: Alicia Florrick (Margulies) represents wealthy criminals, drug lords, and tech CEOs, all while competing for pay and attention with hungry law-school graduates. It's also a story about the terrible power of celebrity, as Alicia wrestles with when to leverage her status as a famously jilted woman. Early seasons were centered around a terrific love triangle involving Alicia, her cheating husband Peter (Chris Noth), and her boss Will (Josh Charles); in its fifth year, in one of the show's most traumatic moments, Charles left the show after Will was killed off. It could have been The Good Wife's death knell; instead, it was its dramatic high point, the centerpiece of a fifth season that was easily the show's best.
Since then, the show has creatively floundered, with Alicia making her own failed run for office and getting mired in surprisingly weak swipes at topical issues. The show's many law firms got sucked into repetitive cycles of mergers and acquisitions, but the drama couldn't sustain itself after Alicia left to strike out on her own. One of the show's most dynamic characters, the mercenary private investigator Kalinda Sharma (Archie Panjabi), departed after season six following waves of gossip about Panjabi's on-set tension with Margulies, and their jarring farewell scene appeared to be shot at different times and edited together.
Despite all the missteps, The Good Wife's latest season has had some bright moments. The addition of the theater actress Cush Jumbo as Lucca Quinn, a new legal associate of Alicia's, has proven invigorating. One episode that touched on the passive racism present in the hiring practices of major law firms felt incisive and relevant, without resorting to the heavy-handedness of some of the show's other recent commentary on political issues.
Perhaps the Kings, who are among TV's most passionate showrunners and who've always been candid about their creative process, could have eventually turned things around. But CBS's early announcement gives them a chance to find the right ending for Alicia's arc without worrying about what might happen to her story in the future. As TV schedules grow more packed and the industry focuses on telling shorter stories, The Good Wife will end without an obvious heir. The empty throne will either be a challenge to other networks or a solemn relic of a fading form of TV storytelling that many have given up on.