Samantha Bee: The Natural Heir to Jon Stewart
The Daily Show correspondent's new weekly TBS series, Full Frontal, made a stellar debut Monday.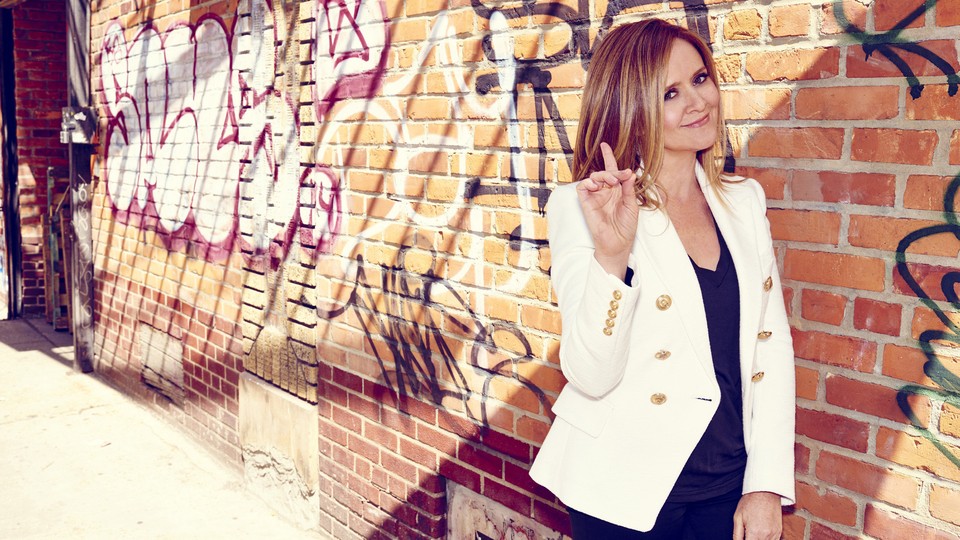 For all the talk of Trevor Noah's middling tenure thus far at The Daily Show, people probably need to stop worrying about Jon Stewart's legacy. That show itself might be floundering, but Stewart's legacy is still felt across late night, from Stephen Colbert to Larry Wilmore to John Oliver at HBO. And: Samantha Bee, whose barnstorming debut of her new weekly TBS show Full Frontal on Monday was an acidly funny half-hour that had none of the shakiness typically associated with a new late-night show.
Full Frontal's format is less cozy than many a talk show—Bee stands for the entire ride—and it makes her Daily Show-style segments feel all the more blistering. She's dispensed with the padding that makes most late-night shows interminable, like musical guests, or sit-down interviews with someone shilling a book. Like John Oliver's Last Week Tonight, the show is running weekly, to give her and her writers time to focus on well-researched bits and remote pieces. If Monday night's premiere was anything to go by, that's a great idea—Bee ripped into three long, topical, planned-out pieces with the kind of furious, witty aplomb we haven't seen enough of on television since Jon Stewart rode out into the sunset.
In fact, Full Frontal's first episode was such a welcome jolt of energy that you might wish the show was airing every day. The layered ridiculousness of this presidential race has been strangely difficult for late-night shows to cover, perhaps because it's hard to find a way in to such nakedly crazy material, but Bee's takedown of every candidate, part of her first segment, was pitch perfect. Every one-liner felt honed and briskly funny (describing Donald Trump as a "human caps lock"), and throughout, Bee exuded the quiet confidence that makes her a natural for this gig. Yes, it's great to have a woman in the late-night fray; it's also great to have someone who knows what she's doing.
If Full Frontal continues with the format it debuted this week, it'll quickly become appointment TV for the political-comedy crowd. While Bee can't play around with the commercial-free half-hour John Oliver gets over at HBO, she harnesses her act breaks well. The first seven minutes was a topical round-up going into New Hampshire, efficiently taking down flubs like Marco Rubio's robotic debate performance. The second act focused on a single news story—a Kansas state senator proposing a bill regulating women's dress—and was similarly excoriating, only in grander detail (Bee's writers' room is there to research and flesh out such stories, as well as come up with brutal zingers).
The last segment, a Werner Herzog-style parody film about Jeb Bush's campaign, was the biggest standout—a well-executed parody that also managed to elicit real sympathy for its floundering subject. "A Jeb in Winter" is worth watching in full for the footage the Full Frontal team managed to capture, featuring both the mournful candidate and of supporters, who can't help but damn him with faint praise when they're cornered by the camera. The Daily Show's remote pieces, which Bee excelled at, always had a formula to them—some stock footage, some winking interviews—but this was more artful, and far funnier as a result.
It's hard to agree that the late-night landscape was calling out for yet another topical news/comedy show, but as crowded as the genre is, Samantha Bee is the first truly interesting thing to happen to it for quite a while. That it took this long for a network to hire a woman is nothing more than predictable, but it stings all the more when you watch Full Frontal and remember that she's been doing this for years, spending all of that time at the top of her game. Bee started the show with a joking segment about how she got the gig, which cut to an elaborate sequence of witchcraft and human sacrifice, putting the obvious jokes to bed within the first two minutes. Then she went about showing viewers just how she really got hired—by being one of the best late-night comedians in the business.