The 2016 SAG Awards: The Anti-Oscars
Voters honored Idris Elba, Queen Latifah, and Viola Davis, and handed the top prize to Spotlight.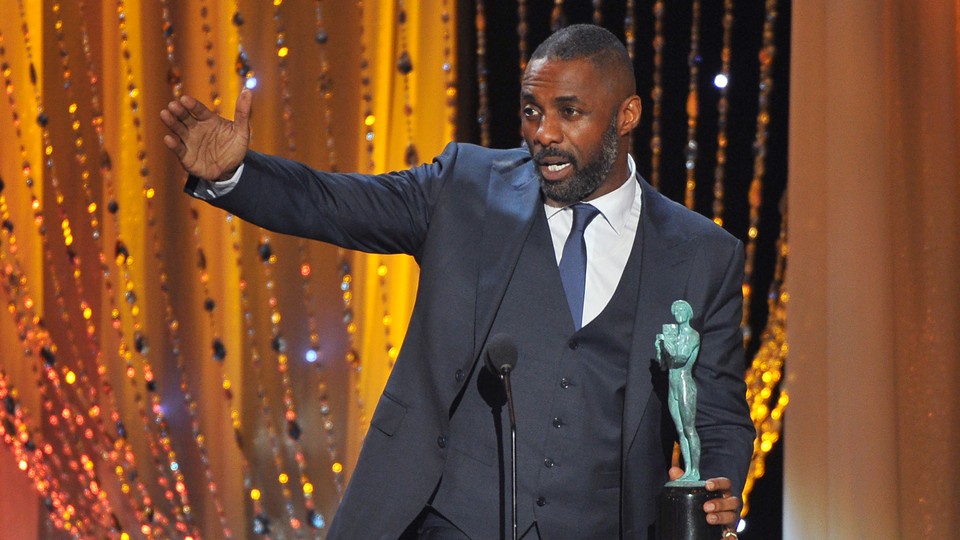 It used to be that the procession of awards shows leading up to the Oscars each year were only noteworthy insomuch as they pointed at who might take the prize at the final event of the season. The Golden Globes, the Critics Choice Awards, and the BAFTAs have long seemed almost averse to making radical or offbeat choices, possibly because they hoped to cement their own significance by offering a preview of who might win the Academy Awards. But as the narrative of this year's Oscar season has focused on the overwhelming whiteness of that show's nominees, its smaller siblings have seemed to directly challenge its supremacy. This was particularly plain to see at Saturday's Screen Actors Guild Awards, where Idris Elba, Queen Latifah, Viola Davis, and Uzo Aduba were among the night's winners.
Awards season has never been more of a chore—more and more ceremonies are being televised, presenting the same tired film clips week after week to diminishing audiences. But if they're going to continue (and given advertisers' love for live televised events you can't fast-forward through, they will), at least they can serve as pushback to the Oscars, rather than reinforcement. The SAGs, voted on by the 160,000 film, TV, and radio actors of the SAG-AFTRA union, complicated the Oscar race by giving their top prize to Spotlight, and by awarding a coterie of talented actors of color, none of whom will walk the Oscar stage on February 28th.
It helps that the SAGs hand out awards for television as well as film, but Elba's win for Best Supporting Actor in Beasts of No Nation felt like a particular jab at the Academy. SAG voting ballots were submitted two weeks after the Oscar nominations were announced, prompting uproar over the fact that all 20 acting nominees were white for the second year in a row. Elba won two awards—collecting one for his work in the BBC TV series Luther—and even winked at the controversy onstage, joking, "Welcome to diverse TV."
Elba was the actor of color most predicted would make this year's Oscar ballot, having been nominated for a Golden Globe, a SAG, and a BAFTA, which usually forms an unstoppable combination of precursor nods. But he missed out, along with actors like Michael B. Jordan, Benicio Del Toro, and Oscar Isaac who were on the fringes of the race. As a result, the biggest night in Hollywood turned into an event worthy of boycotting. Perhaps just as strangely, the SAGs didn't nominate the expected Oscar frontrunner in Best Supporting Actor—Sylvester Stallone in Creed—and so Elba had a path to the award.
Aduba won for her work on Orange Is the New Black (Female Actor in a Comedy Series), as did Latifah for the HBO movie Bessie (Female Actor in a Television Movie or Miniseries), and Davis repeated her 2015 Emmy win for How to Get Away With Murder (Female Actor in a Drama Series). Her speech focused more on her role in the show, but her comments backstage built on her powerful words from last September. "We have become a society of trending topics. Diversity is not a trending topic. It's just not," she told reporters, continuing:
I felt like I could play Chekhov, any character in Chekhov and Shakespeare in Arthur Miller, in August Wilson. I see myself as an actor. No matter what is going on in the business, I will find a way to practice my art, and all of the actors of color who I know don't place any limitations on themselves either. So regardless of what is going on with the Academy, regardless of what is going on in Hollywood, they will find a way to be excellent. We always have and we always will.
Davis's point about "trending topics" felt especially salient—diversity is the buzzword of this year's awards season—but could still be ignored in future years, especially if the Academy's rule changes don't have an immediate impact. Either way, awards ceremonies more and more serve as a dramatic stage for publicly asking these tough questions, and one of the Oscars' losses is that its expected winners will have little to contribute on that front. Outside of Best Supporting Actor, the SAGs anointed two favored candidates for big trophies later in the month: Leonardo DiCaprio for The Revenant (Lead Actor) and Brie Larson for Room (Lead Actress). Alicia Vikander was named Best Supporting Actress for The Danish Girl, which marks her the likely winner in a more confused category.
But the biggest shock of the night from a prognostication standpoint was Best Ensemble going to Spotlight, the acclaimed journalism drama that has long been considered an Oscar favorite but didn't have many major precursor awards under its belt. The Golden Globes named The Martian and The Revenant Best Picture, while the influential Producers Guild of America Award (which has picked every Oscar winner in the last 10 years, save one) went to The Big Short. Next up is the Directors Guild, which also has a strong track record picking the Best Picture Oscar. If that goes to George Miller for Mad Max: Fury Road (a strong possibility), then we'll be going into the big show with no real sense of a favorite. For all the tiring repetitiveness of red carpets, dramatic clips, and emotional speeches, at least this year's Oscar-lead up has offered up something different.