The Assault Claims Resurfacing Against Peyton Manning
Allegations from almost 20 years ago regarding an incident at the University of Tennessee are raising questions once more.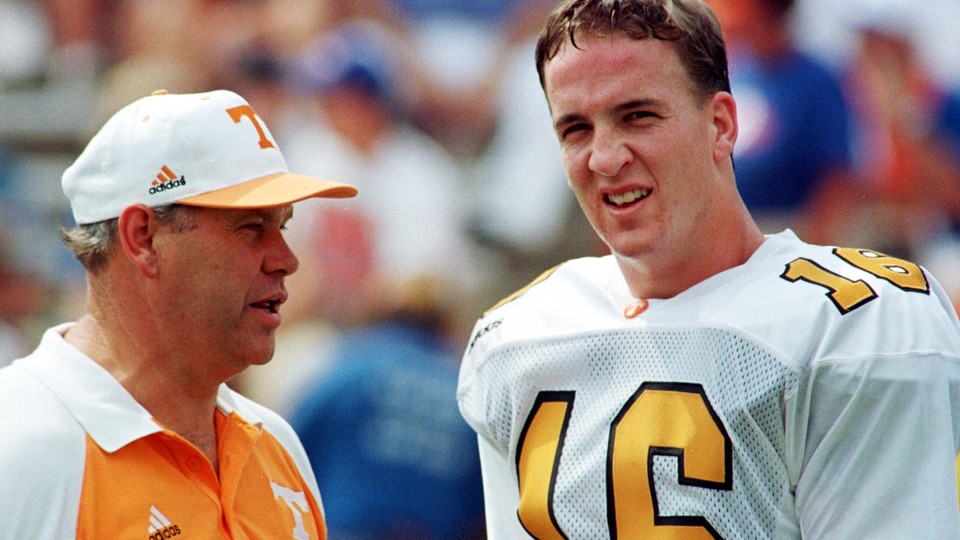 It's not difficult to imagine the 19-year-old star quarterback of a big-name college football team doing something ungallant like mooning another athlete while being examined by a female trainer.
For a number of similar reasons, it's also unfortunately not difficult to imagine that same 19-year-old doing something much worse to a female trainer, like pressing his bare buttocks and genitals against her face.
One of the two aforementioned things likely happened to Jamie Naughright, who was a medical trainer at the University of Tennessee in 1996 when she told the institution that she'd been assaulted while she was examining a student athlete's ankle. What is difficult to imagine is that the star quarterback involved was Peyton Manning.
Murmurs of this incident have intermittently followed Manning throughout the years, always at a very low volume and never with enough force to thwart his rise to mainstream mega-celebrity. (In addition to holding numerous NFL passing records, Manning is among the rare athletes who've both hosted Saturday Night Live and served as pitchman for several national ad campaigns.)
Earlier this month, as Manning and the Denver Broncos were preparing for an unlikely Super Bowl triumph, the story resurfaced with ferocity. Shaun King of the New York Daily News published a much-seen and much-debated dissection of old court documents chronicling the alleged training-room incident from Naughright's perspective.
In his piece, King charged that Manning had been at the center of a "sexual-assault scandal, cover up, and smear campaign" against the trainer. Naughright quietly settled with the University of Tennessee for $300,000 over a number of sexual-harassment incidents and left in 1997 after signing a confidentiality agreement; she later sued Manning for defamation after he and his father Archie, a former NFL great, referenced the incident and disparaged her in an autobiography. (That case was also settled.)
The reemergence of the incident dovetailed with news of a lawsuit by six women, former Tennessee student athletes, who alleged that Manning was among a number of athletes who contributed to "a hostile sexual environment" at the school in the 1990s.
On Monday evening, the story intensified again after ESPN published a review of documents from a sexual-assault crisis center in Tennessee that was said to have fielded a call from Naughright (who went by her married name Whited) just hours after the alleged training-room incident took place.
According to the document, Naughright did not name Manning and did not want to discuss details of the assault over the phone because she "feared for her job, worried and feared for her life." Notes written by the crisis center worker quote Naughright as saying, "I can't believe this ... sense there will be a cover-up."
The document also suggests that Mike Rollo, the head trainer and Naughright's boss, instructed her to keep the incident quiet, telling neither the press and the police, which she did.
"Rollo [also] said in his deposition that Naughright never described the incident as a 'mooning' and he had come up with the description," the report continues. "In his deposition, he said he regretted it."
A definitive understanding of what actually happened remains elusive. Malcolm Saxon, the athlete who Manning claims he mooned and who was never questioned under oath, maintains that Manning dropped his pants, but never touched Naughright. Moreover, the episode wasn't characterized by Naughright as involving contact until 2002, when she gave a deposition.
Nevertheless, her allegations are currently being scrutinized once more. They've been cited as evidence of American indifference to rape culture, of the business community's indifference to sexual assault, and of the scourges of confirmation bias and racism, as well as of journalistic crusading and PC culture run amok.
The question for many may be, why now? The incident occurred almost 20 years ago, and any related lawsuits were settled over a decade ago. But more now than ever, old allegations continue to emerge against high-profile public figures, from Bill Cosby to Jimmy Savile to David Bowie. Manning, whose fame, image, and success might have suggested he was beyond scrutiny and reproach, perhaps seemed untouchable at this point in his career, but current circumstances would suggest that that's not the case.