Participate or Protest? Chris Rock Makes His Case
He used the Oscars stage to call for diversity—and to taunt boycotters who share the same goals.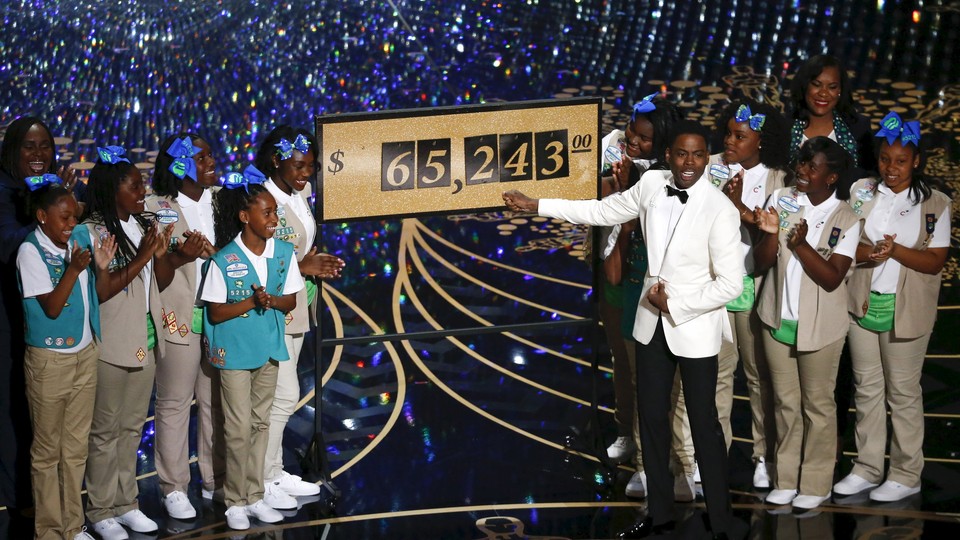 Early in his monologue last night, Chris Rock asked a question: Why, this year of all years, were people freaking out about the whiteness of the Oscars nominees? This wasn't the first time that there'd been no actors of color nominated, but, he argued, in other eras—"say, '62 or '63"—minorities had more pressing things to complain about.
"You know, when your grandmother's swinging from a tree, it's really hard to care about best documentary foreign short," he said.
That's a powerfully uncomfortable line, meant to remind people not only of what's changed over years but also of the history of violence that underlies current inequality in America. Yet it probably should be noted that in 1962, people were protesting Hollywood racism. That's when, as NPR's Gene Demby recently recounted, the black actor Caleb Peterson formed the Hollywood Race Relations Board, which picketed the Oscars. Jesse Jackson and others have revived the cause at various times since then. And the reason for the furore in 2016 isn't as mystifying as Rock made it sound. When last year's Oscars had all-white acting nominees for the first time since 1997, it could have been seen as a fluke. But when this year's slate also excluded people of color, it raised the specter of an uncomfortable pattern, of backsliding, of something truly amiss in the mythmaking industry of a country that's becoming more diverse each year.
The fact that Rock didn't mention previous efforts to protest the Oscars, though, is telling. His commentary throughout the night was often hilarious and very smart (with exceptions), but one of the more subtly striking things about his performance was his apparent anxiety about how best to effect change. Faced with the age-old question of whether to work with or work against systems that treat you as lesser, he'd chosen "with," and wanted to show why.
Because, of course, there's an alternate universe where Rock chose not to host the show. He alluded to this fact in his monologue, saying that some people encouraged him to back out of the gig in solidarity with the #OscarsSoWhite movement. His explanation amounted to jokes about unemployment—"No one with a job ever tells you to quit"—and being replaced by Kevin Hart. Then he made fun of folks who'd taken the opposite tactical route of him by refusing to participate: Will and Jada Pinkett Smith, probably the highest-profile boycotters of the ceremony, were the butt of a few jokes that lightly suggested they were out of touch and ineffectual. This was perhaps less graceful than the statement Kerry Washington gave on the red carpet about why she had shown up: "If you look at the history of movements, the history of change, a lot of voices are needed at the table. I really respect and, actually, admire some of the people who are not here tonight, I really get it. But for me I felt like my voice, and my heart—my voice is best used at the table."
To be sure, Rock used the rest of the ceremony to show the power of being at the table. He brought up police shootings of black people. He pointed out which non-white awards presenters deserved to be nominated. He did a skit about how if The Martian were about a black astronaut, it would have been a movie about abandonment rather than rescue. And in the most quotable moment of the night, he compared Hollywood racism to sorority racism— "It's like, 'We like you Rhonda, but you're not a Kappa.'" Never did he let the powerful and famous audience members forget that they had profited off of a system with exclusion built into it. Is that enough to bring about change—making the night so awkward for lack of diversity that the decision makers in the audience will change their thinking in the future?
It's a question that's not easily answered, a question that's rooted in debates between reformists and would-be revolutionaries in political movements throughout history. What's clear is that Rock's position, however principled and savvy it may be, necessarily involves the appearance of compromise. Today, a lot of commentators have noted that while Rock was canvassing movie stars to buy Girl Scout cookies from his daughter, black entertainers like Hannibal Buress, Ava DuVernay (director of Selma, widely seen as snubbed last year), and Ryan Coogler (director of Creed, widely seen as snubbed this year) were holding a fundraiser for the majority-minority population of Flint, Michigan, which is facing a public-health crisis. And at the end of the Oscars, Public Enemy's "Fight the Power" played, to mixed reaction online. It's a protest anthem closely associated with Do the Right Thing by Spike Lee, who, of course, boycotted this year's ceremony.