Toasts, Not Roasts: How to Eulogize the Living
NBC's televised tribute to the legendary director James Burrows was extremely sappy. But it had something important going for it: Its subject is still alive.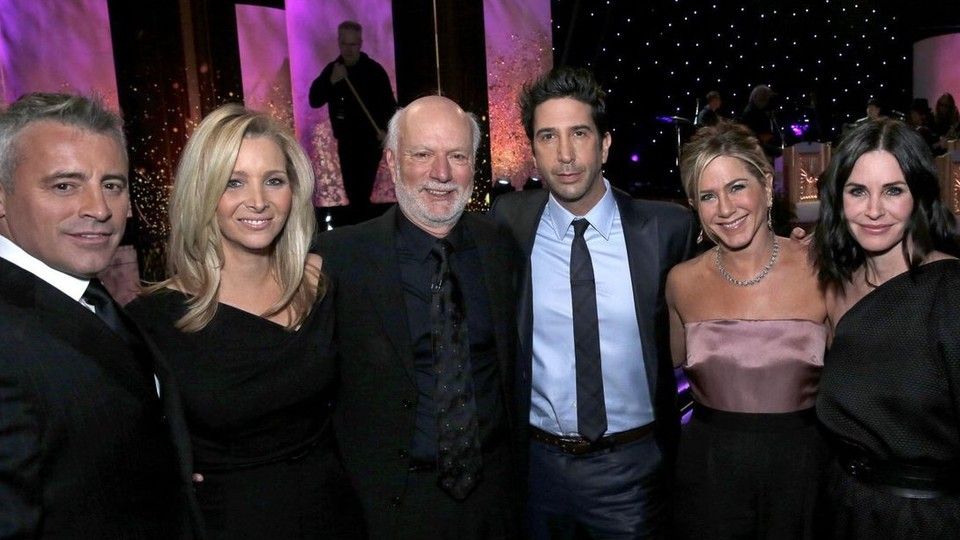 "I'm so glad you did this while I'm still around," James Burrows told the crowd on Sunday night, "because I wouldn't want to miss it." The legendary director—of shows like Friends and Taxi and Frasier and The Big Bang Theory and Will & Grace and Mike & Molly and the list goes on and on and on—had just been celebrated through an NBC special revealingly titled Must See TV: An All-Star Tribute to James Burrows. When it was Burrows's turn, at the end of the show, to deliver a speech, the director acknowledged the obvious: that the evening's proceedings, their wacky pageantry aside, had read a little bit like a eulogy. As my watching companion asked at one point, "Why are they doing this? Is he dead?"
No, he is not. The show was not a teary tribute (or a campy one), but rather—ostensibly—a celebration of Burrows's recent direction of his 1,000th TV episode. The special, produced by Will & Grace's Sean Hayes, was also meant to serve as a broader celebration of This Business of Show, reuniting the casts of classic, Burrows-directed sitcoms like Taxi and Frasier and (the most awaited semi-reunion of all) Friends. This was, definitely, NBC failing the categorical imperative, using one of its most successful directors as an excuse to remind viewers of the glory days of Must See TV. (And of the glory days of sitcoms in general: The gala also included the casts of the CBS juggernauts The Big Bang Theory, Mike & Molly, and Two and a Half Men. Charlie Sheen even made an appearance to declare that "I think the common thread with all of Jim Burrows's shows is extra-galactic success.")
But while you could read cynicism into any show like this, the tribute to Burrows was ultimately, in its tone, propelled by kindness: It was the Bizarro-world version of one of those cringe-worthy Comedy Central roasts. Even when it was joking, it was earnest. It was loving. It was a bunch of Burrows's friends and colleagues, thanking him ("we owe our careers to you," Kelsey Grammar summed it up) and praising him.
Interviewers Andy Cohen, Jane Lynch, and Bill Nye (yes, the Science Guy) gathered the actors onstage and onto a very large couch, show by show, to share memories of Burrows and pay tribute to him. Will & Grace's Eric McCormack shared his rumbling "Jimmy Burrows" impression. Lisa Kudrow reminisced about how Burrows had lent the Friends cast his dressing room so that the famously chummy actors could play poker together between takes. Danny DeVito recalled the Burrowsian tell that, on the set of Taxi, would reveal to his actors when a joke had really, really landed: The director would leap out of his chair and grab his crotch.
Which is the stuff—a mix of funny memories and wistful ones—normally reserved for eulogies and obits. It's very similar to the stories that came out about, for example, Alan Rickman after he died. (Emma Thompson: "He was the ultimate ally. In life, art and politics. I trusted him absolutely. He was, above all things, a rare and unique human being and we shall not see his like again." Kate Winslet: "He was the kindest and best of men. He had the patience of a saint. He was a warm-hearted puppy dog, who would do anything for anyone if it made them happy.") And about David Bowie. And about Antonin Scalia. And about Harper Lee. And on and on.
Which is to say that they're the kind of remembrances, ultimately, that make you wish you'd known more about people when they were still alive. The kind that are so sweet, and so summative, that they make you think, "It would've been so nice if he'd been around to hear that," or "I wish she'd been able to see that."
So Jimmy Burrows, by way of this otherwise extremely cheesy NBC special, got an experience very few us will: He got to be around to hear that. He got to know, first-hand, some of his friends' and co-workers' favorite memories of him. He got to hear himself, essentially, eulogized. He got to know how loved and appreciated he is while he is still around to acknowledge that love and appreciation. He got to have the same existentially odd but spiritually fulfilling experience that one of his characters, Frasier Crane, did: He read his own obituary. Burrows's insight into how he will be remembered, however, came not as a result of a sitcomedy of errors, but as a result of months of careful planning.
We can't all be James Burrows, of course. Indeed, the point of last night's proceedings was largely that nobody else can be James Burrows. But his tribute is a reminder of how sadly rare it is that we find ways to praise each other as a matter of cultural ritual. The luckiest celebrities will get feted at the Grammys, or the Golden Globes, or the Kennedy Center Honors. The rest of us will settle, generally, for toasts given at birthday parties and graduation parties and retirement parties—speeches meant to carve a little space for celebrating the people we love. Appreciations that can function, Wikipedia informs its readers, as "living eulogies."
But those secular ceremonies, if they involve praise at all, tend to focus on discrete accomplishments—working, aging, exam-passing—rather than overall ones. Wedding toasts tend to focus on couples as a unit rather than as individuals. Professional performance reviews tend to focus on targeted skills. There is no ritual that is meant to tell a person the thing—the ultimate thing—many of us want, and need, to hear: "Good job at being a person." Americans can be awkward about praise—giving it and, especially, receiving it. Our customs reflect that. Which has created a situation in which, often, the best things that will be said about us—publicly, openly, audibly—will not technically be said to us. Eulogies are wasted on the dead. NBC's tribute to Burrows suggests the ways, big and small, that its logic might be reclaimed for the living.