A TV Network for Native Americans
Canada already has a similar cable outlet dedicated to indigenous peoples, and the U.S. is preparing to follow suit.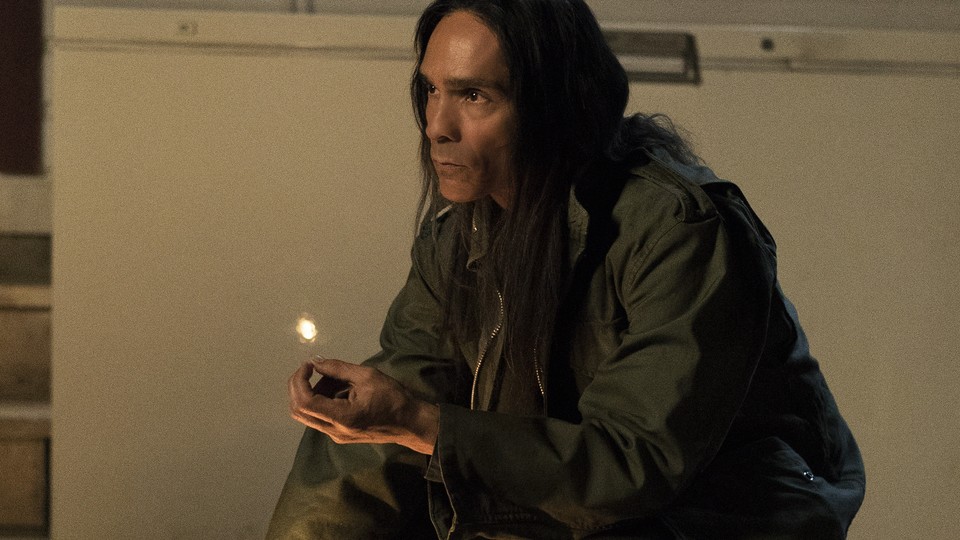 If there's one thing most television lovers and critics have come to agree on in the last few years, it's that the medium has become more racially diverse. If challenged by a skeptic on this subject, I'd cheerfully rattle off the names of great and popular shows currently on air starring and created by people of color. See? Progress!
And yet, maybe not so much. I can count the number of Native American characters—not even shows—that I've personally seen on TV in the last year on one hand. There's the Wamapoke Indian chief Ken Hotate, who appeared in the final season of Parks and Recreation, played by the wonderful Jonathan Joss, who is of Comanche and Apache descent. There's the terrifying 1970s enforcer Hanzee Dent, a second-season Fargo fan favorite, played by Zahn McClarnon, who's of Hunkpapa heritage. And then there's the spoiled Manhattan socialite Jacqueline Voorhees from Unbreakable Kimmy Schmidt, played by Jane Krakowski, who's Polish, French Canadian, and Scottish.
Which goes some way toward illustrating the need for an outlet like All Nations Network—a cable channel featuring TV programming created for and by native peoples that its creators hope to launch soon in the U.S., according to Variety. Though details are sparse at the moment, the channel will get some help from Aboriginal Peoples Television Network, a similar outlet that launched in Canada back in 1992 and that now serves 10 million households. The U.S. has seen other efforts to cater to native peoples on TV—Red Nation Television Network is an online-only streaming service that dates back to before Hulu, and the PBS affiliate FNX: First Nations Experience launched in 2011 but is currently available only in Southern California and a few other areas. If a channel like All Nations Network succeeds, it would be a way for American Indians to do something as simple but crucial as making their own stories rather than waiting for mainstream TV to catch up.
So why doesn't the U.S. already have a widely available, dedicated TV channel for Native Americans? Heather Rae, a producer, filmmaker, and actress of Cherokee descent, told me that studio executives and financiers often balk at the idea of what they see as narrowly targeted content. "The perception is that Native Indians are a vanishing and near-extinct part of the [U.S.] population," she said. It's hard, in other words, to convince many distributors and carriers of the commercial viability of a project like All Nations Network.
Kelly Faircloth further discussed the financial difficulties over at Jezebel:
Of course, the American TV business is a different beast [than the Canadian TV business]. Compare the position of the CBC with PBS. Canada's telecom regulator, the CRTC, mandates that cable carriers include APTN, which means it's in millions of homes across Canada. In the U.S. cable is a dollar-driven scrum where new channels like Current have trouble gaining traction. It's unfortunately all-too-easy to see unimaginative execs and advertisers looking at Native American poverty rates and taking a pass.
The stakes for a project like All Nations Network are high. Natives live on in mainstream entertainment as romantic, ancillary characters—existing merely to supplement or amplify the stories of non-native characters, Rae said. Fargo, Parks and Recreation, and Unbreakable Kimmy Schmidt all developed their native characters in different, sometimes revelatory, ways, but each show was ultimately created and produced by non-natives. While many minority groups in the U.S. are seeing some clear improvements when it comes to network TV shows created by and about themselves—Fresh off the Boat, Jane the Virgin, Black-ish—American Indians haven't come anywhere close to this kind of representation (an issue Yohana Desta explored in depth in a piece for Mashable last year). If All Nations Network can find the institutional support it needs in the U.S., it could finally pave the way for native people to have a bigger presence in cable and network TV shows.