The Anxiety of Macklemore
This Unruly Mess I've Made uses novelty rap to disguise self-loathing, barely.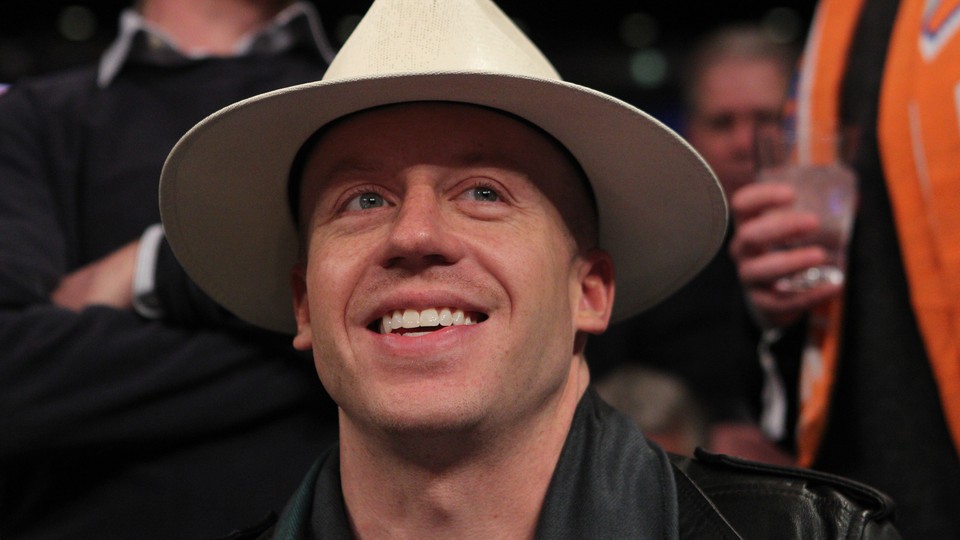 Here's a challenge. Listen to this new song by Macklemore—
—and see how far you can make it before feeling the urge to turn the song off, or do something more drastic. Do you recoil at the wet, chewing-like sounds that open the song? At the first few lines, where Macklemore shows preteen-like excitement at undoing his girlfriend's bra? When he compares her belly to Gucci Mane's? When he calls her his "boo-boo thing"? When he says she sometimes leaves the "bathroom door open when she boo boo-ing"?
Everyone has different standards for schmaltz, and if you find Macklemore's infantile take on dirty talk to be fun and cute rather than disturbing, blessings to you. Most people who've taken the time to diss the song online—Stereogum: "Macklemore's 'Spoons' Is the Worst Song Ever Recorded"—have essentially just quoted its lyrics at length to provide evidence for its badness. Obscenity: You know when you see it.
But there's another factor in understanding why a song like this makes some people want to die when they listen. If you make it to the second verse, you'll hear Macklemore lay into his girlfriend for having watched some Game of Thrones episodes without him, and then giving up the fight as soon as she starts giving him a handjob, which causes him to come immediately. Vulnerability in art is usually a good thing, and so is honesty. But is there anything interesting about Macklemore's embarrassment here? How much is gained in the gross-out, really?
The 32-year-old Seattle rapper had the good sense to relegate "Spoons" to bonus-track status on his new album This Unruly Mess I've Made, his second collaboration with the producer Ryan Lewis and his first full-length since achieving superstardom in 2012. But the way that song gleefully sacrifices Macklemore's dignity without regard for the listener's is typical. Perhaps in response to the backlash his rise caused, he's released an album that suggests he is living through the great millennial nightmare: laying your soul bare, and finding only banality.
The opener, "Light Tunnels," uses the most bombastic tools in Ryan Lewis's arsenal—galloping drums, orchestral swells, a guest vocalist cackling about stormy weather and such—as Macklemore narrates his night at the Grammys. On a song like this, you can understand why he's popular. By all measures, what he's doing is corny, and that's why it works: The goosebumps that the song is designed to provide are more typical of Coldplay-style rock than of most mainstream hip-hop. As for Macklemore's rapping, he does a solid job of putting you in the moment with him as he looks up tie-tying tutorials on YouTube, gawks at Taylor Swift from a few rows over, and gives his thank-you speech.
But what is the song's drama really about? He says he did drugs a couple days earlier and sort of regrets it. He forgot his belt at the hotel—"this sucks." He realizes awards shows are more about ratings and marketing than art. Fascinating. But toward the end of the song, he turns his criticism inward, realizing a contradiction in his desires: He's "miserable here / But wanna make sure I'm invited next year." And then:
I know now who I am when the lights go out and it falls down
And the curtain closes, nobody notices
Wanted to throw up the Roc, wanted to be Hova
Wanted to be Wayne with the accent from the 'Nolia
Thought I'd feel better when the award show was over
Whoosh. The curtain comes down and Macklemore only feels like a wannabe. The real-life context for the song is that the 2014 Grammys ceremony was when Macklemore swept the rap categories over Kendrick Lamar, Drake, Eminem, and Jay Z. When Macklemore publicly apologized to Lamar for winning, he tacitly aligned himself with folks who argued that racism unfairly elevated him over the rest of the field. Two years later, "Light Tunnels" mines that psychological toll of that backlash for sympathy, but it also kind of endorses it. He really isn't worthy, it sounds like.
This could be a thrilling and extreme premise for an album; perhaps in an alternate dimension, Macklemore's music sounds like Xiu Xiu, or Nine Inch Nails, or Kendrick Lamar on "u"—which is to say, he looks into his own self-loathing unflinchingly, for horror's sake. Instead we have something yet more unsettling, the spectacle of someone trying to carry on like a pop star when he's revealed that he shouldn't be one.
The party songs are particularly bleak. "Brad Pitt's Cousin" tries to make it seem like he loves being called the actor's ugly relative, and opens with him bragging about his cat's Instagram followers. "Downtown" takes the hip-hop trope of driving expensive cars and goofily transposes it into the hipster trope of driving a moped. "Dance Off" features Idris Elba (yes) making like Vincent Price on "Thriller" as Macklemore, not for the first time in his career, frets about the adequacy of what's between his legs. In his world, music does not help you transcend your insecurities—it heightens them.
Which is both awkward to listen to and awkward to think about, considering Macklemore's commercial success in comparison to other rappers. It's one thing to take your weaknesses and turn them into boasts, to best your haters by embracing them. It's another to continue working in a genre that you seem terrified of, that you can't help but make fun of as you strain to demonstrate your self-awareness and humility. Obviously, Macklemore has a deep love for and knowledge of rap, and has brought in some very credible artists from the genre's past (DJ Premier, KRS-One, Grandmaster Caz, Kool Moe Dee, Melle Mel) and present (Chance the Rapper, YG). But their presence is about all that separates some of these songs from Weird Al's "White & Nerdy." And no, this is not inherently the fate of all white rappers.
It's an actual relief when Macklemore sticks to lecturing, as he did on his cloying but well-intended hit "Same Love." The only two true message songs here are "Kevin," a pro forma but deeply felt story about losing a friend to prescription-drug addiction, and "White Privilege II," a sprawling, admirable, and unmusical airing of guilt. "St. Ides" has him reflecting on both his past alcoholism and the current gentrification in Seattle, and just shrugs at the thought of things getting better. "Growing Up" is the requisite advice letter to his unborn kid, centered on the idea that he's scared because he still feels like a child himself, a relatable admission that will also fuel more comparisons between his music and Kidz Bop.
The best song here, both as an ear-worm and as a work of writing, is "What You Need to Hear." The first verse has Macklemore typically bummed about materialism and hedonism: "We are why we smoke some, so numb, so numb, so numb," etc. Then Chance the Rapper, who opened for Macklemore a few years ago and gave one of the defining raps of Kanye West's latest release, delivers the best verse of the album. He talks about agonizing over how candid to be in his raps, about wanting his daughter to have white girls for friends, and about white girls calling him the n-word at his shows. The chorus goes: "Imma tell you what you need to hear / cuz the truth would be too much." The suggestion is that Macklemore's been holding back all album, a thought that's both plausible and frightening.