King of the Hill: The Last Bipartisan TV Comedy
The Fox sitcom, which went off the air in 2010, managed to unite both liberal and conservative viewers by emphasizing its characters' humanity in a changing world.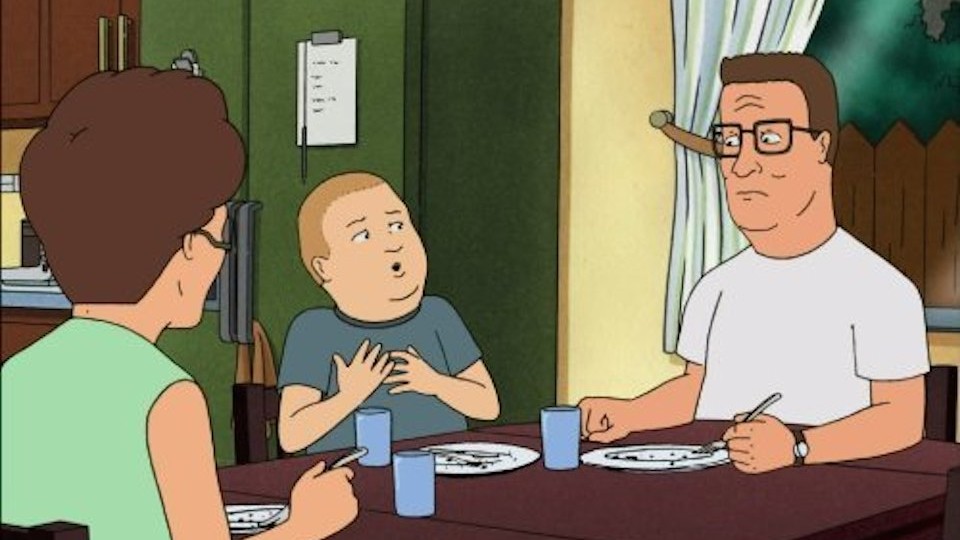 Does the political party you identify with have an influence on what you find funny? Recent trends in TV viewing habits overwhelmingly suggest that it does. In 2011, a survey conducted by Experian-Simmons for Entertainment Weekly found very little confluence between the TV shows watched by Democrats and Republicans—perhaps a symptom of how the cultural divide has grown deeper over the last eight years. Liberals generally love quirky comedies like Community, Parks and Recreation, It's Always Sunny in Philadelphia, and The Mindy Project; conservatives tend to prefer reality shows and crime dramas including NCIS, Duck Dynasty, The Bachelor, and Top Gear.
But for 13 years there was a show that drew laughs from viewers of all political persuasions. King of the Hill—an animated sitcom about a bumbling Texas everyman and his family—which ran on Fox from 1997 to 2010, still stands alone in the way it portrayed the complexity of red-state America with wit, good humor, and vitality. I was 11 years old, growing up in a rural county in North Carolina, when the show premiered, and for me, it was the first contemporary show that genuinely reflected the world I lived in. Its characters embodied all of the desires, needs, and contradictions that make up the universal human experience, undermining assumptions about "red" and "blue" culture in the process.
The show's patriarch, Hank Hill, remains one of the great characters in TV comedy, almost Shakespearean in the tangled thoughts and feelings that emerge in glimpses from beneath his good ol' boy facade. Hank is traditional and fundamentally uneasy in the rapidly globalizing, neoliberal culture of the '90s and '00s, watching the world around him transform. But one of the show's great themes is Hank's own place in this changing world, and his engagement with it in spite of his own reluctance. He's stubborn with soft prejudices, but always drawn to do the right thing in the end. Via a variety of comic conflicts between its hero and a shifting culture, King of the Hill dared to suggest a world that might transcend gridlock, suspicion, and nihilism—a world in which cultural and political opposites could actually find ways to get along.
Eighteen years ago, on February 22, 1998, the season-two episode "Traffic Jam" aired, and while it preceded both the Bush and Obama administrations, the issues it considers are timely. Hank gets into a fender-bender with his neighbor, Kahn, and in order to avoid insurance increases they both opt to attend traffic school. Their teacher is a brash amateur stand-up comedian named Booda Sack, voiced by Chris Rock. Booda seems much more interested in trying out material on his class than in their driving skills. While the rest of the class howls with laughter at his jokes, made mostly at the expense of white people, Hank is highly uncomfortable, feeling that his identity and sense of propriety are being undermined.
Later, Hank brings his teenage son Bobby to the class in the hope that seeing Booda in action will discourage Bobby from his desired future in comedy. Instead, Booda brings Bobby on stage and they lampoon Hank together. Bobby confirms that his dad likes to stand around and drink beer, and Booda lampoons Hank as "four eyes, too many pies, super-size," while Hank's face reddens in rage and embarrassment.
It's funny and uncomfortable in equal parts to see Hank emasculated in front of his son, and it speaks to the complexity of the issues at play. In a state still confronting a long legacy of racism, humor offers Booda a weapon that upends the historical power dynamic between white and black males. But Hank, retaining a degree of power himself, goes to Booda's supervisor and reports his behavior, and Booda is fired. It's worth noting that the current black unemployment rate in Texas is 9.5 percent, more than double the white unemployment rate. Booda's situation speaks to a real-life social and political problem rooted in the persistent ghosts of Texas history.
The show could have simply left things at that, with its hero revenged, albeit in a distinctly unheroic way. Instead it imagines the possibility of something more positive. After Booda suggests to Bobby that he tell jokes about his whiteness, Bobby does an online search for white culture and inadvertently finds a string of racist jokes from a neoconfederate site, which he obliviously tries out at an open-mic night in front of a mostly black audience. Booda saves the day by jumping between Bobby and the crowd, robustly defending the First Amendment, and then improvising a series of jokes inspired by Hank's lack of a butt. Instead of being offended, Hank is touched that Booda came to Bobby's aid, and to make amends, he helps the comedian find a new job at his company. The episode ends with Hank and Booda exchanging yo' mama jokes at each other's expense with good humor rather than malice.
It's the kind of unifying moment that's rarely been seen since, whether in TV shows or in politics. But King of the Hill was never afraid to portray such moments, building a diverse audience that could expect to have its cultural assumptions challenged as much as humored. On its surface, the show appealed to both liberals and conservatives thanks to its premise as a comedy about beleaguered Texas suburbanites. Viewers on the left could enjoy laughing at "hicks" who felt increasingly out of touch in the modern world, while those on the right could both appreciate and identify with the "redneck" stereotypes they were proud to embrace (see: Duck Dynasty). King of the Hill drew viewers in with these caricatures, then used them to subvert expectations.
The show regularly tackled the complex gender roles that exist within conservative southern culture. Hank's wife, Peggy, is a substitute Spanish teacher with a developing grasp of the language, who nevertheless has a keen taste for highbrow art (at one point, she casually declares, "Unless it's got the name Merchant, Ivory, or Billy Crystal above the title, I am not interested"). Viewers are forced to consider the cost of casual male misogyny and workplace sexual harassment when they witness Hank's niece Luanne being subjected to such abuse. Bobby, a lovable, sensitive, and eccentric 13-year-old, also defies Hank's expectations for his teenage son: He prefers comedy and music to outdoor activities like hunting and fishing, but is shown in one episode to be a gifted marksman.
Although King of the Hill enjoyed solid ratings and critical acclaim through its 12th season, it was ultimately canceled by Fox to make room for Seth MacFarlane's Family Guy spinoff, The Cleveland Show. In 2005, the journalist Matt Bai unpicked the series's influence in a piece for The New York Times Magazine, arguing that it offered "the most subtle and complex portrayal of small-town voters on television." Rather than parodying red-state America, Bai wrote, the show subtly explored the ways in which conservative Americans were struggling with their nation's rapid transformation. But more than that, it imbued all of its characters with a rich humanity that made their foibles deeply sympathetic. In this, King of the Hill was far ahead of its time, and the broader TV landscape has yet to catch up.