Kesha's Vital Public Relations Victory
Alleging abuse against someone powerful entails the risk of being blackballed. But right now, Kesha appears to be making allies as she sues to be released from her contract with Dr. Luke.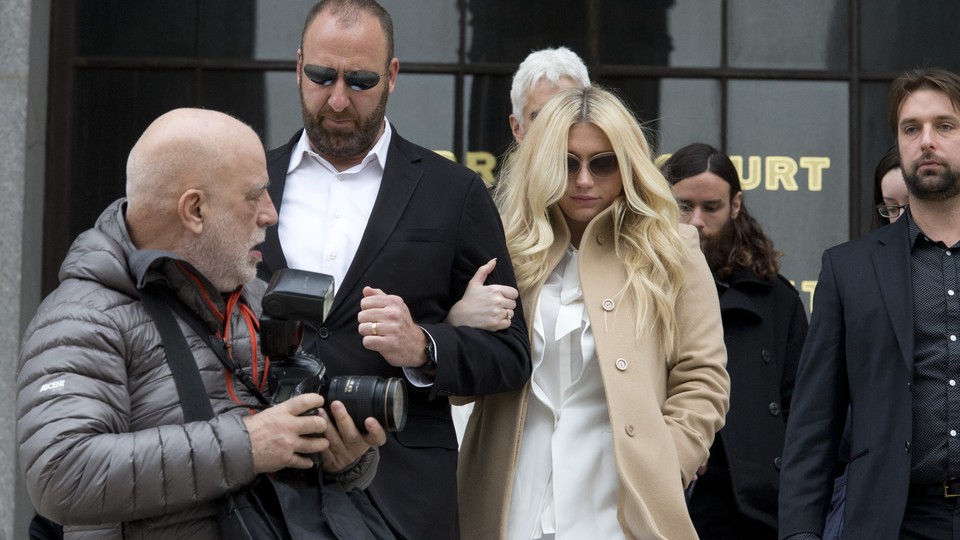 In the legal complaint the singer Kesha filed against Dr. Luke for abuse and harassment in October 2014, there's a passage that alleges the music producer born Lukasz Gottwald at one point "took her down to the beach alone to 'have a talk' with her." Gottwald, the lawsuit says, then "threatened that if she ever mentioned the rape to anyone, he would shut her career down, take away all her publishing and recording rights, and otherwise destroy not only her life but her entire family's lives as well."
Kesha's publishing and recording rights are, in fact, under contention now that she has accused Gottwald—the prolific hitmaker who signed her in 2005, when she was 18—of a pattern of sexual assault and mental abuse. But, despite a court setback, perhaps the events of the past 72 hours eased some concerns about her long-term prospects for a career in the public eye. A legal defeat on Friday has generated an outpouring of support from high-profile members of the music industry, whose statements, taken together, suggest that at the very least Kesha won't emerge from this saga as a pariah among her peers.
After a New York judge denied Kesha's lawyer's motion for a preliminary injunction that would release her from terms of her contract with Gottwald's label Kemosabe Records, the image of Kesha sobbing in the courtroom rocketed around the Internet. A #FreeKesha hashtag that predated even this lawsuit—fans have long suspected an unhealthy relationship between Kesha and Gottwald—blew up on Twitter, Facebook, and elsewhere. Jack Antonoff, the rock musician who produced parts of Taylor Swift's 1989, publicly offered to work with Kesha, contracts be damned. Swift herself sent $250,000 to help out with Kesha's expenses. But the messages that seemed the most potent came from people who had worked with Gottwald, including Kelly Clarkson, who tweeted that she was saying nothing about the producer because she had nothing nice to say about him. In response, Gottwald, for the first time, has personally commented on the case, asserting his innocence on Twitter and reminding the public that he's been charged with no crimes at all.
Positive Instagram posts and hefty checks, of course, can't reverse the psychological damage that Kesha says she sustained while working for Gottwald. But the #FreeKesha movement highlights just how much Kesha is like other professed victims of abuse, and how much she isn't. Many people who accuse powerful mentors of misconduct fear isolation and shunning. Most of those people, though, can't rely on the support of a fanbase or of sympathetic celebrity entertainers. Neither are they called a liar on quite as grand a scale as Kesha has been.
* * *
The PR avalanche has, perhaps, been outsized in comparison to the court action that prompted it. Kesha's case against Gottwald is not yet decided. The putative matter at hand is over whether Kesha, who is under contract to create albums with Gottwald, can release music under her name without being forced to work with him. The recent injunction motion from her lawyer, Mark Geragos, argued that Kesha's career was sustaining such terrible harm with each passing day, and that her claims were so obviously likely to prevail once they were heard in trial, that the judge should just go ahead and exempt her from her contract now. The judge, Shirley Werner Kornreich, did not agree, calling the request "extraordinary."
Kornreich also pointed out an important but confusing aspect of the dispute: Kemosabe's parent company Sony has apparently offered to let Kesha fulfill her contract without the direct involvement of Dr. Luke. Previous versions of her record deal specified that some songs on each of her album must be produced by him, but statements from Sony and Luke's representatives give the appearance that either those provisions are no longer in place or would not be enforced. Kornreich said that this fact "decimates" Kesha's argument that she's being railroaded into a career stalemate. On Monday, a statement from Luke's lawyer doubled down: "Kesha is already 'free' to record and release music without working with Dr. Luke as a producer if she doesn't want to. Any claim that she isn't 'free' is a myth."
The truth is that Kesha's case is not merely about being freed from having to make music with Dr. Luke. It's from having to make music that would be put out under an imprint that Luke founded, that remains affiliated with him, and that would likely cut him a check off any profits that future Kesha albums make. If Sony has offered to allow Kesha to record under a different imprint, that hasn't been made clear to the public. So as far as I can tell—Geragos hasn't returned my calls as of this writing—Kesha's argument is that the exploitation that allegedly happened to her should stop not only on a personal level, but a financial one.
The other interpretation of the matter would be the one that Gottwald's lawyers put forward: That the allegations are being leveled to ensure a more "lucrative" arrangement for Kesha than the five-album contract she signed years ago (she has three albums to go). Previous attempts to break out of long-term record deals have included Prince's early-'90s name change and TLC's bankruptcy filing. Accusing a high-profile producer of rape simply for financial reasons, though, would be a horrifying ploy of a whole other level.
In court on Friday, Geragos reportedly dissed Sony's offer for Kesha to record sans Luke. He said it was an "illusory promise," which means it's one that the courts can't enforce. He also said that Sony could not be trusted to promote any album created without Luke. No one outside of Sony knows whether that's right—whether the company would sabotage its own artist out of spite. But the public outpouring for Kesha right now suggests that Sony's treatment of her would be scrutinized if she released another album with the company, and that there would be wide interest in her music regardless of how it's marketed.
In fact, many people have said they're surprised Sony hasn't yet decided to let Kesha walk, given the optics. "There is probably a number in which Sony—particularly if it's sensitive to the potential backlash of growing support for Kesha on social media—would strongly consider releasing Kesha," the attorney James Sammataro told Billboard. It may turn out the publicity around this case and the dynamics it entails—a young woman going against a powerful man and powerful company in an industry where powerful men and companies have routinely exploited young woman—give Kesha a degree of power, too.