The Life of Pablo and the Terror of Monogamy
Kanye West's seventh album makes married life sound anything but blissful.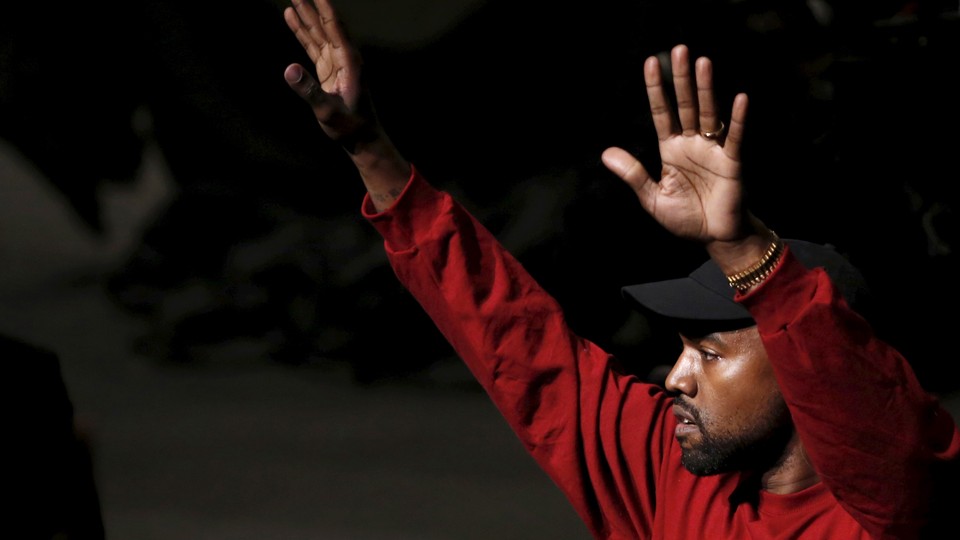 Of all the strange things Kanye West has tweeted around the occasion of his new album The Life of Pablo, the strangest might be this: "Pablo is full of joy and love because I was able to create."
Full of joy and love? When I listen to Pablo, I hear wide-eyed fear and confusion. I hear strain. I hear a yearning for joy and love. The real thing is only rarely present. This isn't a complaint, per se. Kanye West has made some uplifting music over the years, but his most classic songs usually involve large amounts of conflict and doubt, the same emotions that are the bedrock of Pablo. As you might imagine, such bedrock is not firm. The album contains the least consistent music West has ever put out, and that's both a good and bad thing for the listener. Even when it's frustrating, there's drama in how it wobbles.
West has also called Pablo "a gospel album with a lot of cursing on it," which is correct. It opens with the sound of a young girl shouting away the devil; there are church choirs throughout; at one point, West devotes a full track to a woman's faith testimonial. It should be noted, though, that this is not gospel as celebration nor as evangelism. It's gospel as desperation. This is his first album since getting married, becoming a father of two, releasing a fashion line, and receiving a few lifetime-achievement awards and honorary degrees. Yet it repeatedly pleads for strength in a time of personal strife. "I'm tryna keep my faith," goes the refrain of the stunning, upwardly lurching opener "Ultra Light Beams," the churchiest thing here.
This struggle has been a long time coming. After gaining fame with a trilogy of hilarious and smart pop-rap albums that each reshaped the sound of radio, West's music has defied categorization but has shared one preoccupation: his terror of monogamy. The end of his engagement to Alexis Phifer helped fuel the auto-tuned mourning of 808s & Heartbreak in 2008. The grand fictions of My Beautiful Dark Twisted Fantasy included a dream about marrying a porn star who let him sleep with whomever he wanted, and a nightmare about getting ensnared in a child-custody battle. Watch the Throne featured him bragging having sex with a stranger in a bathroom stall as Jay Z talked about his fidelity to Beyoncé; on the opener, West scowled "love is cursed by monogamy."
Then came Yeezus, where frightening noise and gothic undertones accompanied the most lewd and callous lyrics of his career. Only on that album's final track did the psychosexual frightfest end as West rapped about settling into a committed relationship with someone uninterested in threesomes. That song, "Bound 2," generated the famous music video of West being straddled by his then-fiancée Kim Kardashian on a motorcycle in front of a Lisa Frank-style sunset. It sounded a lot like gospel.
Pablo then, necessarily addresses the question of how Kanye's feeling as a bound man. The answer seems to be that it's making him feel horny. There's lots of dirty talk here, but it's confined to speculative boasts, memories, and references to "wifey." The now-infamous admission that he feels like he and Taylor Swift "might still have sex"  is less about Swift than about West's own delusions—that "still" is the sign of someone leaving doors open in his mind that he knows should be closed by now (though Swift is right to say that the contention he made her famous is rooted in sexism, as many West statements are). "Freestyle 4" uses a slasher-film arrangement as West imagines turning the party he's at into an orgy. And then there's "FML," the great somber reckoning, where Kanye finally makes explicit the push-pull that has ruled the album: resisting the temptation to "fuck my life up" by cheating on Kim.
His own voice on Pablo often plays a fascinatingly minor role, purposefully drowned out by samples and guests. "Father Stretch My Hands Pt. 1," for example, begins with West considering a model's bleached body parts, but before it becomes clear whether he's referring to an affair, a fantasy, a memory, or his own wife, he shuts up: "She get under your skin if you let her / She get under your skin if you … uh / I don't even want to talk about it." That's right—Kanye West censors himself. In "Pt. 2," the song melts into a lengthy sample of the rapper Desiigner's still-rising hit "Panda," a particularly delectable entry in the canon of songs about having multiple cars and multiple girlfriends. The moment at first feels inexplicable: Couldn't he just get his labelmate to write a new verse? But then it sinks in that West might be grabbing this other guy's song to show how he's now gawking at the swaggering single-rapper lifestyle from afar.
It's not that West isn't ever swaggering, himself. "Famous," the closest thing to potential radio pop that Pablo has, features Rihanna interpolating Nina Simone for a massive hook and eventually breaks into a gleeful sample of Sister Nancy's "Bam Bam" after West lay down a series of brags. But even then, there are flashes of dreadful reality to cause vertigo—e.g. "I just copped a jet to fly over personal debt" ($53 million, he later clarified on Twitter). The other would-be bangers seem to carry some ambivalence with them, too. "Highlights," featuring West talking sexcapades and Young Thug wailing over a skeletal but infectious rhythm, is preceded by "Low Lights," a two-minute testimony about wishing God would heal unbearable pain. Another bright spot, "Waves," might be meant—in name and in its glorious, pulsating sound—to approximate the feeling of an MDMA high, among other things. In the chorus, Chris Brown sings "waves don't die"—one of many times that the album pretends that momentary pleasures are permanent.
What about the one joy in West's life that is now supposed to be forever: family? He brags about the West-Kardashian-Jenner clan in terms of their fame at one point, saying they're the new Jacksons. But there are surprisingly few odes to, say, the supreme hotness of Kim or the cuteness of his kids. The gorgeous and beguiling "Wolves" is about their bond, but it's dead serious, built on a spooky vocal line from the Pulitzer-winning composer Caroline Shaw and closing with Frank Ocean singing desolately about "light with no heat." That line is bittersweet, perhaps an acknowledgment of how passions eventually dim even as deeper ties remain. The album finishes with a mysterious, roiling house track called "Fade"; the few lyrics on it communicate ache, fear, and paranoia as a sampled voice repeats "your love is fading." It doesn't really sound like a happy ending.
* * *
The struggle of a man to tamp down his lust and ambition in the name of family is, of course, one of the most over-documented struggles of 20th-century art. And the fact that West addresses it by fixating on faith—the original album title was So Help Me God—means he's partaking in the same tradition that has helped keep religion relevant for thousands of years. But what makes Pablo fascinating is how West portrays his attempts at restraint and a righteous life as pushing him into insanity. Just look at the addled album art, which haphazardly juxtaposes his parents' wedding photo next to the ass of an Instagram model and asks "WHICH / ONE" over and over (the question might also refer to the various Pablos who West could emulate—Picasso, Escobar, or the Biblical Paul, all of whom are name-checked in a chilling tape purported to contain his backstage freakout at SNL). West's persona at the moment, on the album and off of it, creates the impression of someone straining to keep himself together as he tries to honor the commitments he's made—release dates, wedding vows, debts. The question of whether he's actually losing his grip or is just acting like it for art is part of Pablo's queasy power, and should force even more discussions about whether and how to separate art and artist.
A few songs skip that discussion, though, by directly broaching the idea that West is totally nuts. Asking listeners to "name one genius who isn't crazy" as he does on "Feedback" is one thing; copping to going off Lexapro and causing an incident on vacation on "FML" is another, the kind of line that will feed otherwise off-limits speculation about his mental health. During the stupendous Kendrick Lamar collaboration "No More Parties in L.A.," West raps with an intensity that feels chemical; you keep expecting him to finish up, but then he veers on to some other tangent, and suddenly we're at a six-minute runtime. In a few places on the album, his voice is hoarse; in others, he shrieks in a way that will startle anyone hearing it for the first time.
The music itself reflects the idea of mania in the way that the songs jump around, often shirking the normal expectations of verse/chorus/verse/chorus, not to mention rhythmic consistency or the development of momentum. But the actual sound of the thing too, I think, evokes the idea of someone who exists only at the level of all the way up or all the way down. There are high, spindly melodies and shimmering synthesizer tones; there are low, creeping bass lines; there's not much in the middle of the range. Previous West releases, even when notionally "minimalist" like on Yeezus or 808s, still felt like they filled the ear. Pablo doesn't. It's a painting that's faded except for a couple of very vivid colors.
A lot of listeners have theorized that Pablo sounds this way because it was only hastily completed, if at all (West has hinted there might be yet another version coming). There's definitely an unfinished quality to the songwriting that prevents many of these tracks from ranking in the upper tier of West's catalogue. Every time I hear both portions of "Father Stretch My Hands," I think about the epic masterpiece that could have been if West had put a little more work into making the various parts cohere. But it's also very possible that West wanted the album to feel this rickety. It fits his scattered, frantic performance in lyrics and on social media. It fits the idea of trying and not quite succeeding to embrace the comfort and companionship you've worked to achieve. And the messiness makes the transcendent moments feel all the more precious.
If West has a big message in his public statements and in his music, it's about the desire for total freedom. His songs used to plead for women to let him act on every sexual instinct. Now, he pleads for Mark Zuckerberg to bail him out so he can act on every artistic whim. In either case, he's asking for more and more license. But the twist of Pablo is that he is no longer, as he puts it on "FML," "living without limits." Christianity promises eternal freedom, but only after curtailing your choices in the mortal world. Could West ever exercise such restraint? He has taken a vow to. Again and again on Pablo, West says that he wishes to stick to it. But like many great people of faith, he admits to doubt.
---
Related Video